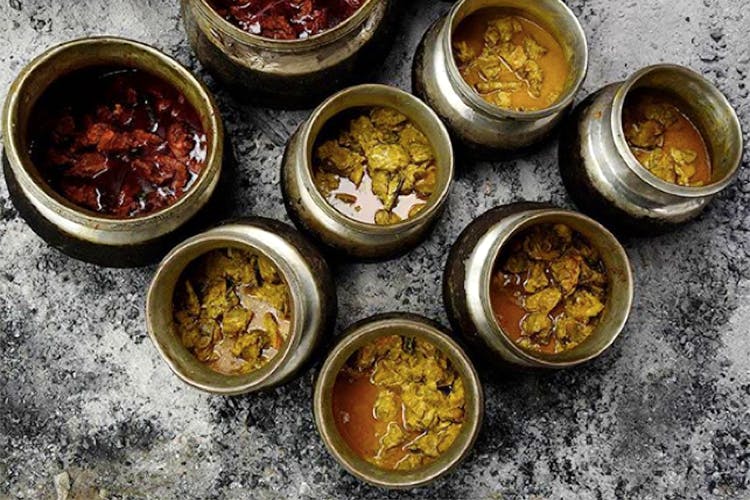 Finding A Slice of Kashmir in Delhi
Kashmir has often been called paradise on earth because of its natural beauty. But aside from arguably being the most beautiful place on earth, Kashmir is also a foodie paradise. Here are five foods that are unique to Kashmir and must be tried in order to get a real taste of the state.
Wazwan
Wazwan is an elaborate multi-course meal consisting of 36 traditional, meat-heavy delicacies that are cooked by special chefs called Wazas. It's not just a meal, but a delectable experience that exudes Kashmiri heritage and hospitality.  It's served in a very traditional way where you are seated in groups of four and eat together in a large copper plate called trambi.
Head to Chor Bizarre for a proper sit-down Wazwan experience. But make sure you go hungry because there will be more food than you can imagine.
Kahwa
Kahwa is a traditional Kashmiri green tea flavoured with cardamom, cinnamon, saffron, and other spices. It's served with a variety of traditional local breads. Whether you like tea or not, this is a must-try for everyone visiting Kashmir. You can enjoy a cup of this famed tea while taking a Shikara ride over the Dal Lake accompanied by mesmerising views of the Kashmir valley.
The Kahwa at Chor Bizzare is as authentic as it gets.
Kashmiri Breads
The Kashmir Valley is known for its bakeries. Local bakery shops called kaandras are elaborately laid out selling various kinds of delicious breads. In Kashmir, there is a different type of bread for every season, every occasion, and every time of the day. Some examples are girda for breakfast, czochworu for evening tea, lavasa served with kebabs, and sheermal for special, happy occasions.
You can find freshly baked breads at Kashmiri Pandit Baker in Pamposh Enclave.
Noon Chai
Another traditional tea from Kashmir, Noon Chai is a big part of the Kashmiri culture, where people drink it at least two – three times a day. It is a salted pink tea and is served with traditional breads and dried fruit. It has a very distinct salty and creamy taste, which many people don't like, but it is a staple tea in Kashmir and a must-try for anyone visiting Kashmir.
In Delhi, Noon Chai can be found on tea stalls outside Jama Masjid, especially during the winter, when Kashmiris head to Delhi to avoid the cold.
Seekh Tuj
A popular local delicacy, which consists of small pieces of mutton cooked over a wooden charcoal grill and served with Kashmiri bread called Lavasa and several different kinds of chutneys. This is considered street food in Srinagar and can be found at Khayam Chowk, a narrow street and popular culinary destination, lined with shops and shops selling barbeques and kebabs. Order from Ahad Sons if you want a real, authentic taste of the flavours of Kashmir in the capital. It's nothing fancy and there is no place to sit but you'll be talking about the food for days.
Comments