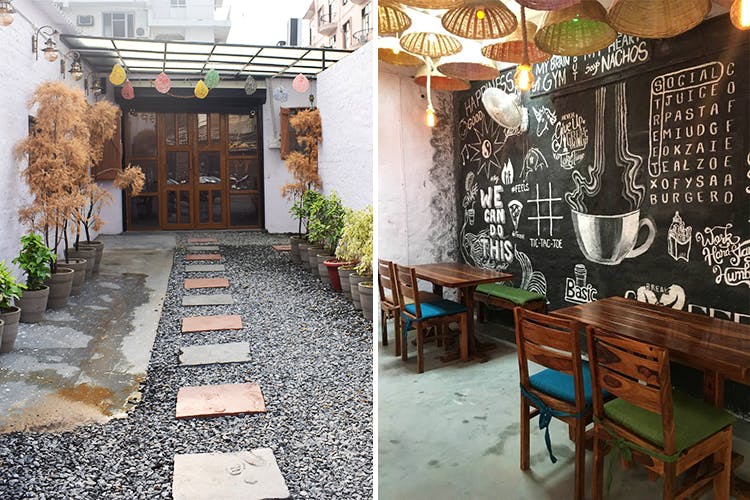 Nearest Metro Station:

SAKET
Champa Gali's On A Roll: Another New Cafe's Opened & It Looks So Cute!
Shortcut
Barely a week-old, Social Street is the newest cafe to pop open in Saidulajab's little hipster haven. We saw the branding go up when we'd gone to check out this Tibetan cafe, and poof, a week later, this cafe, serving a Continental spread, is up and running.
The Gali Is Kicking & How
Like most places we've been to recently, this one happens to be Saket's first-ever cafe. He was handling management for Crowne Plaza in Delhi but left his full-time job when he saw the potential in this sad, untamed spot in Champa Gali that could do with cosy cafe. Of course, he's learning along the way. He let us in on how he's sourced the baskets that hang from the ceiling and got his neighbour do a little graffiti on the walls.
He kept finding inspiration on Pinterest and essentially just followed his heart. With a small team that's constantly on its toes, Saket's now managing this labour of love and sticking by it come leaking roof, come rave reviews.
The menu, complete with pasta, salads, sandwiches (they have a lot of healthy options), small bites (hey nuggets and fries) and more cafe staples is nothing out of the ordinary but whatever little we tried, was well put together. Our strange order of a Greek salad and Rosemary Wedges (balanced diet FTW) was a good contrast of crunch and health with fried and comfort. Both tasted great. If you aren't into Continental, wait it out. They intend to switch up the menu in three months again.
Gorge on burgers and pizzas and sip shakes and coffee. Also, once you're done with the meal, you can play tic tac toe on their wall? Yes, you can. Grab a chalk and play away. It's a cute reminder of life's simplest joys.
So, We're Saying...
For now, they're open through the week and till about 10pm. Drop by sometime?
Stalk them on Facebook here.
Comments
Nearest Metro Station:

SAKET