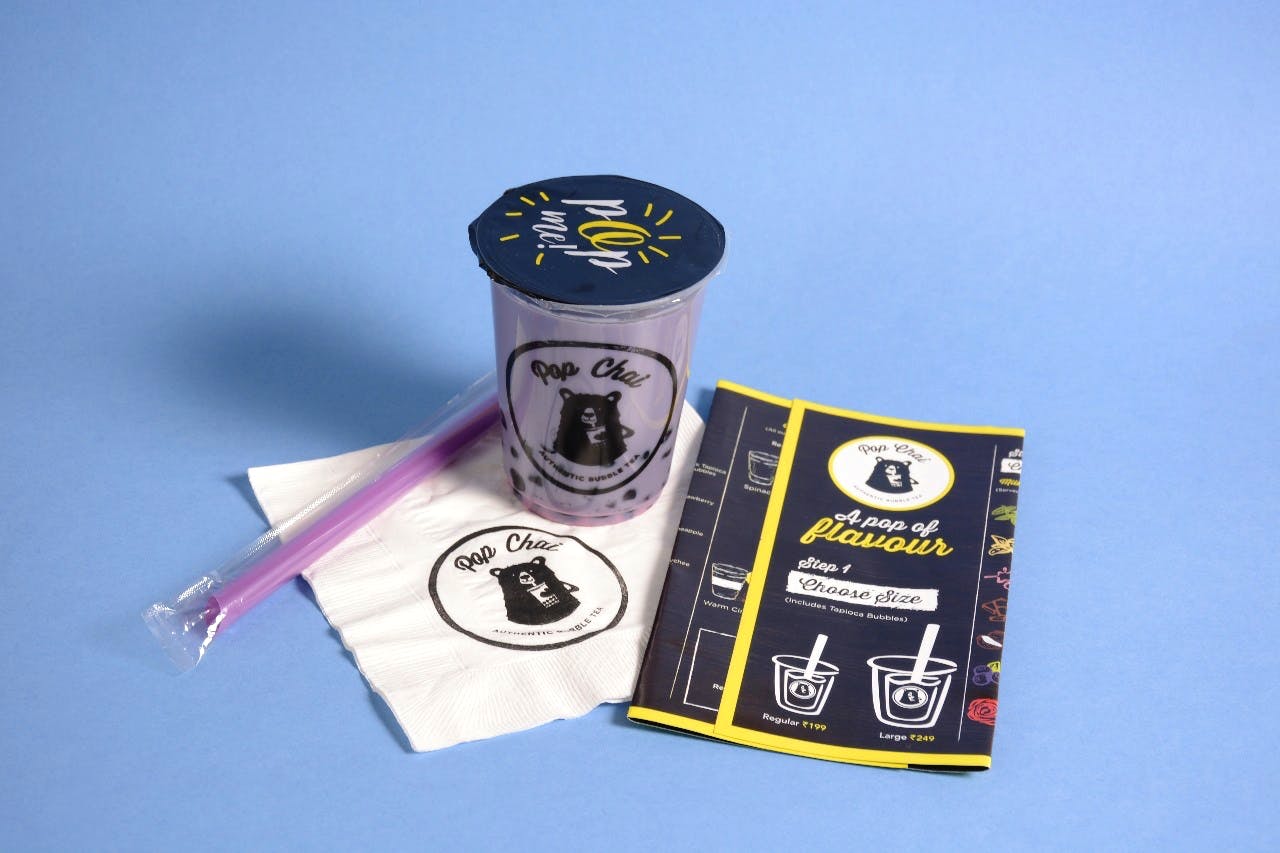 Add Poppers, Jellies & More To Your Tea At This Exclusive Bubble Tea Bar
What Did I Like?
Lo & Behold! Delhi's first exclusive Bubble Tea bar is finally here. A quirky Taiwanese drink that I look for whenever I travel out of India, Bubble Tea is essentially an iced tea but with tons of surprises. What I really like about this tea is that it can be made with milk which is a step away from the usual lemon/peach iced teas we're used to. The main thing that sets it apart is the Tapioca which gives it its name. Pop Chai goes a step ahead and adds fruit poppers and jellies that almost helps this iced tea qualify as a dessert. With a cute DIY menu, funky coloured graphics that scream out the POP in the name, and delish bubble teas, this place has my heart. They do fruit or milk bases; then you can add poppers and swap regular milk for soy or sugar for honey. I opted for milk-based Vanilla Bubble tea with blueberry poppers that came in a cutesy pre-sealed glass and a big fat straw. The vanilla flavour was subtle and was well accentuated by the fruity blueberry. It was refreshing, flavourful, and surprisingly light. I was then ready to try another one. This time I opted for a fruity bubble tea, a Mango Iced tea with passionfruit poppers to be precise. The tea flavour was a lot more pronounced in this and the quality of flavours again was top-notch.
What Could Be Better?
I really couldn't find a downside to this new fun concept except that they should open up more stores because that'll make it easier for me to get my hands on a bubble tea when the craving strikes.
Best To Go With?
Family, Big Group, Bae, and Kids.
More Information
Pop Chai
Nearest Metro Station: SUBHASH NAGAR
Comments