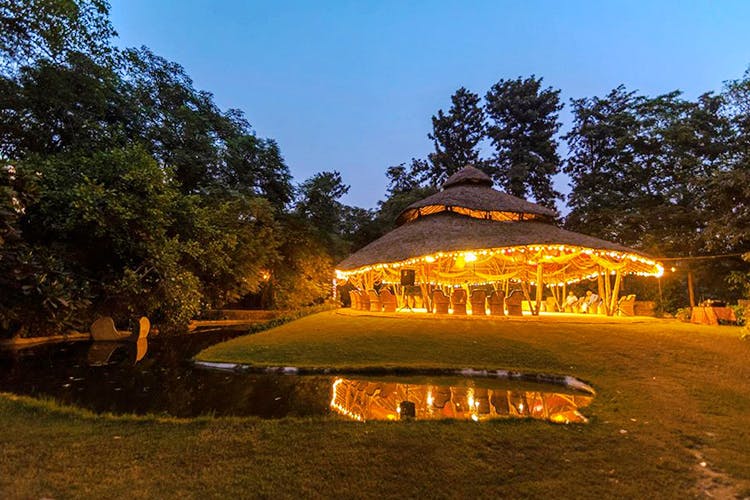 How To Get Away Without Leaving The City
You might dig Delhi's chola bhatura-loving and speed limit defying outrageous side, but once in a while, you do want to get away from it all; Basically just leave the loud, gregarious and sometimes, all too overwhelming chaos that gets too much to handle. So, we found seven places where you can catch a moment of peace and quiet without having to drive to the hills or leaving the city at all.
Read on and go, witness a very distinct, un-Delhi vibe at these spots.
Majnu Ka Tila
Known as Delhi's own little Tibet, Majnu Ka Tila is a welcome respite from the general chaos and pushy shop owner behaviour that's now become synonymous with Dilli. The monastery, the many shoes and accessories' shops, boho clothes' stores and quaint cafes (hey, Yamuna Cafe and Kham Coffee House), make this a spot that's best explored at leisure. Spend a weekend combing through its narrow lanes and you'll be surprised at how much you can find between momo, Nike shoes and Tibetan singing bowls.
Recommended For: Busan Korean Restaurant, AMA Cafe, Laphing by the roadside, Tee Dee
Zorba The Buddha
One of our go-to places for a breather or to gather ourselves after a rough patch, Zorba The Buddha is hands-down our favourite Non-Delhi place. The ample greens, workshops, organic food spread and the kind of people we've met through Tattva (the annual residential festival it hosts to celebrate all forms of art and well being), make this one a total winner. They host pottery classes, meditative workshops, art lessons and a host of other activities every other day.
Recommended For: Tattva Festival, music gigs and yoga and meditation.
Saidulajab
Call it a twist of fate or the city's boredom with the usual spots, Saidulajab has really evolved with the Champa Gali that now attracts as much love as it does cynicism. Be on either side, but you can't deny that this place does have a very unlike-Delhi vibe.
We love shopping at Liberty Village for flea market clothes and shoes, eating Gushtaba at Cafe Hameen Asto, attending an intimate gig at Champa Gali or just browse through cool stationery and upcycled jewellery at Jugaad. Our oldest friend, Rose Cafe, just added a drawing room space as well. Oh, and if you want a quiet date, our fave is Pho King Awesome.
Recommended For: JugMug Thela, Liberty Village, Patta Cafe, Rose Cafe
Humayunpur
A little walk away from the market that houses our favourite Piano Man and Bombakery, lies a whole block, intersected by narrow lanes. Meet Humayunpur — it's dotted by Naga restaurants and shops selling affordable fashion — it's a quiet haven away from typical Delhi colonies/markets. We'd recommend a trip here if you're an experimental foodie for The Categorical Eat Pham's buff thali and Bhansaghar's spicy Gundruk and Choila. Equal love and appreciation also goes out to Hornbill's smoked pork with bamboo shoot. We also quite enjoy shopping at Runway Fashion and Hing & Hing.
Recommended For: Bhansaghar, The Categorical Eat Pham, Kori's, Runway Fashion
Santushti Shopping Complex
Another one of Delhi's greenest areas, The Santushti Complex was started by Air Force Wives' Welfare Association and hence, it wears a very Cant-like vibe. The motley mix of ethnicwear stores, a fascinating cigar lounge, a chai boutique and a Diggin outlet that's everything an Instagram dream is made of, we recently sealed our love affair with this garden complex. We're going back for Olivia's Coffee Oreo ice cream and to buy Canvas' boho cotton dresses. Maybe, we'll even have cold coffee at Diggin while we're there?
Recommended For: Diggin, Olivia, Canvas, Kastros — House Of Cigars, Audrey, Tulsi
These Gurgaon Cafes
Hamoni: Cafe By The Greens, Roots - Cafe In The Park and Cafe Soul Garden are some of our favourite spots where you can take a break from the concrete, MNC hub that Gurgaon. While Cafe Soul Garden has a stunning outdoor area, Roots is actually located in the middle of a park (Rajiv Gandhi Renewable Energy Park). As for Hamoni (earlier known as Caddyshack), it's situated in the Hamoni Golf Course, so it promises a club-inspired menu and you can even sign up for a round of golf.
Head to these places on a good weather day, but all three also have an indoor area where you can chill at if the NCR heat gets to you.
The Prodigal Cook Farms
The Prodigal Cook Farms in Noida is an urban farm that not only grows and sells fresh veggies, but also organises farm-to-table brunches during winter. Since brunches might not be the best idea during summer months, they host early morning breakfast and yoga experiences (9am - 12pm), spring sundowners (3pm to 6pm) and art workshops. The food for all these events is made from the freshest, organic ingredients.
Plus, the place itself is stunning. The moment you get here, you'll leave all of the city's toxic air behind for a place that'll remind you of the stunning farms in Punjab.
Comments