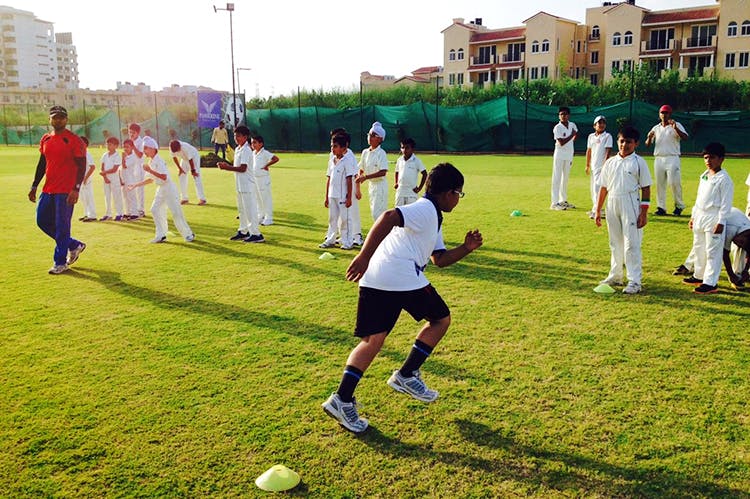 Pay & Play Football At These Sports Grounds In The City
Growing up as a football fan and player in Delhi can be hard. As a young player, you had to get used to the fact that sometimes there was just nowhere to play.
You'd try and sneak a game in a private park while the guards were away, or, worse yet, in a public park where there were about 4.5 children per square metre, or you'd have to sign up for a Sunday league. These days it is infinitely easier to get a game, as long as you have enough friends, and some cash.
With that in mind, check out these nine locations where you can book, pay and play.
Dwarka Sports Complex
For football fanatics in Dwarka who don't have the time to get to south Delhi, there is always the Dwarka Sports Complex that, besides hosting a variety of other sports, also rents out their football pitch at a reasonable hourly rate. Depending on the type of organization you are, you can book the football grounds on a daily basis starting at INR 50 or on a monthly basis starting at INR 300.
Siri Fort Sports Complex
We remember the days when we'd have to go to Siri Fort Sports Complex for Taekwondo lessons, or run laps around the massive cricket pitch, or sneak onto the hockey field to get in a quick game of football. No sneaking anymore, as we now have the finances to just book the field! The coaching charges per month for members is INR 2000 and for non members is INR 2500.
Aravali Sports Academy
If you've got some cash to spare, then Aravali Sports Academy has a full-sized pitch (and natural turf) to rent. While their rates are steep, it can be easier for Gurgaon footballers to get a community game together, and split the cost, rather than trek to some parts of Delhi. You can only book on the weekends. You can get the price on request.
Vasant Kunj Sports Complex
The conveniently located Vasant Kunj sports complex is an outdoor space where children come to play cricket in the batting nets, the Delhi rugby teams hold games and sessions, and amateur footballers host tournaments here. While booking the field can be a pain (you have to take a registration form to their office in the same area), the field is well maintained. If you want to book the field, the charges for weekdays are INR 570 and for weekends it is INR 855. The coaching fee for members and non members is INR 1500 and INR 1875 respectively.
Saket Sports Complex
Like Vasant Kunj and Siri Fort, the Saket Sports Complex is affiliated with the DDA, and offers a large selection of different sports. With a large field, Saket is good for six to nine a side games. The field is open from 11am – 3pm, and bookings can be made per hour. To use the football grounds on weekdays, the fee is INR 1140 and on weekends it is INR 2280 (inclusive of taxes). For football coaching, the fee for members is INR 1750 and for non member it is INR 2188.
Tricky Taka
A facility dedicated solely to football, Tricky Taka is one of the first centres to offer state-of-the-art astro turf and artificial grass pitches. With 5-a-side fields and iron cages for cage football (which is always exhilarating) they are a solid bet if you can only rustle up a small group to play. They also host mini football tournaments, where they charge entry fees per team, as well as a payout for winners and runner-ups. Their rates are by the hour. The cost of the coaching is INR 4000 per month.
Shastri Football Club
It's a legendary club established way back in 1966. They are not just limited to Delhi when it comes to training people because they get people from all over India. They send players in the Under 19 and Under 17 team. The cost of coaching per month is INR 2000 for all.
RSA Football Academy
They are located in two locations in Delhi and in Dehradun and have classes thrice a week. They take their students and players very seriously. They believe that a holistic development of a player is incomplete if you only engage in physical activities. You need to have a proper diet along with discipline and ethics. The cost of coaching for 3 months is INR 15000.
Netaji Subhash Football Academy
It was established in 2009. They bring world class facilities closer to you. All their coaches have played for various football lcubs such as Mohun Bagan Football Club Kolkata and Salgaocar Football Club Goa. They are all certified by the Asian Football Confederation. The cost of coaching is INR 1500 per month for all.
Comments