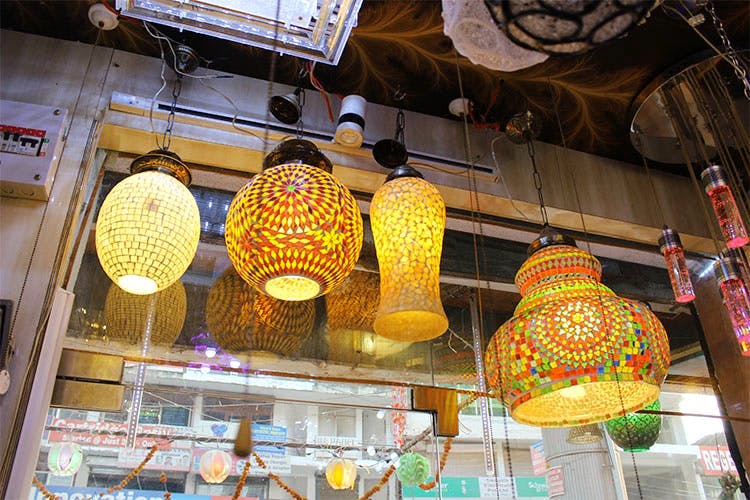 9 Shops in Sikanderpur For All Your Lighting Needs
Under the Sikanderpur Rapid Metro line, parallel to the main road, lies a line of home décor stores. From bathware, glass and mirrors, to electronic devices, sockets and fixtures and designer tiles, you can get it all. However, if you're looking to add some light to your life, the Sikanderpur market offers a wide range of lighting stores as well.
Delhi Light Emporium
A lovely little store with a good collection of coloured lights. Delhi Light Emporium also makes their own beautifully coloured chandeliers, many of which are offered on sale.
Price: Starting at INR 50

Sai Lite Gallery
A step down from the road into a basement, the store contains the usual suspects: LEDS, mini-chandeliers, modern décor lamps, and a small group of kiddie themed lamps for kids' rooms.
Price: Starting at INR 150, up to INR 15,000

Las Vegas Lights
Along with their standard lamps and lights they display a varied collection of LED lights.
Price: Starting at INR 200

Deco Lighting
They have a strong collection of metal lantern lights and gate lights for mounting outside. This is a good store if you're looking for items for large houses.
Where: Opp. Metro Pillar 55/56
Price: Starting at INR 100, can go as high as INR 30,000

KK Fancy Lights
A small store, located towards the beginning of the slip road. Limited collection, but you never know what you may find.
Price: On request

Light Art
Recently renamed, this used to be called Asian Light. They have a cute selection of small, ornate-looking chandeliers. Closed on Tuesdays.
Price: Starting at INR 300

Sai City Lights
With three rooms this, is one of the bigger light stores in the market. Dozens of differently shaped lights hang from the ceiling, requiring you to dodge some as you walk. Lamps line the window, LEDS cover the wall and employees hammer away at fixtures and repaired lights.
Price: Starting at INR 10 up to INR 20,000

Ritu's Lite Style
Theirs is a small entrance to a long rectangular-shaped store, at the end of the market road, closest to the Sikanderpur Metro station. They have some sweet chandeliers and garden lights.
Price: Starting at INR 90

Regency Lites
Large store with a selection of very modern lights and fixtures; they have mostly imported lights. The store has a second floor with a wide ranging collection of lamps, LEDs, fairy lights and more.
Price: On request

#LBBTip
All stores are located on the same small road, right beside Sikanderpur Metro. Most do not list a shop number but rather what metro pillar they are besides. Once there, it is all very easy to understand, promise.
Comments