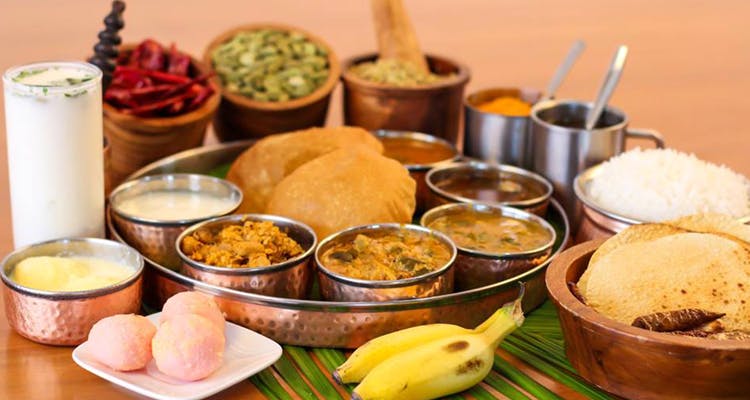 Bengaluru's Best Places for a Fiery, Hot Andhra Meal
Chilli-heavy Andhra food has been one of the city's favourite cuisines for long. Yes, we know that much of it isn't authentic but we can't help it if our taste buds sing with glee (or ghee!) every time a plate of Hyderabadi biryani or a plantain leaf piled with rice, pappu and rasam appears in front of us. Throw in helpings of Gongura chutney and chilli chicken, and our joy knows no bounds. LBB shares a list of Andhra restaurants that sets your palate on fire.
LBB's loving
Bheema's
Readers' Vote
Nagarjuna
Meghana Foods
The crowds can't get enough of Meghana so you better be prepared for a long wait before you can grab a table. Once you've settled down, however, make the most of your meal with piles of boneless chicken biryani and pair it with their specials like Meghana Chicken 555, Mutton Pepper Fry, and Nati Chicken Fry.
Sumi's Kitchen
Run out of her cosy apartment, Sumitra K's kitchen dishes out Andhra Brahmin food every weekend. Stop by for a pre-booked, home cooked meal (this is the real deal) that features recipes that have been in Sumi's family for generations.
Nagarjuna
Since 1984, Nagarjuna is one of Bangalore's favourite places for their lightly spiced biryani (choose the mutton version, the meat just falls off the bone), their equally delicious Andhra meals and plates of their super spicy Chilly Chicken.
Bheema's
A visit to Bheema's is sure to leave you a few pounds heavier. Try their Andhra meals where ladles of hot pappu or dal cooked in greens and vegetables are scooped onto your plate along with heaps of rice. The Chicken 65 and the slices of fried seer fish round off your meal well. For all the details on why Bheema's is awesome, you can have a read here.
Swathi
Over the years, Swathi's immense popularity has led them to start off many outlets around the city. Stop by any of them and order up plates of their fragrant biryani, their succulent Chicken Kakinada and their spice-loaded Chilly Chicken (it's one of the best in the city).
Hotel Annapoorna
This age-old restaurant has been dishing out knockout Andhra dishes since forever. From their limited menu, try their biryani (they have chicken and mutton versions), Nati Fry, and slices of seer fish for a happy meal.
Kritunga Restaurant
Choose from their long line up of biryanis (Nattukodi, Palnadu Mutton, Prawns and even Drumstick) or get their Rayalaseema specials that includes Paya, Natukodi Pulusu and Gutti Vankaya (a dish made from brinjals). They also have a whole lot of offal offerings that you need to try.
New Prashanth Hotel
While they have the regular Chicken Tikka Masalas and Paneer Chillys here, we suggest you stick to the Andhra specials. Their rustic menu features bestsellers like Guntur Chicken, Boti (intestines) Fry, and Nati Biryani.
Akshara
New kid on the block, Akshara is already a hit with the crowd. Their carrier meals that include ghee-drizzled servings of steamed rice, rasam, sambhar, vegetables and condiments will surely hit the right spot. So will their lip-smacking fish fry, masala vadas and their chicken dishes.
Comments