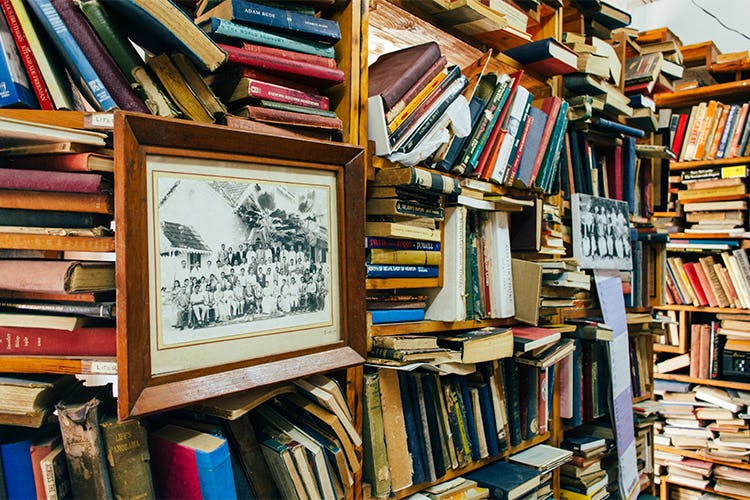 Bookmark This List And Tick Off These Secondhand Bookstores Across Town!
Whether it's the blazing summer or freezing winter, it's a great feeling to curl up and read your favourite book. But if you ask us, there's really nothing like the smell of an old book. With dedications and scribbled notes inside them, it's like looking through a peephole into someone's memories. Scout the city looking for that one author you've been trying to find or just to stumble upon new ones you might treasure. Either way, we've got your back and have curated this one just to let you know which the best secondhand bookstores in the city are.
Blossom Book House
Out of all the popular bookstores on Church Street including Goobe, Bookworm and HigginBothams, Blossom Book House is the one that stands out. The store has dictionaries, travelogues, rare comic books and even a whole shelf of Mills & Boon! They have close to 3,00,000 titles sourced from across the globe.
Select Bookshop
Founded in 1945 and frequented by the likes of Ruskin Bond and Ramachandra Guha, Select Bookshop in Ashok Nagar is a loved used bookstore in the city. Housing rare books, they are usually kept under lock and key. Spend time here reading or to explore and find something fresh and unexpected.
Book Bonanza
Located in a godown in Jayanagar, Book Bonanza gives out garage sale vibes and crazy book deals. From children's literature to fiction and non-fiction, you'll find all your book needs under one roof. The books here are sold by weight and individual prices. Starting at INR 200 per kilo, we suggest taking a huge bag when you decide to shop here.
Surya Bookstall
Amidst the bustling streets of Malleshwaram's Sampige Road, lies Surya Book Stall, a second-hand store with books stacked up to the gills. The good folks here only sell second-hand books and have made sure that their collection is in extremely good condition as well. You can also choose to sell your old books here and trade them in for new stories.
Koramangala Book Fair
Head to the yearlong Book Fair in Koramangala for some great secondhand finds. From self-help books to physics-based literature, you can count on finding some pretty bizarre stuff here (we mean that in a good way!). Selling books for as low as INR 10, this will be your new haunt whether you're a bookworm or not.
Paperback Bookshop
Paperback Bookshop in Kalyan Nagar is a charming bookstore that's a neighbourhood favourite. All their books are handpicked and curated to fit a wide range of age groups. If you're a fan of illustrations, we suggest keeping an eye out for storybooks and comics that come with vintage-style drawings.
Lightroom Seconds
Located in Cooke Town, the Lightroom Seconds is a franchise of Lightroom Bookstore dedicated purely to secondhand books. It has a fantastic book collection including both Indian and international authors. You'll find genres ranging from crime and mystery to all-out kiddy stuff like Curious George.
Comments