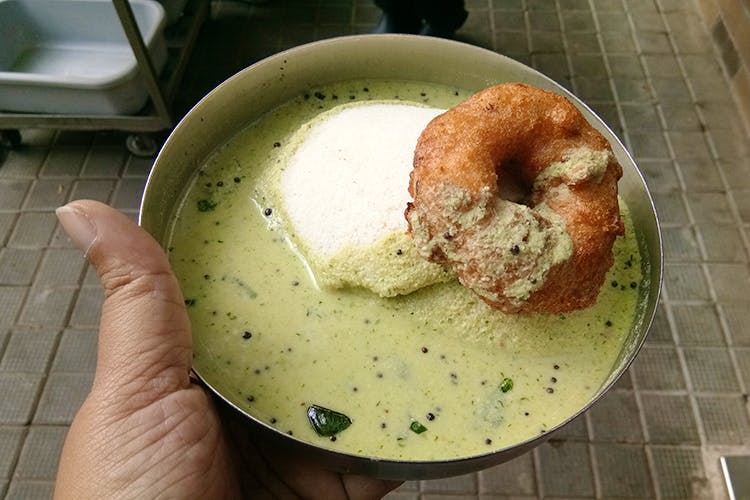 Snack Or Breakfast: The Best Places For Hot, Crispy Vadas In The City
Feel the crispness on the edge of your teeth to extend the journey into a soft pillowy core; chew and swirl the bite in your mouth until every piece of that vada – OK, stop drooling now and go get yourself one plate vada at your local darshini. And we now just the best places for your vada fix.

Brahmins Coffee Bar
As a South Bangalorean, there was never a Saturday that went by without the idlis and vadas from Brahmins. Served on a bed of chutney, this large vada has a really crispy exterior on top to have it complemented by the perfectly soaked chutney at the bottom. It's like a bite of heaven, or so we think.
By 2 Coffee
Another one of those restaurants that serve vada with chutney only, the must try combination here is idly-vada with benne. Then feel the magic of vada as it melts into your mouth with added grease of butter. This is utterly butterly delicious.
Ajantha Hotel
One of those iconic restaurants, they believe more is less. So if you order one plate vada, you get two medium sized vadas, with sambar and chutney. If you order this snack in the evening, ask them for the green and red chutney as well. This combination will make it the ultimate vada experience.

Taaza Thindi
With reasonable rates as its USP, Taaza Thindi serves up delicious vadas. Usually paired with its spouse, the idly, this too comes on a bed of chutney. With amazing crispness in each bite of the vada, this new (ish) restaurant gives the iconic restaurants a run for their money!
MTR
Fast forward to the pub and restaurant hub in Bangalore (Indiranagar) and still experience a bite of genuine, crisp hot uddhin vada at one of Bangalore's oldest and most respected names for South Indian food. Douse your vada in a generous helping of coconut chutney or simply sample it with a dash of sambar - either way, you won't be disappointed. But this one's the Indiranagar one. They also have other outlet, and of course, the original.
Comments