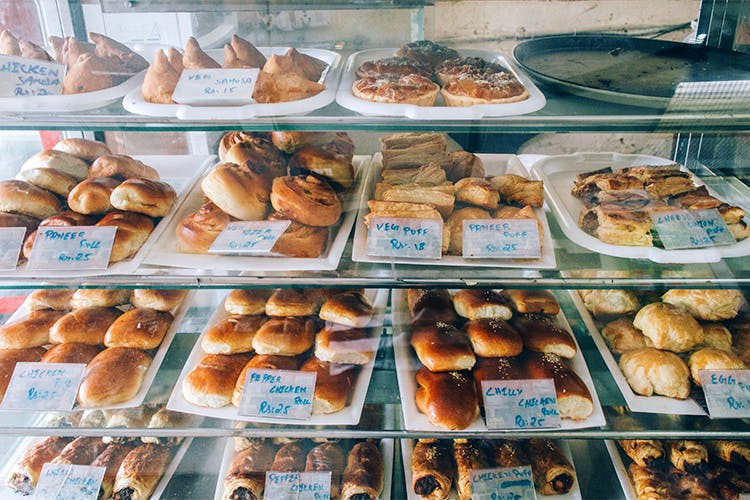 Nearest Metro Station:

Cubbon Park
Fraser Town's Cafe Da Costa's Marble Cake, Puffs And 90s Prices Are Iconic
Shortcut
An old and rather quaint place, Café Da Costa has been wowing people for years with their cakes and bakes made using home recipes.
Chow Down
White Fudge Cake, Marble Cake and Chicken Puff
Sip On
Lipton Iced Tea from the refrigerator
Winning For…
Keeping the old-school charm intact and not going commercial with food and flavour. Plus, it's super easy on the pocket.
Lowdown On The Ambience
It's not much of a café really, so if you don't bag the two seats outside, then you either take away or lurk around finishing your snack.
On The Menu
What we love about this place is that it seems untouched by time. Not only in the traditional and rather homely recipes they use for their cakes and all the bakes goodies that come out of here, but also, luckily in their prices. You try getting a large slice of banana cake for INR 25 anywhere else! Their White Fudge cake hits all the right spots and is really good for your soul even if not for your six-pack, and the Marble cake is just as good. And we don't mean a slice of Marble Cake — we're talking an entire loaf which we happily wolf down for tea.
From The Hearth
For those who don't like sweet treats much, try the fantastic chicken puff. Flaky, stuffed with chunks of curried chicken, it's perfect for that mid-day, mid-afternoon, or evening snack. There's also a veggie and egg version. Don't forget to take home their freshly baked loaves of bread after your tuck in. My favourite is the Italian herb one which makes even a boring sandwich better. White and brown bread too is on offer.
So, We're Thinking
Always a good option to go and snack at, it's almost tradition to visit this place at least once a fortnight. Also, with prices that belong in the 90s, there's no reason not to hit up this iconic bakery. A local treasure, really!
LBBTip
They usually run out of bread at about 5pm, so make sure you go earlier to get your loaf.
Comments
Nearest Metro Station:

Cubbon Park