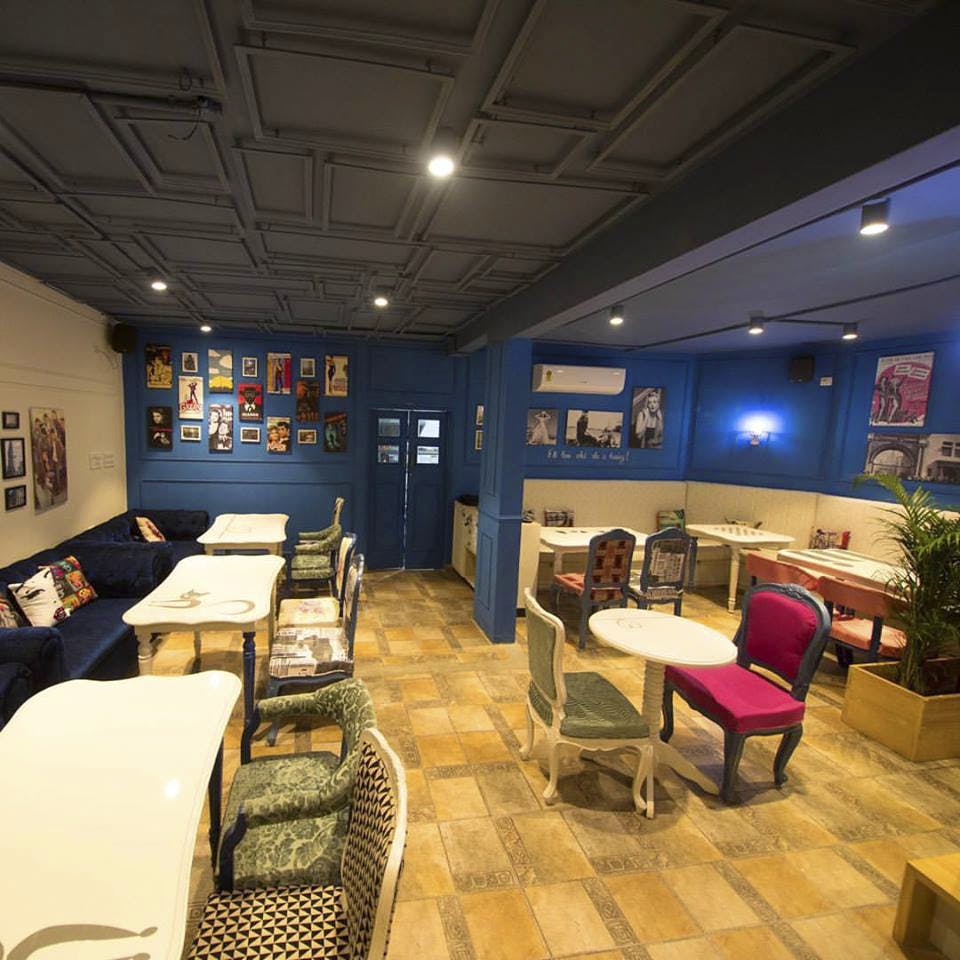 From The Quirky To The Artsy, Chill At These Cool Cafes In Kalyan Nagar With Your Squad
For folks who live in Kalyan Nagar or have friends here, this is a handy guide to cafes in Kalyan Nagar that you will need when you need a spot to chill with your squad, plan a major goss sesh with BFF or go on those dates with your SO when money is tight, but love is high. You can thank us later by calling us to one of these Kalyan Nagar cafes.

Cafe Azzure
It's a slice of Greece with the trademark Mediterranean blue and white and the whole place done up with charming blue street maps, and white benches to really make you feel like you've landed in Santorini! Sandwiches, burgers and pasta are what you need to order, especially the Cafe Azzure Special Pizza that is in the shape of a star. The dessert shakes, especially the brownie and Snicker ones, are our favourites, and you should go here just for that!
The Roastery
Currently, the only place in Kalyan Nagar to get your hands on artisanal, hipster coffee, there's soft lounge music, comfortable seating, and tiny tables in a very minimal decorated space for hipster vibes. For the brews, there's freshly ground, single origin cups. The place is usually thronging with patrons during the second half of the day, so if you want some quiet time with your book and coffee, it's the mornings we recommend.

Cafe Pink Pajamas
This one is a fun and quirky space that's colourfully done up with mismatched furniture, bright walls and pop culture posters all around. Even the chairs are upholstered in a different funky pattern and colour, so there's a whole lot of pictures you can take at this Insta-worthy cafe. The menu includes pasta, thin crust pizzaz, burgers, and sandwiches -- basically all your cafe favourites that you can get for INR 700 for two people.

Rasa Cafe
If you like your sandwich with a side of Mohiniyattam, then Rasa Cafe is for you. It's a part dance and performance space and part cafe. A great mix, we think given that they also conduct workshops, fresh new dance acts, and host artists regularly. The menu is the usual -- sandwiches, pasta, pizzas, burgers and salad -- all priced between INR 100 to INR 150.
Cake House - Story Cafe
It's the perfect, quiet, and chill place to sit back and read a book. A small apartment converted into a three-room restaurant, you will love the whimsical wall decor, the Korean-style floor seating, and re-purposed tables of this cute cafe in Kalyan Nagar. There's unlimited WiFi too. Try their full selection of baked goods as well as their kimchi fried rice and Korean-style fried chicken.

Artville Cafe
Another spot in the hood for some quality me time and not being disturbed by anyone. It's decked out like an art gallery with artworks hung on the wall. And that's what makes this place more than just a pretty cafe. You can buy art, be an artist, and even attend workshops and classes. Go here with that artsy friend of yours or when you need some good coffee and interact with like-minded strangers.

Comments