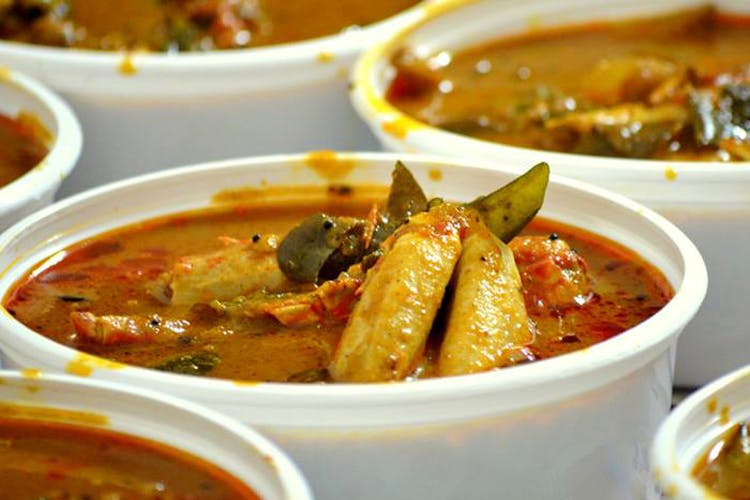 Throwing A House Party? Keep Calm And Call The Caterer
Ditch the greasy buffets in favour of speciality and gourmet catering services that make having a house party a culinary treat. So make a phone call to our pick of chefs, who'll take over your kitchens {or bring in cooked food} and let your hair down at your own party. We assure you, your event will be the talk of the town the following day. Here's a list of catering services in Bangalore for you
Anisa's Kitchen
Mostly loaded with meaty treats (specifically Kutchi Memon) which range from Afghani kebab and mutton cutlets, starters also include international fare in the form of Spring Rolls, Spinach and Corn tarts. But her top seller is the Warqi Samosa. Known for her biryanis mentioned here, Anisa Aunty's other offerings include curries, kourmas as well as her grandmother's recipes for Chicken Moily, and Kadhu Ghosh. A few baked dishes, such as Chicken Lasagne and Mac and Cheese, also feature. Desserts too are a priority, and range from Baklava Cupcakes and Firni to Caramel Custard and Trifle Pudding. You can also choose from her set menus.
Contact: +91 9845878300
Price: INR 250 upwards a plate (including cutlery, crockery and service staff)
Manna Hospitality
If you've been to at least five weddings in town, it's likely that three of them were catered by the silent yet stunning people at Manna Hospitality. Spearheaded by James and Sharat, Manna serves Indian, Chinese and Continental, so either stick to one cuisine or even mix and match. While they have an extensive menu, picking from their sample ones is the best. Think Ginger Garlic Prawn, Lasooni Tikka, Chilli Potatoes to start with, then Lemon Basil Fish, Kaju Kishmish Pulao and Chicken in Black Bean Sauce (not all together, of course!). They have cuisine specific desserts too, so you're sorted in every aspect.
Price: INR 500 upwards for vegetarian and INR 650 upwards for non-vegetarian (including crockery, cutlery and service staff).
Mad Curry
When the owner Juno loves cooking so much, you can rest assured it shows in her food. Mince Beef with Potatoes is the first on the menu, and that sets the tone for the wholesome and unpretentious food. Andhra Chilli Chicken, Meat Balls, Kodi Vepudu (Telugu for Fried Chicken) and Mustard Prawns are hot faves in the Indian department while Cheesy Beef Pies, Chicken Orange, Thai Curries and a vast offering of roasts and grills dominate the finds from foreign lands. Plus, salads, soups (even the Tibetan Thupka) and desserts.
Price: INR 350-500 per portion (serves 2-3)
Aunty June's Kitchen
Noelene Fernandez (AKA Aunty June) and her bff Sylvia Sharma joined forces and cook up a storm, whether you're looking to feed two, or five dozen. Anglo Indian, South Indian, and everyone in between, you're in for a treat if you love meat. Mutton curry, meatball curry with Devil Chutney, Coconut Rice, and cutlets, Vindaloo, South-Indian style fish curry, or even an Au Gratin or Shepherd's Pie, and Chilly Pork are some of what you can expect.
Price: INR 100 per vegetarian plate and 150 per non-vegetarian plate.

Colonnade Caterers
You better be on owner Huma Ali's 'Good' list, as she is quite particular about her clients. We listed her as a Biryani expert too here, but her repertoire extends well beyond. Indian, Chinese, Thai and Mexican food makes up her menu. But Continental delights like Puttanesca Tarts, Zucchini Rolls, Quiches, Mini Burgers and Hummus and Pita are hot sellers too. For a single-meal party, order Khow Suey and everyone who's had it raves aplenty. Plus, desserts like Banoffee Pies, Key Lime Pie, Sticky Date and Walnut Pudding.
Price: INR 400 upwards per plate
Travancore Tasties
Not specifically a catering service, but delivering food in bulk (each of their dishes serves three, unless otherwise mentioned), Tresa promises authentic Kerala cuisine. Apart from the usual suspects (Fish Moilee popped into your thoughts, didn't it) such as Prawn Curry, Appam and Stew, Idiappam and Egg Roast, Korma, Syrian Christian specialties make it to her menu too. Beef Ullathu, Beef Cutlets and Dry Pork are prime (and delicious) examples.
Price: INR 350 upwards a dish, minimum order is INR 1,000
Big J's Catering & Grill
In the catering game for 2 years now, Big J's Catering and Grill is becoming increasingly popular for their signature dishes like the honey glazed ribs, crispy chicken wings and burgers. Yep! These guys get all of our favourite meaty comfort foods right. Specialising in barbecues and grills, give these guys a buzz for your outdoor gatherings old-school bbq parties and they'll bring their best grills and serve you perfectly smoked meat.
Price: INR 350 per person, minimum for 20 guests.
Chef Amiel Guerin
For French and continental cuisine served in bite sized portions full of flavour, hit up Chef Amiel Guerin. Be it a birthday party, a corporate event, outdoor events like small gatherings and celebrations. Ravioli, Canapes, sliders, brownies, tarts (sweet and savory). For more intimate settings (like a fancy sit-down dinner), he'll curate a menu for your (and your guests) tastes, and you just worry about keeping the conversation and drinks flowing!

Price: INR 250 upwards for corporate events, INR 650 upwards for corporate buffets and INR 1,500 for private parties.

Mudaliar's Catering
Operating out of a home kitchen in Cooke Town, Mudaliar's catering does authentic Mudaliar cuisine. Think classics like Mutton Drumstick Curry, Kheema Ball Curry, and Crab Curry that you can pair with coconut rice or a pulao. Run by Sandeep PS, they usually deliver through major food delivery aggregates. But if you're looking at them catering for a crowd, they'll take care of the food for a maximum of fifty people. Place your orders at least three days prior and treat your guests to a lip-smacking spread. Read more about them here.
Comments