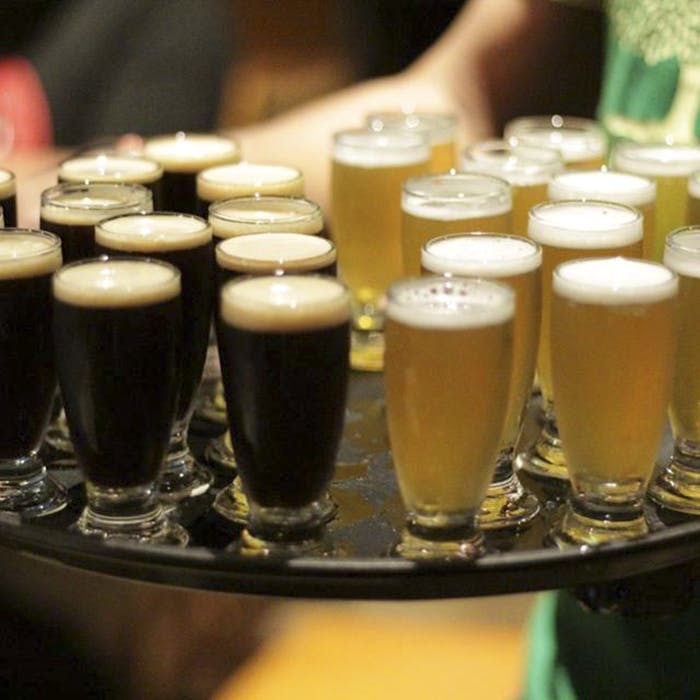 Drink Up And Paint The Town Red At These Famous Pubs In Bangalore
Known, and proudly so, as the City Of Pubs, Bangalore can never get enough of pub, breweries and basically anything even remotely to do with beer. But if you're pressed for time, and have to make a quick choice, why no make it to the most famous pubs in Bangalore. From relative new ones like Toit to old-timers such as Pecos, bring on the beer and masala peanuts!
Jimi's Beer Cafe
A little bit of old school jam, pints, and towers of beers and the usual chakna is what the scene at Jimi's Beer Cafe is all about. The old school Bangalorean pub vibe and a whole lot of options to drink makes Jimi's a top favourite despite its questionable interiors which truly need a redo! But old is gold, and no place like Jimi's for rock music and Kingfisher beer.
Sherlock's Pub
Bangalore's very own 221B, Baker's street is known for its classic pub feel with affordable drinks and classic food options. Sherlock's in Indiranagar, an upgraded version of the Frazer Town self, has a very old school vibe with comfort food and classic alcohol combinations. Sip on Old Monk, smoked whiskey and beer. With the neon lights, Sherlock Holmes elements all around and old school music, this place is a treat.
Arbor Brewing Company
Turn on the Bangalore Bliss with some cajun fries and freshly brewed beers at Arbor Brewing Company. Being the official brewup of Bangalore FC, match days are never dull here and the Namma Bengaluru sentiment runs high here. With several options to choose from at the bar and some good food to go along with it, Arbor Brewing Company is undoubtedly one of the most famous pubs in the city.
Monkey Bar
If you are making drinking plans in Indiranagar, Monkey Bar definitely has to be on top of your list. One of the most loved pubs in Indiranagar, Monkey Bar guarantees everyone who walks-in a good time with some infused cocktails and signature drinks. The seats get filled up pretty fast, so plan ahead and make sure you reach before the crowd starts pouring in to have a good time and enjoy the drinks and the music. Cocktails and Butterfly Chicken must be ordered here.
Pecos
Bangalore's old-school pub, Pecos off Brigade Road is the place to be for some classic rock music and drinks at prices that would give you a happy high! With rock icons on the walls of Pecos, you'd feel like you are on a Stairway To Heaven with beers starting at INR 105 and pub food to go with it. Hands down, Pecos is Bangalore's favorite pub and loved for the food, beers, and music they play - across generations too!
Hard Rock Cafe Bangalore
One of the most iconic pubs in the world, Hard Rock Cafe is in the heart of the city in a heritage building on MG Road, Bangalore. With iconic outfits, records and guitars all around, Hard Rock Cafe is every music lover's hub. Gobble up their cheesy burgers, nachos that never seem to finish, and drink up the LIITs and signature cocktails for a boozy good time. With bands playing, drinks flowing and loaded burgers, you are bound to have a rocking time here.
Plan B
Known for their chicken wings and all American diner ambience, Plan B is one of the OG pubs in Bangalore. With old school music and a classic 90s vibe, Plan B has a place in every Bangalorean's heart and, is on the to-do list of everyone who visits the city. If you love meat, then Plan B has plenty of options for you to choose from.
Toit
The baap of all breweries and pubs in Bangalore, Toit is the most visited and top on anyone and everyone's list of best pubs in Bangalore. Being one of the most crowded pubs in Bangalore, consider yourself lucky if you manage to find a seat here on a weekend. Their freshly brewed beers is an absolute must try and has successfully marked itself on the pub map of India. Do try their Lamb, Fig, and Cheese Pizza, the Baked Nachos, and the hefty Toit Steak.
Chin Lung
One of the oldest and most authentic pubs in Bangalore, Chin Lung is everything nostalgic and love. Though the place has got a bit of an upgrade and doesn't really look as much of a dive bar anymore, the prices are still old school: Old Monk served at INR 25 per peg and INR 60 for a mug of beer with masala peanuts and masala papad. Relive the good old times with some rum and Coke at Chin Lung.
Watson's
Not to be confused with Sherlock's, Watson's is a popular pub chain known for their craft beers, chilled-out ambience, budget-friendly drinks, and some appetising food options. It is a huge hit among the Bangaloreans and a regular spot for a chilled drink during the week, or to just get the weekend vibe on. It is spread over three locations: JP Nagar, and Ulsoor and Vasant Nagar. If you're easy with location, the Ulsoor one is the best as it overlooks the lake, and the lush, green canopy of the military area around it.

Comments