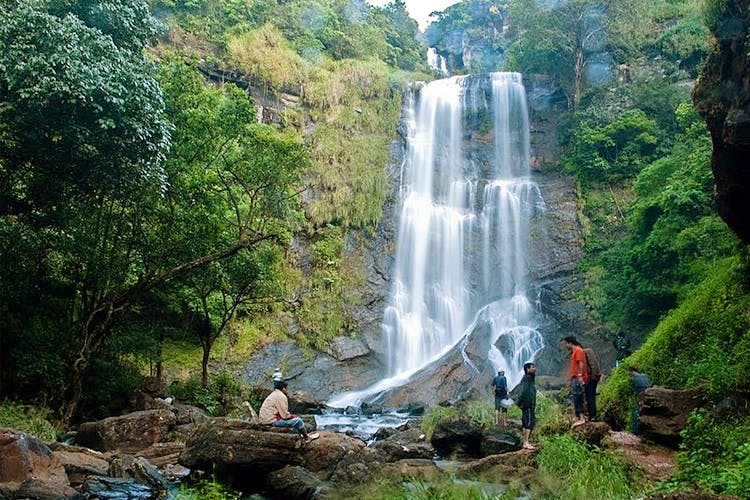 Have You Checked Out This Secret Waterfall Inside A Coffee Estate And Surrounded By Hills?
Shortcut
In your quest to check out all the waterfalls near Bangalore, be sure to set your GPS to Hebbe Falls. It's located inside a coffee estate next to the picturesque Kemmangundi Hills.
What Makes It Awesome
At the quite and picturesque hill station of Kemmangundi, the real agenda for anyone should be to visit the gushing Hebbe Falls. The falls come alive in all its glory during the monsoons and with it come city slickers and trekkers. Since it's a forest reserve area, you will have officials and jeeps at the check post. Enquire about the prices (INR 200 to INR 500) and if it suits you, hop onto a jeep that will take you the last checkpoint before the falls. We suggest otherwise. We say take to the off-road trail, tighten those shoelaces and trek it up! Why? Because the 10-kilometre stretch is a perfect trekking trail that will take you through plantations and thick forests. It's a spot of adventure especially when you are trekking with a group and everyone's trying to reach to the falls first.
Plus, the scenic route comes with natural checkpoints in the form of small streams and clearings, where you can relax for a bit before getting back on to the road. Oh, and at these clearings, you will get the view of the falls. Fill up your water bottles at the stream if you have to, because it's not as close as you think. Or hope! The Hebbe Falls can be reached through two ways: you head straight like we suggested or you trek up Kemmannugundi and then on your way back down you'll get to the falls. Once there, spend as much time as you want. Take a dip but don't be too adventurous (read no skinny dipping) or go too far in.
What Could Be Better
Around the falls be careful of other tourists. Many are rather loud and careless. Also, you don't want the leeches having a field day. Be warned: if you are going during the monsoons, carry salt and vinegar because it's leech central. We learned the hard way, which included four leech bites.
Pro-Tip
When you've had enough of the falls, make your way to Kemmannugundi. It is really a summer getaway nestled in Chikmagalur. In fact, the hill station was once the summer retreat of Krishnaraja Wodeyar IV, because of which it is also known as Sri Krishnarajendra Hill Station or KR Hills. The steep uphill trek is a fun and exhilarating one, with most trekking clubs rating the difficulty level between moderate and hard. If you aren't an experienced trekker, we suggest you take it slow, especially during the rainy seasons when the place can get slippery.