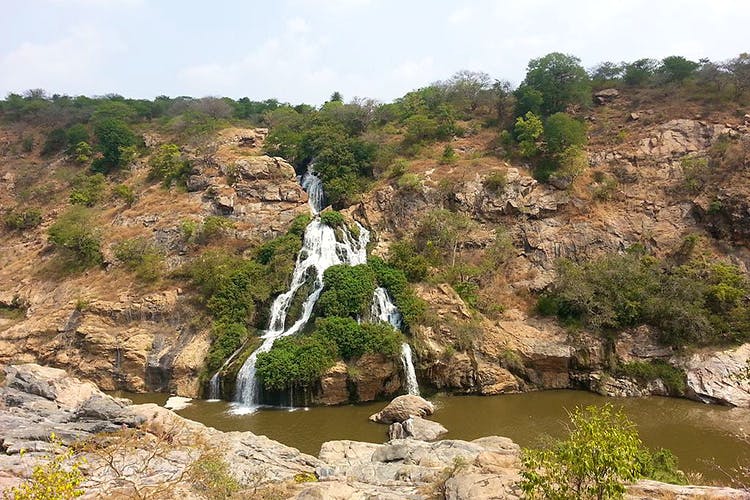 Visit These Places That Are Under 100 KMS From Bangalore
If you've been in Bangalore long enough, chances are you have been to almost every possible picnic spot in the vicinity. But then again, there's always that urge for you to explore more places, cover longer distances, and make your travel diary a bit bulkier with pictures and photos from all these places. Luckily for you, you don't need to a Google Search for your next road trip destination. We have got you covered with our list of places to visit near Bangalore that are within 100 kilometres.
Devarayanadurga Hills
If you are heading to the picturesque Devarayanadurga Hills, there's plenty to do there, right from getting acquainted with the myth behind the Namada Chilume, a natural spring, enjoying long treks to the nearby hill and visiting the Devanarayanadurga temple. In case you are planning on staying around during the weekend, head to Camp Linger. Set up camp (yes with tents) in the rocky landscape as it's perfect for the squad and those fam-jam trips, or even for anyone just looking for a dose of adventure
Distance from Bangalore: 79 km
Bheemeshwari Wildlife Sanctuary
A slice of heaven located just about 100 km from the city, it's perfect for those looking to get one with nature. Book yourself an outdoor living experience with cottages, log huts and even tents at the Bheemeshwari Nature and Adventure Camp, part of Jungle Lodges. Picnic by the Cauvery riverside, adrenaline rush with water sports, trekking in the wilderness — there's plenty to do here. Oh, and do remember to pack your binoculars and DSLR cameras as the place has some spectacular, Insta-worthy landscapes.
Distance from Bangalore: 100 km
Mekedatu
It's more of a day trip spot, but Mekedatu, which translates to goat's crossing, has a couple of places for you to stay. Known for its stunning natural formation, it's a result of the Cauvery cutting through the granite rocks over thousands of years. Be sure to make a stop at Kanakpura's Chunchi Falls on the way. You can also get off the bus at Sangama or park your vehicle there and trek to Mekedatu or cross the river on a coracle and then trek up about 12-15 km to reach. Lots of adventure either way!
Distance from Bangalore: 100 km
Savandurga
If the hills are always calling out to you and you feel like you belong in the great outdoors, head straight to Savandurga. It's a picturesque hill that has the Arkavathi river passing nearby through the Thippagondanahalli reservoir. Depending on when you leave town (we suggest early morning), you can see a whole lot more than just the river — stunning views of deciduous forests and the Manchinbele Dam. Did we tell you that you will be trekking up one of the largest monolith hills in Asia? Fuel up in one of the many eateries around for breakfast or lunch.
Distance from Bangalore: 60 km
Anthargange
Known for its night treks, Anthargange offers all you adventure enthusiasts more than just a climb. There's a whole lot of cave exploring for you to do, making this trail quite the Indiana Jones-type. Sadly, there are no treasures to be found or people to chase. Another interesting bit about the trek is that they are rather short as the hillocks are formed of volcanic rocks and boulders. And where there are rocks and boulders, expect adventure activities such as rock climbing and bouldering.
Distance from Bangalore: 70 km
Chunchi Falls
An old haunt for bikers and picnickers, Chunchi Falls is around 90 kilometres from Bangalore falls beyond Kanakapura main road. It's close to another popular getaway – Sangama and Mekedatu. Spend an entire day chilling and exploring because there's plenty to do. Unlike Sangama and Mekedatu, Chunchi Falls is slightly trickier to get to, but when you get there, you can even trek down to the base of the waterfall but strictly stay out of the water since strong undercurrents and crocodiles are not uncommon here.
from Bangalore: 90kms
Kokkare Bellur
The village of Kokkare Bellur, not very far from Bangalore, is known for its love and its conservation efforts of the 'near threatened' painted stork (which lends the town its name) and the spot billed pelicans. A visit to the village and the surrounding water bodies not just gets you a sight of these birds but also showcases how unbreakable the bond between the villagers and the birds, who are considered as harbingers of good luck and prosperity.
Distance from Bangalore: 87kms

Comments