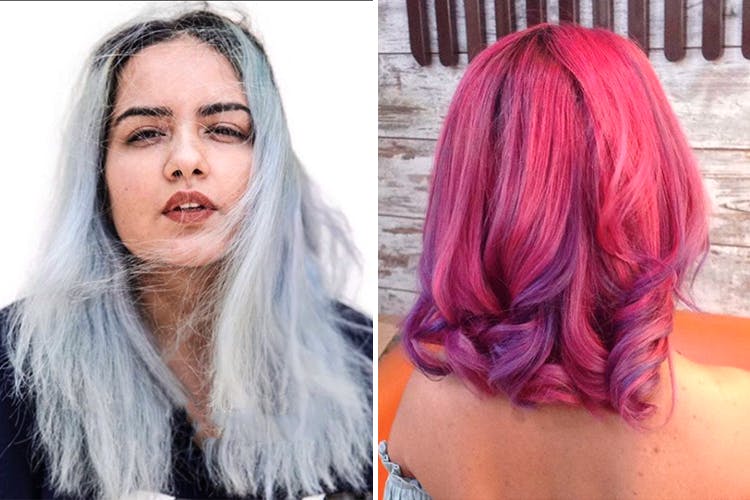 Tried & Tested: 5 Delhi Women Tell Us Where They Got Their Hair Coloured
Colouring your hair is something that can easily go both ways, you could find yourself returning to the same hairdresser and switching up colours, or rushing to get your hair chopped off due to a disastrous experience. We asked five Delhi women who've had a good experience with hairdressers when it comes to hair colouring.
So, go through our tried-and-tested list of hairdressers before you go get your hair coloured.
Martina Wu
Priya Chaudhary, Senior Brand Strategiser, was recommended Martina Wu by a friend. She mustered up the courage to book an appointment after much contemplation (this was when she just moved to Delhi), and decided to head over to see what the fuss was about. Martina and her sister Rita run the place, Martina gave her a consultation on what kind of colour she should opt for. She wanted to go all-out and get her hair coloured blue, which was when Rita took over.
Advising her to mix blue with purple, Priya stayed there a good eight hours, during which they gave her their undivided attention (despite being packed). She left more than happy with the results. When it comes to hair, Martina seriously knows her business and you should definitely try her out for any sort of hair styling.
Rod Anker
Tanya Bedi, Graphic Designer, swears by Rod Anker in Meharchand. He has a fantastic understanding of hair, and pays detailed attention to individual hair needs.
Rod is a no-nonsense kind of guy who'll tell you exactly what will happen to your hair post colouring it, unlike a lot of hairdressers who tend to sugar-coat things. It will get rough, and there is going to be damage. Plus, let's be honest, the curlier and more unruly the texture of your hair is, the rougher it gets post colouring. He takes extra care to make sure that your bonds don't break while bleaching, so he gets brownie points for that.
Elvis And Reema
Jhinuk Sen, a Senior Editor, has been going to Elvis and Reema for the past few years. She's usually stuck to different shades of red, and hasn't complained so far. Reema handles the colouring and gets super excited about experimenting and trying out new styles (not at the cost of making you look ridiculous).
You need to be ready to dedicate a large chunk of your day to her. The plus point is that she takes her time with the colour, and makes sure it comes out exactly how she wants it to, so you're in good hands. If you want to get adventurous, she'll be more than willing to give you that extra push you need. Make sure you book an appointment well in advance and ask for her specifically.
Looks GK 2
Aditi Ajmera, Brand Strategist, has been going to Shekhar for the past eight years, and been following him around to different salons. She's even recommended him to various friends and they've been pretty pleased with the results.
If you're someone who has no idea about hair colouring, Shekhar is just the man to go to. He uses the best products and explains in detail exactly what you need to do for post hair colouring care, according to individual hair needs. He's great with other stuff too – whether it's haircuts or hair spas, Aditi trusts him blindly for all her hair needs. We recommend you go to him if you find yourself in this area.
Modern Looks, Gurgaon
Simran Bakshi, iOS Developer, got her hair coloured from Modern Looks in Sector 23. If you have super long, thick hair like Simran (she's never got it cut), Salim is more than ready to take on the gruelling task of colouring them tresses.
She heard of him through a friend, and though it took eight hours and is a bit on the expensive side – it's worth every penny. He spends enough time making sure that the colour is just perfect, and every strand gets coloured evenly. If you're a resident of Gurgaon, this is just the place to go to.
Comments