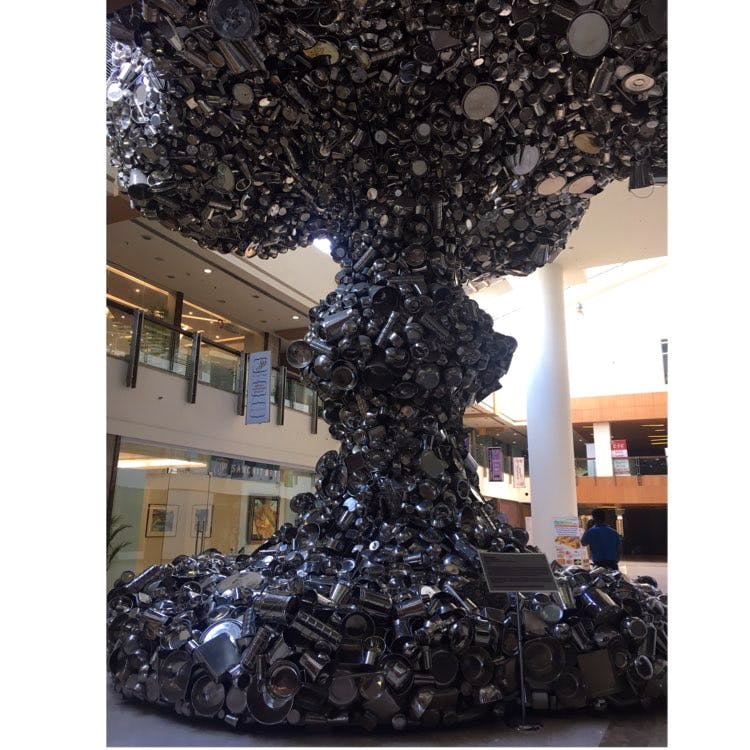 There's A Giant Mushroom-Shaped Structure In Saket's South Court Mall & Here's What It's About!
What Makes It Awesome
The less crowded of the chain of Saket Malls, South Court Mall is currently turning heads with a massive mushroom-shaped steel structure in its foyer. Extending from the ground floor right up to the second floor, the structure is actually an installation by the prolific artist Subodh Gupta. Titled 'Line of Control' (2008), the installation is actually meant to mimic the after-look of a nuclear explosion. It is made up entirely of stainless steel utensils such as glasses, cups, tiffins, bowls, etc. - a signature element of all of Subodh's sculptures. While the predominant inspiration for the installation comes from the atomic bombings of Hiroshima and Nagasaki, the artist also draws parallels to the Indo-Pak border in 1991 when the countries were on the brink of a nuclear war.
What Could Be Better?
While the stupendous sculpture does take over one's attention on walking into the mall, an outdoor setting would have been more apt, given the background.
What's My Pro Tip?
The sculpture is a part of the Kiran Nadar Museum of Art that is also in the South Court Mall. Don't forget to drop in to catch their current exhibit!
More Information
DLF South Court Mall
Nearest Metro Station: MALVIYA NAGAR
Comments