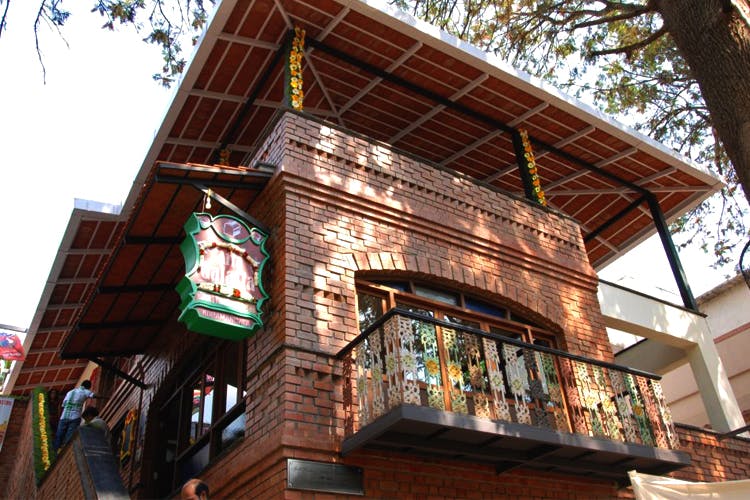 A Bit Of Books, Bites And Culture: Why This Cultural Space Is An All-Time Favourite
Shortcut
A space that is all about regional literature, delicious baked goodies and events for the whole family.
A Literary Work
Book shelves line the walls, flanking twisting columns of brick. The fresh aroma of something just baked wafts through the air, mingling with the scent of the patiently waiting books. The tables, arranged symmetrically, play host to a multitude of bookworms burrowed deeply into regional literature. Steam slowly rises from coffee mugs, sips are taken, a word is spoken and the reading resumes. We could be here all day.
Culture Magnet
Atta Galatta takes culture very seriously. The evidence? They've got over 10,000 books, in Kannada, Tamil, Telugu, Malayalam, Hindi, Bengali and English. That isn't all though, because when the weekend comes around, the place is buzzing with creative activity. There's poetry, book readings, storytelling, theatre, film screenings and childrens's workshops. In there, among the books, readers and bohemians, events have a profoundly deep and intimate air. Little wonder why the place is as popular as it is. Oh and also the food. The simple menu of burgers, sandwiches, samosas, cutlets, coffee, tea and juice, just about hits the spot.
Just as interesting as the cultural space, are the people behind the endeavour. Subodh Sankar and Lalitha Lakshmi, seeking change from their lives as IT and advertising professionals, respectively, decided to open a bookstore and thus was born Atta Galatta, a space that has become a formidable yet approachable hub for all things art and culture.
#LBBTip
You might want to try out their homemade breads. Works of art, we tell you!
Follow them on Facebook here.
More Information
Atta Galata
Nearest Metro Station: Trinity