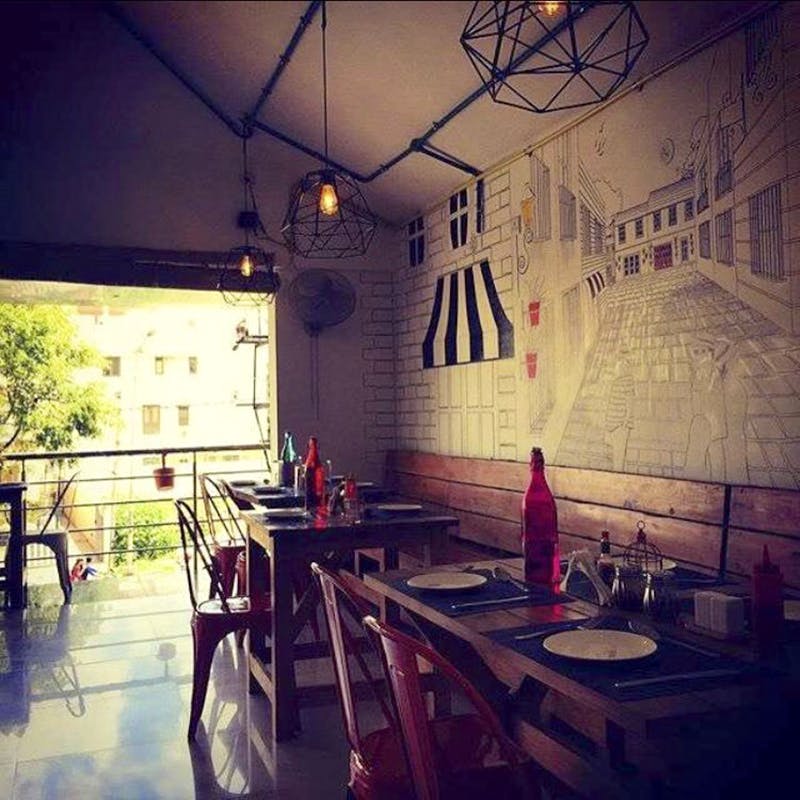 Insta-Worthy To Free WiFi: Hit Up These Cafes In HSR For Date Nights Or A Goss Sesh With BFF
If you live, work or need a place to meet your friends living in HSR, then you will be happy to know that there are plenty of places to hang out in HSR Layout. So much so, that most folks from Koramangala also, frequently visit here (this writer is one of them). Having said that, whether you are looking for a nice place to work from, sip some good coffee, eat ice cream or play pool, our list of best cafes in HSR Layout will sort you out.

Here & Now
Our favourite European all-day diner, Here & Now's menu has everything that you might crave for, and then some. Breakfast platters, burgers, sandwiches, salads, pasta, waffles, pancakes, smoothies and shakes for however peckish you are. Besides the extensive menu, you will love the naturally brightly lit café with its the open bookshelf and plenty of indoor games like carrom, foosball, and even a guitar if that's what you play.

Sector 7 Cafe
Part of lists on budget eats in HSR and best first date spots in the city, Sector 7 easily wins for its charming and cosy vibes. Packed during weekends, their all-day breakfast spread includes fluffy pancakes, sinful French toast, and loaded omelettes. A contemporary playlist, the al fresco table for two, thin-crust pizzas, and loaded burgers should ensure your catch up shesh goes on for hours. They have WiFi too, so working out of here is a good option.
Tea Villa Cafe
When you need to post about your date with your BFF or SO, nothing like a cafe that's Insta-worthy right? Tea Villa Cafe is exactly that with is monochrome floors, ceilings with tropical murals, and plenty of cosy nooks. The menu is all-vegetarian, but it's the variety of tea that you should be trying. They have got over 90 flavours including masala chai, Oolong, green and white tea, and some sublime blends.

Grapevine
When you need a quiet little space to finish your work, this is where you need to head to. Glass walls, naturally-lit interiors and a cute little book corner for those who love to read, it's practically a chill place. Oh, and did we tell you there's wine? Changes the whole game of working from a cafe right? Pizza, substantial mains, and appetisers will keep the hunger at bay. Don't miss out on their weekly events that include open mics and stand up comedy.

The Wicked Cup
A cute little cafe in the basement, it's perfect for grabbing a quick bite or when you want food on a budget. If you have INR 500 between you and your friend, then go ahead and order their loaded fries, the Pizza Sandwich, and a Nutella Brownie thick shake. It's fully vegetarian too.

Keep It Straight
Live sports screenings, hookah, and a pool table -- you have got the trifecta to make sure your squad catch up is lit. They host events from time to time too. The rooftop space is nice to chill at. The menu is a mix of cafe fare and Indian favourites, but we say stick to the tried and tested winners such as fries, club sandwiches, and pasta.

Brimstone Cafe
The whole space has a very earthy, rustic feel to it and a meal for two would cost you around INR 1,200. Our recommendation would be to order a Crunchy Chicken Wings to share, Aglio Olio pasta, and a sizzler, and finish it off with an apple pie. They screen sports matches if you are looking to catch a game minus all the madness and crazed fans.

Kairos
Pet-friendly, open-air rooftop setting, and spacious -- reasons why we like Kairos. It's basically a house converted into a cafe, so each room has its own theme and decor with the Pondicherry room being our favourite, Bright yellow walls and murals. Evenings the place is abuzz with college folks with almost everyone opting for the terrace space. Everything is baked in-house and their desserts are as sinful as it can get.

Third Wave Coffee Roasters
For that solid single origin cup of coffee, this coffee chain is perfect. Very hipster in decor and their coffee process (Aeropress to pour overs), you are most likely to find yourself working out of here thanks to the co-working and community vibe. Order any of their signature brews or stick to the classics, but be sure to order their flatbread.

Kawaii
The only space in the entire list that does desserts only and that too mochi ice cream. 13 flavours including green tea, mocha chip, and sala cider should take you on a trip to Japan without actually going there. The whole space is kawaii too with pastel coloured furniture and minimal decor.

Comments