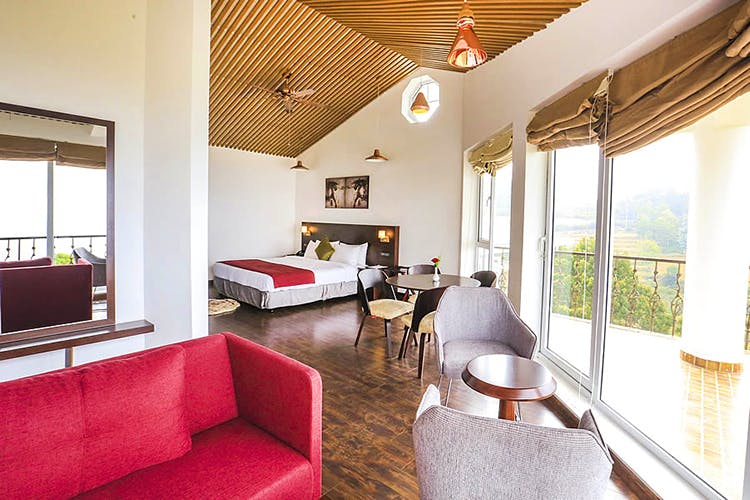 Live Life On The Edge…Of The Nilgiris At This Cosy-Meets-Luxe Resort In Ooty
Shortcut
Perched at the top of a mountain in the Nilgiris, overlooking Masinagudi, the Glyngarth Resort is a dream come true if you're looking for a quiet getaway, but with a hint of adventure.
What Makes It Awesome
Bored of all the swanky hotels, or the casual Airbnbs? We've got just the thing for you, and it's called Glyngarth Resort. Overlooking the lush Masinagudi forest below, this resort is quite literally at the top of a mountain in the Nilgiris. We don't usually encourage excessive Instagramming, but in this case, you must!
Cottages dot the hillside, and you can cosy up in any one of them as all are practically identical. We love that each has large glass doors which make it seem like you're in the midst of nature even when you're indoors. The rooms also have a private deck if you want to soak in the mountain air in the luxury of your pajamas. Of course, if you feel like splurging, pick the few uber indulgent cottages that have large jacuzzis.
When you manage to tear yourself away from the gorgeous view, there's much to keep you occupied. Starting with a dip in the pool, which has the best view of all! But when temperatures drop to zero degrees Celsius in the winter, then it's not as much fun as in the summer. So save the fishing, trekking, campfire for the colder months. For the culinary wizards, a lovely baking workshop can be organised if you intimate them in advance. And for the polar opposite, check out their mountain biking trails — they're something else, but you'll need to take your bike along.
Meals are Indian, Chindian and Continental, but don't expect gourmet stuff. It's tasty and simple.
Pro-Tip
The is one bamboo sofa that is like a circular lounge chair, by the pool. Make sure you snooze on it at least once!

Also On Glyngarth Resorts
Comments