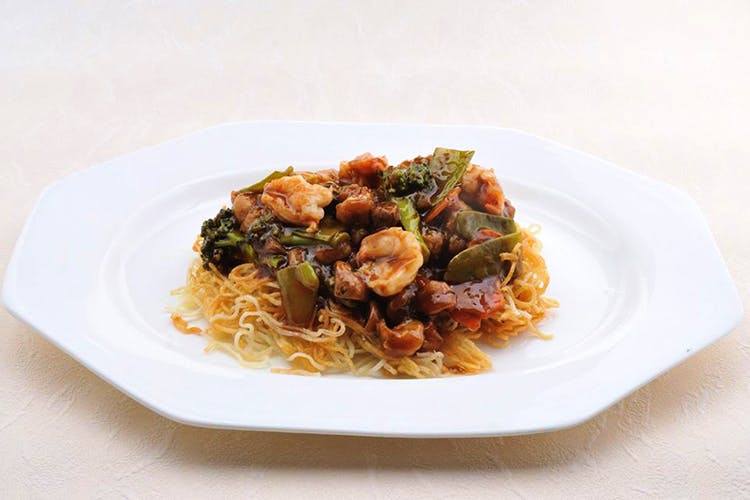 Nearest Metro Station:

M.G. Road
Dumplings, Noodles & A Never Ending Menu: It's A Chinese Affair At This Chain Of Restaurants
Shortcut
Mainland China is invariably a lot of people's (read parents) go-to option for Chinese food. Their starters and mains are quite the winners too!
China On A Platter
Mainland China is one of those places that while the millennials seem to avoid, the parents and an older generation still seem to flock to. In fact, when the writer's family wanted to do a Chinese dinner, everyone (except the writer, because he's a millennial) unanimously picked Mainland China. It's probably got to do with the fact that their menu is very dad-approved as the portions can feed a family of three easily by ordering one kind of dumpling, a starter, curry, noodles and rice. Plus, the Chinese-style decor that's overly done with lanterns, countless pictures of dragons and Chinese landscape, and statuettes make for a nice background for a family selfie.
The buffet that's served all through the week is something that you can skip unless your idea of a meal is piling tons of noodles with greasy curry and making it a feast. The a la carte menu is always our go-to with the Eight Treasure Soup setting the tone for our meal. It's usually followed up with Basil Flavoured Chicken Dumplings or Corn and Waterchestnut Dumplings and Sichuan Chicken as starters. The Sichuan chicken despite advertisements about its spiciness and slightly shocked staff, who always ask us to order something less spicy, has never quite reached the peak level that we would love. But for others, you might want to grab tissue papers and keep water in handy.
Noodles And Curry
If you are trying out Mainland China for the first time, the menu is extensive and can leave most people confused. But order like how this writer's father orders when in a large group or family dinner. One portion of Exotic Vegetables in Chilli Basil Pot for the vegetarians, a Wok Tossed Prawns in Black Bean sauce for the seafood lovers, and a portion of General Tao's Chicken which basically has the potential to be over finished the moment it arrives. Pair all those with Wok-tossed Hakka Noodles (yes we know) and Singapore Rice Noodles from the noodle section and Lemongrass Fried Rice and Chicken Fried Rice, and you have what we call a happy Chinese meal.
Comments
Nearest Metro Station:

M.G. Road
Other Outlets