The information in this post might be outdated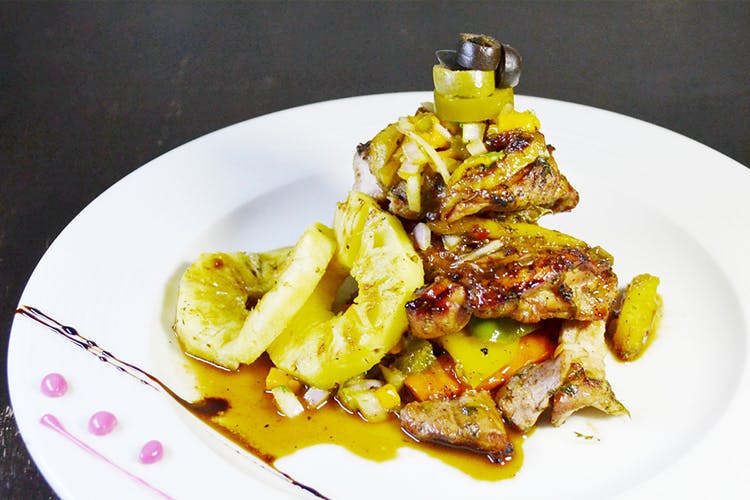 Nearest Metro Station:

Indiranagar
Half And Half Pizzas, Rainbow Cocktails And Baked Poison, At This Tiki Bar's New Menu
Shortcut
Three Dots and a Dash has a new menu that draws a lot of inspiration from tropical cuisines and their cocktail menu is bringing Hawaii to us. They left the classics untouched though and you can still find all their signature pizzas on the list.
Keeping It Tropical
Indiranagar's tiki-themed bar Three Dots and a Dash is out with new menu, and they are mostly sticking to a tropical theme. The new menu features Hawaiian elements like seafood, baked potatoes, short-grain sticky rice and plenty of meat in their dishes. We started things off with appetisers such as the Herb Cheese Stuffed Mushrooms which were sinfully cheesy, and moved on to their California Spud, a stuffed baked potato that's available in vegetarian and non-vegetarian options.  The menu doesn't restrict itself to just Hawaiian though, with a smattering of Japanese and Chinese flavours on the list as well. Their Chicken Chilly, a spicy Chinese style chicken, served in a bowl with a side of rice, is also worth a try if stronger flavours are what you're craving.
Moving on to mains, we are loving the Polynesian Baked Poison, a serving of basa lightly marinated in paprika, garlic and coconut milk with a subtle hint of spice that came wrapped in strips of banana leaves and baked to perfection. And their Shifudo, a flavourful Japanese style chicken and prawn dish served with a generous dollop of wasabi mayo hits all the right spots. They also do a Vegetable Tagine, spiced with cumin and nutmeg, which pairs very well with a serving of Moroccan cous cous.
Hello Hawaii
The bar menu has upped it's game too with a whole new range of fancy cocktails. We particularly liked their Pineapple Paradise, a boozy mix of Carribean rum and white rum mixed up with pineapple juice, served in an actual pineapple, complete with a bendy straw and a cocktail umbrella. Creating just the right amount of drama, this pineapple came to us floating in a pool of  liquid nitrogen. We also had a sip of the Lono, a fun mix of white rum, passion fruit and orange juice that packed a fruity punch.
Pizzas With Pizazz
According to the staff here, the pizzas are the most beloved and ordered item are their pizzas. With classics like Margherita, Pollo-E-Fungi, Verdure and their Classic Vegetable Pizza on the list, we had a tough choice to make. And so we skipped making this decision entirely and had all four instead. The pizzas here are thin crust, just they way we like them and are available in healthy whole wheat options as well. All the four pizzas tasted just as good as you'd expect but if we had to pick the best one, the Pollo-E-Fungi is probably our favourite pie. Topped with mushrooms, juicy pesto chicken chunks and plenty of cheese, we would highly recommend it.
The cool thing about the pizzas in this joint is they do half-and halfs on request, if you have around 20-30 minutes to spare. So if you want to try two different pizzas but have the appetite to devour just the one, the chef will make two halves of different pizzas so you can try both without stretching that stomach lining.
Also On Three Dots & A Dash
Comments
Nearest Metro Station:

Indiranagar
Other Outlets