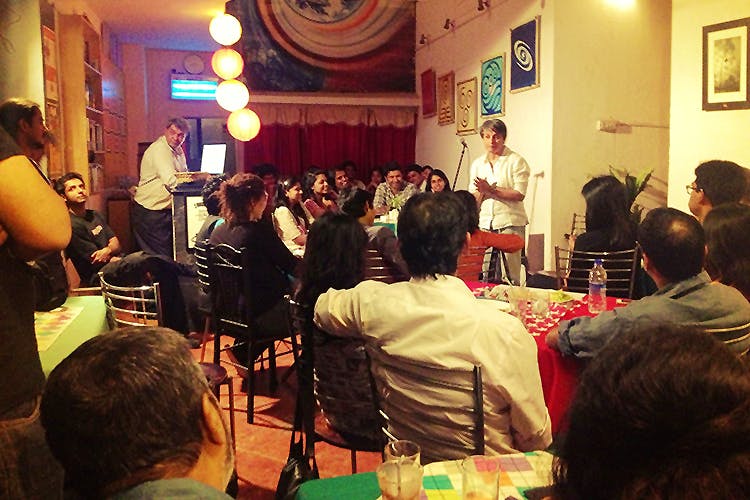 Sanjay Manaktala Calls Urban Solace A Second Home To Comedians And Artistes In The City
Shortcut
Urban Solace in Ulsoor is more than just a cafe. The little eatery is also credited for being the first cafe space in the city to champion the cause of art — whether it is poetry slams, open mic nights or even putting up works of art by upcoming artists.
Comedy Central
Where did some of your favourite comedians from across the country first start? Which cafe also serves as India's longest running comedy show? Is it a place in Mumbai Delhi or Chennai? Nope. Guess again.
Urban Solace, a quaint little cafe in Ulsoor, in good old Bangalore has been at the forefront of building an all-inclusive artistic community thanks to its owner and community leader, Perry Menzies. The cafe also supports art by local artists, and has been featured on NDTV multiple times, and hosts authors and poets for their book readings and poetry nights.
Drawing Crowds
Perry, known for his friendly demeanor, has always kept the space running as a haven for people who wanted to grow artistically while having some yummy food or coffee on offer. Ask any comedian in the country about Bangalore's Urban Solace, and you'll see a smile on their face. From humble beginnings in 2011, the space attracted more and more artists. In fact, Perry once even had to tell the audience "to laugh quietly" so as to not disturb the neighbours. But all of that contributes to the charm that is Urban Solace — a cafe for the soul.
Stop by, say hello to Perry and connect with him on Facebook. Then wait for his signature "Many Angel Blessings" message when it's your birthday.
Comments