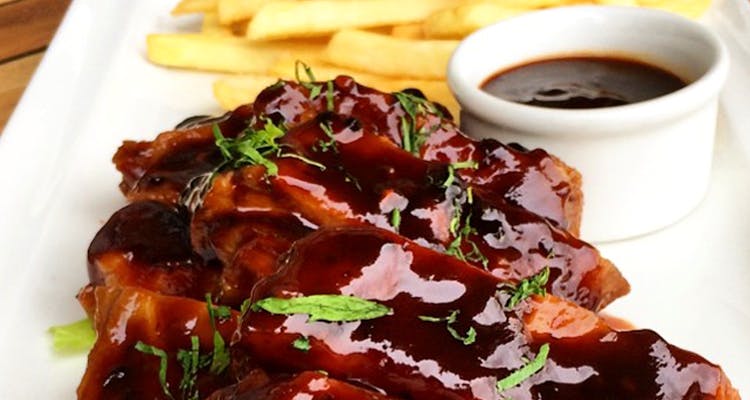 Windmills Craftworks: Whitefield's Knight in Shining Armour
Eat
Pulled Pork Burger and Grilled Salmon
Winning for
Craft beer, beautiful books, and jazz performances.
All about the brew
We know you're grumbling that this place is in Whitefield, but if there ever was a supremely legit reason to trudge to that district, then Windmills Craftworks is it. Considered by some to be the best craft quality in town, they offer Stout, Hefeweizen, Golden Ale and India Pale Ale on a regular basis with seasonal beers making appearances year round. Fans of dark beer, we can drink plenty of the rich, aromatic Stout. But we'll gladly vouch for the slighty fruity Hefeweizen with hints of banana and clove. They also have Golden Ale, essentially a Czech Pilsner and IPA which works for those looking for a hoppy beer.
Let's talk food
They've made their menu here to suit the beer. But we'd recommend the Onion Rings (the greasier the better!) and Windmills Baby Pork Ribs (slow cooked) in a sweet-sour sauce. We absolutely love the Pulled Pork Burger because thankfully the BBQ sauce really is homemade and not just ketchup pretending. Mains range from pastas (not really remarkable) to grilled meats (try the Fillet of Beef with sinful fondant potato and a fiery green peppercorn sauce). But the clear winner for us is the Grilled Salmon with a piquant salsa that goes well with the light fish. End with Sticky Toffee Pudding topped (generously) with brandy and a dollop of vanilla ice cream.
The DL on ambience
The UV lit up bar highlights the brewery, and really draws you in…to the beer! An entire wall is home to shelves of books that range from travel and music to fiction novel and autobiographies, making it a real treat. Add on a beautiful stage which usually shines the spotlight on jazz artistes from across the globe, and it's a win-win situation.
So we're thinking…
It's best to make a day of this plan, as apart from the great beers to sample, you can curl up with a book, nibble on bar eats, watch a performance and then settle in for dinner before hitting the road again.
Where: #331, Road 5B, EPIP Zone Whitefield, Next to L&T Infotech
When: Sunday to Thursday, 11.30am to 11.30pm, Friday and Saturday 11.30am to 1am.
Price: INR 2,000 for two
Contact: 8880233322
Find them on Facebook here.
Check out their website here.
More Information
Windmills Craftworks
Wi-Fi Available

Nearest Metro Station: Baiyappanahalli