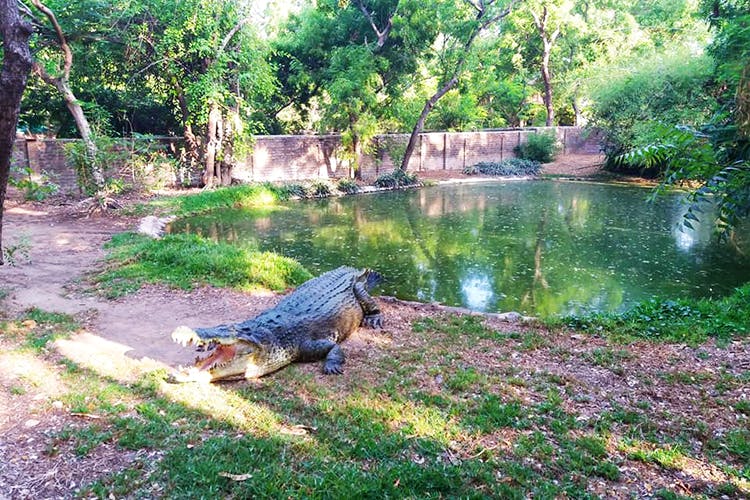 Adopt A Herp & Go On Snake Walks With The Irula Tribe At The Madras Crocodile Bank
Shortcut
Fascinated by reptilian wildlife and want to go on night safaris? Or say hello to the first Komodo Dragon in India? Drop by this centre for herpetology on ECR.
What Makes It Awesome
If you, like me, spend hours watching BBC's Planet Earth or Life In Cold Blood (is it just me or is David Attenborough absolutely amazing?) you definitely have to visit The Madras Crocodile Bank. Started by Herpetologist Romulus Whitaker and Zai Whitaker (who is also an author) in order to protect the endemic crocodile species, the centre is now doing that and more. Of course, conservation is the main focus, but what's amazing about the centre is that it involves all kinds of people.
You can bring your child or niece/nephew and let them be a junior zookeeper for the day. The latest attraction here is seeing the exotic Komodo Dragon, originally found in the Komodo Islands, Indonesia, up close. You can also go on snake walks and hear from the experts – The Irula Tribesmen who are highly skilled when it comes to tracking snakes and the women are said to be very knowledgeable about traditional healing. A snake walk is a must if you find these slithering creatures absolutely fascinating and want to interact with the Irulas.
If you're free this weekend, go on a night safari between 7pm and 8.30pm and watch glittery-eyed crocs in action or what's even better is that you can be a foster parent to a herp. That's right! You can help him/her by paying for their food and making sure they're getting everything they need and in return, you get privileges like an adoption certificate, a one-year complimentary pass to the bank, and more. But really, what's more rewarding than making sure an animal is taken care of?
You can even make a donation or volunteer and focus on different areas in the zoo like education and research projects, and interacting with scientists.
If you already love wildlife or are curious to explore the world of reptiles, this place is a must-visit either way.
More Information
The Madras Crocodile Bank Trust
Ask Shruti a question