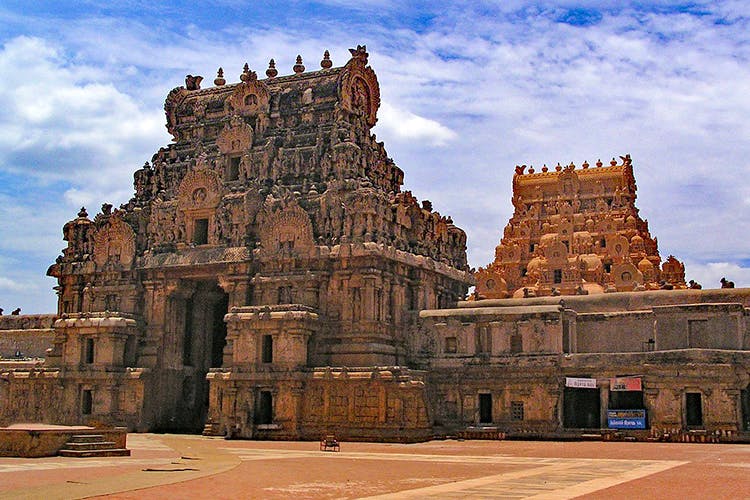 8 Roadtrips Under 8 Hours From Chennai
Make the most of the upcoming weekend by waving goodbye to the hustle and bustle of the city, and escaping to any one of these eight destinations, less than eight hours away.
Pondicherry
The closest on the list, Pondicherry is every Chennaiite's favourite watering hole. The booze is cheap and plentiful, additionally, there are loads of great places to eat at like Tanto, Café Xtasi, The Promenade, etc. There's also a bunch of things to do like check out the rocky beachfront, experience White Town and all its French heritage, explore Auroville and its beautiful sights and check out the Aurobindo Ashram. Accommodation can be easily taken care of by staying at any one of the large number of guest houses and hotels in Pondicherry.
Driving time from Chennai: 3 hours
Yelagiri
This hill station is a short leisurely drive away from Chennai, thanks to the amazingly wide Chennai-Bangalore highway. Yelagiri is the place to sit back and relax, owing to its amazing weather, beautiful vistas, and lush greenery. The 11 hairpin bends that one has to go up to get to Yelagiri are an experience in and of itself and the view from the top is almost like you're sitting on a cloud. There's also a bunch of things to do like adventure sports thanks to the new outdoor activity centers that have popped.
Driving time from Chennai: 5 hours
Vellore
This ancient history rich city is a must-see if you're into historical sightseeing. The Vellore Fort is its star attraction and rightly so as it is a sight to behold. Large walls, massive moats and big gates tell stories of the countless battles the fort has seen and is now well preserved thanks to the Archaeological Survey of India. There's a bunch of other temples to check out too, like the famous Golden Temple. To sweeten the deal, Vellore's geographical location ensures that it has pleasant weather for most of the year.
Driving time from Chennai: 3 hours
Pichavaram
Wildlife enthusiasts, this one's for you. Did you know the world's second largest mangrove forest is just four and a half hours away from Chennai. For those of you that don't know, the mangroves are unique because of their ability to tolerate salt water thanks to their aerial roots. So an otherwise lackluster coast, has a lush coastal forest thanks to the mangroves, which over millennia has become a haven for wildlife, like migratory birds. Backwater cruises are aplenty and will take you through some of the most waterways, not unlike the ones you've seen on National Geographic.
Driving time from Chennai: 5.5 hours
Kolli Hills
This tiny mountain range just next to the Eastern Ghats, is a geo-tourism hotspot. Known primarily for its religious significance thanks to the pilgrimage site that is the Arapaleeswarar temple, Kolli Hills is also known for its stunning natural beauty. The main waterfalls in Kolli Hills are a big tourist attraction and are a must see for all. There's also tons of wildlife to see and admire, owing to the reserve forests that surround Kolli Hills.
Driving time from Chennai: 6.5 hours
Thanjavur
Similar to Vellore, Thanjavur's beauty lies in its rich history and heritage. Even if you're not religious, Thanjavur's temples are still beautiful to explore because of how architecturally amazing they are to look at. The massive Gopurams and intricate carvings on every wall and door tell their own stories. While they are amazing to look at on their own, understanding the history behind each of these relics is best done with a guide. There's also the famous Thanjavur paintings to check out. If you're a foodie who's into South Indian cuisine then Thanjavur will be a treat for your taste buds. It's cuisine is unique and has influences from all around, along with plenty of vegetarian and non-vegetarian options.
Driving time from Chennai: 6.5 hours
Yercaud
The last of the hill stations on this list, has arguably the most number of things to see and do. Silk farms, a botanical garden, a 90-foot waterfall, a massive lake, beautiful temples and a picturesque view of the plains from their viewpoint (Lady's Seat), are just some of the things you can check out. There's more historical and culturally significant places to see too like temples and shrines. If you're in to trekking, there's trails to explore and hills to climb. Rest assured your weekend here will definitely be exciting.
Driving time from Chennai: 6.5 hours
Rameshwaram
The last entry on to this list is a bit of a lie, as it's a little more than eight hours from the city (10 hours), but we had to include it because of how unique it is. Beautiful sandy beaches and pristinely clear water at this seaside paradise are a must-see for anyone who loves the sea. The last couple of years has seen Rameshwaram transform in to a tourist hotspot thanks to the budding water sports scene. Jet Ski and snorkel your weekend away at Holy Island Water Sports, and once you're done sit back and enjoy the delicious fresh caught sea food.
Driving time from Chennai: 9.5 hours
Comments