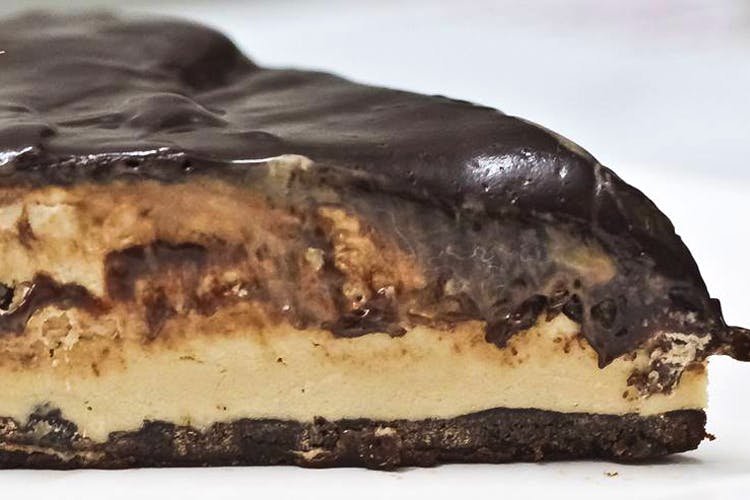 Sweet Tooth? Dig In To These 5 Sinful Desserts At Chennai's Iconic Gourmet Dessert Joint
Amadora grew to fame thanks to the variety of sweet and savoury delicacies you can choose from. But let's be honest, the Underbaked Cake is legendary. Each item on the menu uses the freshest and finest ingredients and is prepped in-house, right from pasteurising the milk! So while we're fans of their entire lineup, here are our top five sweet preparations that we think everyone must try. (Psst, they've opened shop in Bessy too!)
Amadora Hot Fudge Sundae
A combination of their hot fudge with their signature five bean vanilla ice cream, Xocolat ice cream, toffee and caramel swirl. If that wasn't a mouthful, you can get it in a freshly made waffle cone! The flavour explosion in your mouth is worth the upmarket asking price, as quantity wise it's pretty big.
Underbaked Chocolate Cake + Scoop Of Salted Butter Caramel Ice Cream
There's something about gooey cake that just feels right, couple it with Amadora's salted butter caramel ice cream and you've got a winner. The salted butter caramel ice cream is the perfect addition to the cake as the subtle saltiness from the ice cream melds into the sweet chocolatey cake. Do note that their staff will advise the five bean vanilla over the salted butter caramel (as that's pretty popular too), but trust us and pick the latter.
Ice Cream Sandwich
Most ice cream parlours have an ice cream sandwich on the menu, it's usually a scoop of any ice cream between biscuity layers. The Amadora ice cream sandwich lets you pick a giant scoop of any of their ice creams and sandwiches it between two thick warm Callebaut chocolate chip cookies with a generous dose of chocolate fudge on top. Food coma is a term that is usually used to describe people after they eat one of these. The temperature difference as you take a bite in to the warm cookie first and chilled ice cream after, is a sugary twist that we dig.
Hail Mary
If the previous three weren't obscenely decadent enough for you, the Hail Mary will sate your saccharine desires. A combination of the salted butter caramel ice cream, Xocolat ice cream, five bean vanilla ice cream on a bed of underbaked chocolate cake, with a fudge ripple and butter caramel swirl on top! It's a heartstopper both literally and figuratively. It tastes so good, we didn't mind how many calories we were eating.
Mud Pie
The last on the list is for all the hometown love. Their mud pie contains their special Mami's filter coffee ice cream which is about as close to filter coffee an ice cream can get, with Callebaut chocolate bits covered in chocolate fudge, with a chocolate cake base. The coffee taste goes surprisingly well with the chocolate as one doesn't override the other. It truly does pay homage to our great filter coffee.
Comments