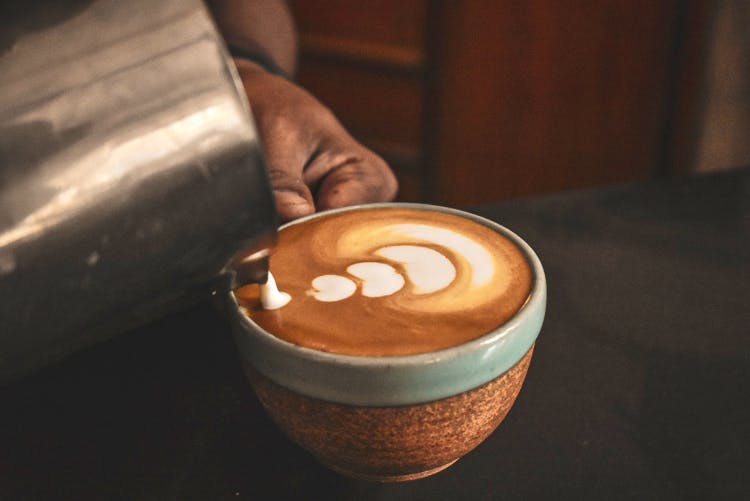 Add These Coffee Places In Hyderabad To Your Speed Dial Right NOW
The coffee culture in Hyderabad is snowballing like never before. Yup, it comes as a surprise even to coffee lovers like us, knowing how Hyderabad holds its love for chai, dearly. Sure, we've got a thing for the famous chai too but if you're scouting for good coffee, here's a list of best coffee places in Hyderabad.
Sentido Coffee Brewers
Sentido Coffee Brewers has quite hammered the art of making coffee. Touted as one of the best coffee shops in both Kondapur and Gachibowli, where your senses will be engulfed in all things coffee as you stand behind the counter and watch the baristas pull off magic with panache. We love their pour over and AeroPress but we recommend you check out what's new of their coffee menu and sip away!

Gourmet Baklava
From cheesy kunafa to steaming cups of Turkish coffee, drop everything and head over Gourmet Baklava, a quaint bakery in Banjara Hills for a taste of the exotic. Definitely ask for the Turkish coffee here — a strong black coffee, served in a cezve, a coffee pot specifically designed for Turkish coffee, along with Bazarik, cookies topped with sesame seeds.

Chennai Coffee Shop
It cannot get more authentic than this, coffee lovers. Chennai Coffee Shop has set up several kiosks across the city and they're brewing filter coffee like a boss. The kiosk has snacks like samosa to complement the coffee. The onion samosa goes well with the coffee, and so does the mutton samosa if they are available.

The Big Cup Theory
Located in Madhapur, The Big Cup Theory is a quaint cafe that's screams of ceiling-high fairy lights, hand-painted walls, corners with books and typewriters, and a lofty red brick wall with little knick-knacks picked from Mumbai's Chor Bazaar. We were told the coffee is roasted in-house, so we proceeded to try the Irish Black Coffee and Dark Chocolate Spiced Mocha. While the black coffee had no rum, it still tasted nearly authentic but it was the mocha that took the glory walk. Spicy, chocolatey, and a smooth texture, it wins a nod from us.

Cafe 115
Another small but absolute stunning cafe is the one right under Oakwood Residency. Café 115 is decked up with nice lighting, quirky walls, and a variety of seating. But, what will really make you revisit this place time and again is its coffee. Choose from cappuccino to espresso and drink it from a cute plastic cup.

Ironhill Roastery
What if we say you could choose your brew method to whip up a storm with a bean breed and choice of flavours at this coffee shop? Ironhill Roastery, although is a lot like the other coffee brewers in Hyderabad, it's doing things a bit differently. With exotic beans like Kopi Luwak, Guatemala Highland Coffee Beans, Hondura's Roast, and Karamana (Ironhill's signature beans), lattes and cappuccinos in its kitty, we recommend pairing the coffee with a sandwich or cake from the limited (but appetising) food menu.

Coffee Cup
The charm of Hyderabad's favourite coffee shop — The Coffee Cup — is boundless. Known for its live music and popular karaoke nights, you'll never find an insipid moment here. Your Monday morning blues can be straightened with their breakfast platter, Latte Cinnamon Dust Coffee, and wandering pets. But the evenings are far more other-worldly because the cafe is well lit up and the outdoor seating (although small) has a series of lights that remind you of bokeh photographs. The outdoors are quite cosy and can accommodate very few people, so you and your squad can occupy a massive area. Plus, they have two-seaters on a mini-garden area which are perfect for dates.
The Roastery Coffee House
Known for its pour over and cold brews, Roastery is where coffee snobs head to. Finding a table at this cafe located inside a lovely bungalow is a tricky affair but it's worth the wait. The lush greenery of the outdoor seating and lazy doggos as visitors will keep you company. While we love the indoor seating for the ambience that includes books and succulents, you can ditch the indoors and grab an outdoor seat right under the trees. Ask for their Monsoon Malabar blend and lose yourself in its earthy undertones.

Groove 9
Fellow coffee lovers, would you enjoy a Cappuccino in the company of rabbits? Then Groove 9 located in Sainikpuri is where you should go. Think of a home garden, modest yet quirky seating, kids frolicking around with their pets, and a fresh gust of wind. Groove 9 is a bit of this and everything, and we vouch for this place because it's not beautiful just around the sunset hour or rainfall, but has a natural appeal that can make you unwind for long hours.

Bottega Cafe
Bottega Cafe in Film Nagar is sort of a hidden gem, but the ones who hit up this cafe are regulars. Defined by lofty windows, raw and unfinished brick walls, modest wooden seating, this cafe almost seems under construction when you step in. But that's what we really love about this sunny space. Sip on coffee and gorge on muffins or try their Kheema Cutlet Sandwich. While you are at it, don't forget to slay those Instagram pictures.

Gossip Coffee Shop
Gossip Coffee Shop is a tiny coffee place in Madhapur and it makes the most ravishing filter coffee. Served to you in small and large sizes, for prices as cheap as INR 25 — this coffee is will get you addicted if you aren't already. They also have black coffee and green coffee that you can pair with a double masala Maggi for an evening snack!
Ask Sunaina a question