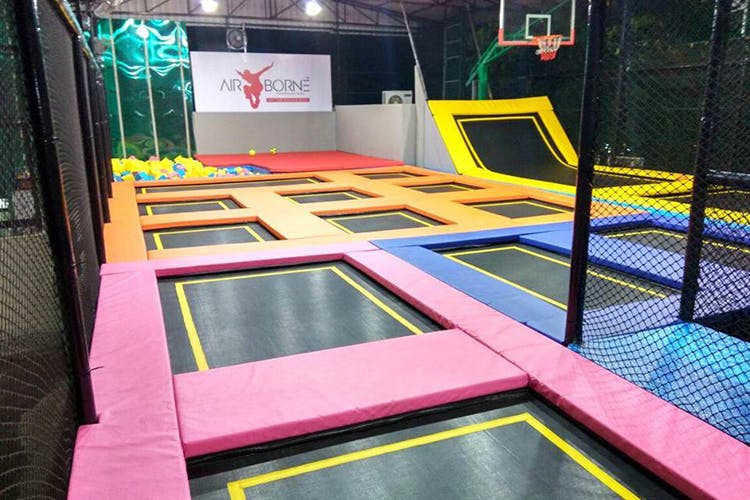 Slam Dunk & Show Off Your Cartwheels At This Trampoline Park
Shortcut
Unleash you inner kid and go crazy at Airborne – The Trampoline Park in Nungambakkam.
What Makes It Awesome
Gone are the days when all you did with your friends was catch a movie or head to the nearest café. And even with fitness, it's not about just going to a gym anymore. Get fit and have fun in a whole new way; Airborne – The Trampoline Park is making sure of that. The park on Khader Nawaz Khan Road is 2,500 sq.ft. of pure awesome. Instead of one giant trampoline, there are 15 interconnected trampolines of different shapes and sizes – there's one that's inclined, one with a higher bounce hop and more. Don't even bother worrying about your weight or fitness level, just go in there and have fun. You can bounce around by yourself after an exhausting day of work to de-stress or get the gang in on it and show off some cartwheels in the air (or attempt to at least!).
They even have basketball hoops for the next level kind of slam dunk! Try your hand at somersaults (it's easier thanks to the bounce apparently) and there's even a sponge-based foam pit to just chill in. Surely all that bouncing is going to get you tired. They can accommodate up to about 15 people at a time and anyone starting from the age of three can come by! As for the pricing, the standard time slot is half an hour and you pay INR 250. For 45 minutes it's INR 330 and for an hour it's INR 390. For every additional ten minutes after that, it costs INR 30. So stop waiting and start bouncing!
Also On Airborne - The Trampoline Park
More Information
Airborne - The Trampoline Park
Comments