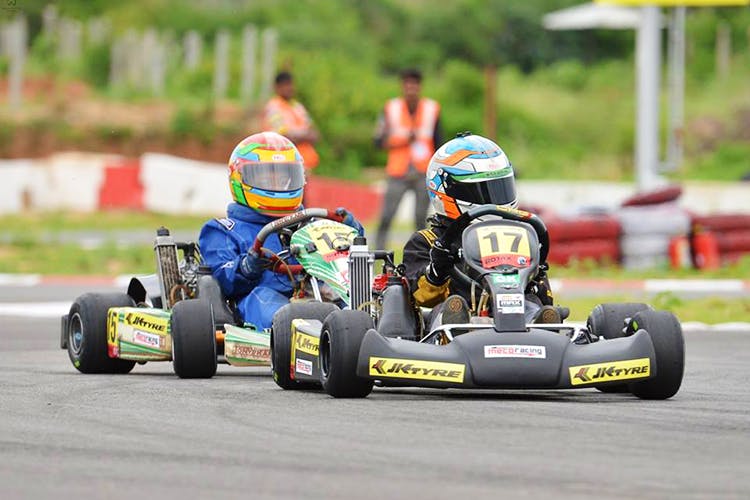 Get On The Right Track With Your Squad At These Go Karting Arenas In Chennai
If you are looking for something interesting for your next outing with friends, why not some fun-filled car race without your own car? Go-karting is the way to go! Catch your racing dreams at three of the city's only go-karting tracks. While there aren't too many options for go karting, these tracks are well maintained and a lot of fun to race around, especially when you bring along friends. Perfect for a weekend outing, go-karting makes for a fun activity to enjoy with your squad or fam. Check out them out to chase that chequered flag!
Marina Kart Arena
This 400 meter track just north of Marina Beach is the closest of the three to the heart of the city. They've got 7 BHP single-seater and twin-seater karts as well as a smaller less powerful kids variant. You can take the level 1, 7 bhp for 4 laps at INR 180 and for 12 laps it's INR 370. You can hire tracks as well! Being located next to such a big tourist attraction that is the Marina Beach, it sees its fair share of the crowd over the weekends, so if you're planning on going then, it's best to call and book in advance.
Kart Attack
One of two tracks on ECR, Kart Attack is the oldest of the lot. Not only that, its track is quite small coming in at around 260 meters. It has just as powerful carts as Marina Kart Arena. Five minutes on the track will set you back by INR 280, which is cheaper than Marina but it gets even cheaper when you opt for 10 minutes at INR 400. There's twin karts and kids karts too. Bring your own helmet if you can, the in house ones aren't too clean.
ECR Speedway
ECR Speedway's track has a customisable track that goes up to 630 meters! It has also got the most range of karts to choose from — with a choice between 7/9/18/24 BHP karts for adults and 5 BHP karts for kids. In the past they've also functioned as a spring board for racers looking to turn pro, offering tournaments to participate in and contacts to meet through their motorsport backers. For you, recreational folks, you can enjoy their quality service at approximately INR 400 for five minutes (9 BHP kart).
Comments