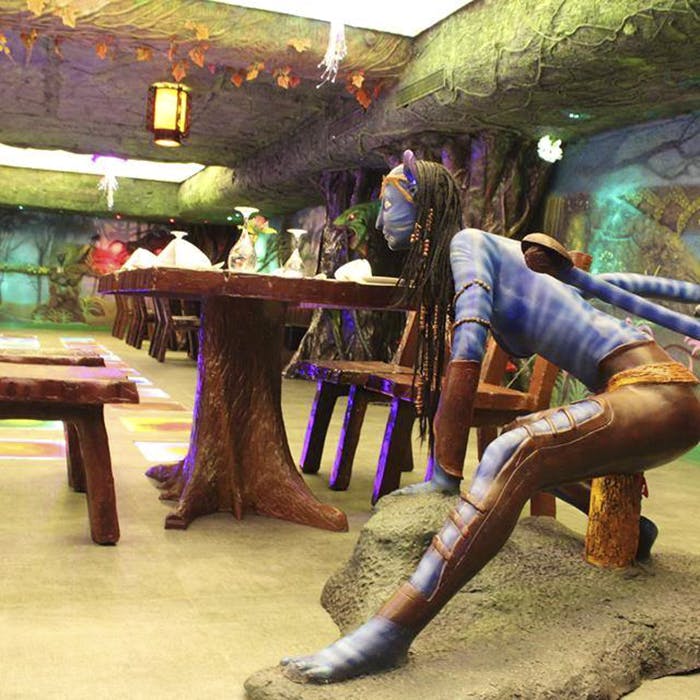 From Prison Cells To Central Perk: Dine At These Best Quirky Themed Restaurants in Chennai
We may love our homely food in the form of thayir saadam and idlis but we're also open to trying out new experiences. It is altogether a different experience when your food is served to you in a platter and you are dining between the ruthless characters that you might have read about or the beasts of jungle that you have watched or even something that you have always adored. We have curated some of the best-themed restaurants in Chennai that offer the quirkiest of walls and wackiest of food.
Thirsty Crow
This resto-bar is one of a kind, especially with the steampunk theme that not only features on their logo, but also all through the restaurant. The walls are adorned with gorgeous art and if you look up, you're greeted by the open ceiling of coloured pipes running throughout the restaurant.
As for the menu at Thirsty Crow, it features delicious options from Mexican dishes like Vegetable Quesadillas to Asian starters like Balinese Chicken Satay and Wasabi Prawns. For mains, select the pasta of your choice and customise it to your heart's content.
Ciclo Café
This cycle themed café in Kotturpuram is definitely the kind of place everybody should visit at least once. Not only do you get to pick and choose from a long list of great Continental and Italian food, you also get to stare at beautiful bicycles hung up all through Ciclo Cafe. Even the lamps have cycle wheels in them! And that's not all. Order yourself a portion of the French Fries and get it served to you in a cycle basket, because how else does one serve fries in a cycle themed restaurant?
Superstar Pizza
Is there anyone more famous than Rajinikanth in Chennai? Most probably not. Which is why Superstar pizza is only dedicated to the Thalaivar. The walls feature a lot of Rajinikanth posters and even some of his famous lines from his movies. The pizzas are also named after some of his famous lines as well as his movies, splitting them up genre-wise from Action Scenes to even Guest Roles – which is mostly pastas. For a Rajini fan, this is the perfect place to be. And if you're not a fan, you will be when you're done with your meal.
The Miner Diner
Most of us have never been inside a mine before, so it's obviously unknown what it looks like down there. But walk into the Miner Diner and you get a feel of it. Brick walls surround the entire restaurant, the ceiling has burlap sacks and kerosene lamps everywhere. Their menu features a wide range of dishes that you've probably never had before — especially the waffle pizza or the waffle sandwiches!
Haunted
An Anna Nagar staple, Haunted is one of the most interesting themed restaurants in the city! The name says it all, and the experience is just as exciting as you'd imagine. The dark walls and the dim lighting give you the shivers, but the multi-cuisine menu (North Indian, Chinese, Arabian and Burmese to name a few) looks inviting. There are crooked frames and cobwebs on the wall and some creepy looking residents at the restaurant but thankfully, the food isn't as gruesome.
The Waterfall
If you've been looking for a beautifully themed restaurant for a romantic dinner, this is it. With a view of an indoor waterfall, this restaurant sets the mood for any kind of evening. The soft sounds of the waterfall coupled with music make it quite the experience. And you can either enjoy a delicious biryani with bae or try something different from their Chinese section and end it all with a Waterfall Special Dessert Jar!
Kaidi Kitchen
Now this is truly a brand new kind of experience. Styled like the inside of a prison, Kaidi Kitchen has their staff dressed up like police officers and inmates. The tables are nicely spread out and for the full kaidi experience, you can sit at one of the tables inside the prison cells. Don't worry, they won't lock you in there. The menu is purely vegetarian, catering to even Jain customers on special request. And the food fills out different cuisines with nachos and tacos being served alongside momos and spring rolls. They've even got kebabs and pasta salads to choose from.
Black Pearl
Heave ho your way to the Black Pearl in Sholinganallur to dine amidst Jack Sparrow and his pirates. Along with octopus on a stage, electrocuting chair and beheading spot, they have a buffet spread serving all kinds of heavenly meat. They have live counters for chaats, pizzas and grills too. Paneer Khurchan with naan is something we would totally recommend you to go for along with some potato wedges as starters. Meat lovers, hold your horses because we would just recommend everything chicken.
Winter Palace
Elegant blue walls, vintage chairs and historic paintings, Winter Palace will give you the chills. Located inside the Russian Centre Of Science And Culture, it is all about having a piece of Russia in the city. The food is also all Russian! Order yourself some Russian pancakes or some Red Caviar Blini. You can find all kinds of Russian traditional dishes but if you are worried about vegetarian options, then they have mushrooms and vegetable pies as well! Don't forget to down it all with some vodka.
Avatar
A fair warning, you will be greeted by Neythri's humongous bust as you enter. However, trust us, it gets better. Avatar like the same suggests has brought to life Pandora right in Porur. With the floor lit up with fluorescent lights and dragons protruding out from the tables, it is all the more fun to dine on some North Indian tasties. They have a buffet spread with tandoor and tikka options in chicken, prawns and mutton as well.
Swiss Hutte
All things Switzerland! Aptly named Swiss Hutte, the restaurant in Nungambakkam is inside a countryside house in the Alps made out of washed bricks and sloped roofs. As you enter inside, the cosy vintage cottage vibes and the smell of bacon and steak just lure you in. Our favourite are their dessert options which start from Swiss bundner walnut tart to apple pie humble.
Madhatter's Tea Garden
Unlike the movie, you don't have to fall through the rabbit hole like Alice did to reach Madhatter's Tea Garden in Nungambakkam. Just walk through the gate, and you will be surprised with life-sized mushrooms, colourful walls and quirky teapot on creepers. You can even pull out a book to read in this fantasy garden. The food is reasonably priced to match your tea party's theme. Don't forget to order some tea - you don't want to disappoint Madhatter. A tip - go for the MadHatter's Tea Pot. To check out more introvert-friendly restaurants, click here.
Think we missed out on something? Click here.
Comments