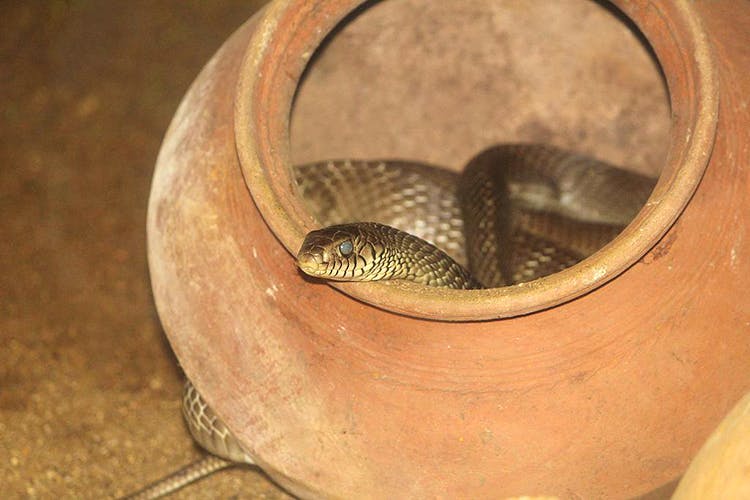 National Parks & Wildlife Sanctuaries
Have You Been To Indian's First Reptile Park Right Here In Chennai Yet?
Shortcut
Spend an evening looking at and learning about snakes, crocodiles, and other reptiles at the Chennai Snake Park Trust — India's first reptile park.
Great Snakes!
Setup by world famous herpetologist Romulus Whitaker in the 70s, the park is a home to 39 species of reptiles. Now if you're thinking yuck, why would I want to spend an afternoon looking at snakes and crocodiles, you need to check this place out, because it will change your mind. Their enclosures are made in such a way that it's easy to view the animals, and there are plenty of signboards around to tell you what you're looking at and why. Most visitors come and go after they've seen the enclosures, but we recommend you go a step further and check to see if there are any events going on. There are daily shows by their keepers where they handle dangerous snakes, talk about how they play a crucial role in the ecosystem and why all the myths you believed about snakes aren't true. No! They're not slimy.
If you're lucky you can catch them during feeding time, for that's when the animals are most active. They've also got underwater enclosures where you can look at brightly coloured sea snakes and cute turtles.
Cya Later Alligator
Chennai has had a long history of being environmentally conscious; zoos and parks like the Snake Park have been around for more than 30 years and have the best resources for budding wildlife conservationists. Chennai Snake Park in association with other wildlife groups regularly hosts, training programs, workshops, camps for kids and adults interested in reptiles. Moreover attending these events is a great way to network with some of the leading minds in Indian wildlife sciences, a crucial part of making it as a wildlife conservationist.
However, if that's not your cup of tea, don't worry, you're still guaranteed a fun few hours, especially if it's your first time to a reptile zoo. There's also the neighbouring Guindy National Park worth checking out too if you've got extra time.
Ticket prices are quite nominal and there's plenty of tiny food stalls just outside, so you won't have to worry about breaking the bank to check this place out.
Comments
National Parks & Wildlife Sanctuaries