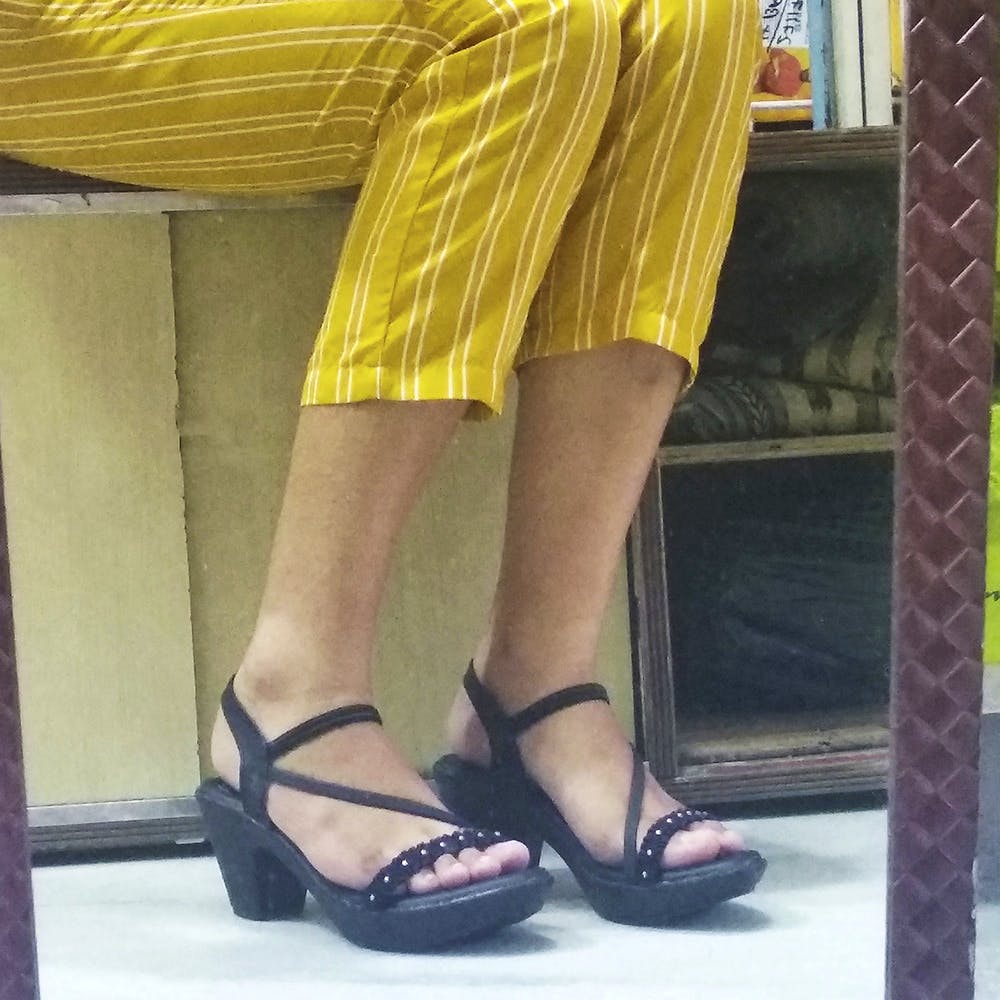 It Is A Shoe Gala In Mylapore's Luz Corner With Footwear Starting As Low As INR 100
The right kind of shoes can give you the exact vibe you are looking for. Add ankle-high sneakers to a skater dress, you are grunge. Add a stiletto and you are the elegant diva. While taking a walk from the Mylapore railway station towards Luz Corner, we found a lane right outside which serves some chic footwear at a budget. Check out our guide to the wholesale shops that you can find there for a budget shoe haul.
Chennai Fashion
Chennai Fashion is the first store that you will across in the complex. You will find some quirky collections here and our favourite was this checkered green and mustard sneakers. Although, the price tag is for INR 600, you can bring it down to INR 500 or lesser easily. Can you imagine the rustic look when you pair it up with plain white tee and jeans? Girls, don't shy away if the shopkeeper tells you its for guys. Our girls look gorgeous in it so you can count on it!
Rani Footwear
The second store you will come across is the Rani Footwear. With the same shop size as the others in the street, you can find all kinds of shoes and flats. We really loved this strappy brown sandal. You can buy it in tan colour as well. At a price of INR 350, it makes for comfy casual wear and can be paired up with literally anything! try not to pair it up with a party dress though. That's a no no.
Golden Shoe Mart
The third is line is the Golden Shoe Mart. Out of the rest, this usually has a discounted section of its footwear displayed outside where you can get sneakers and heels starting at just INR 100. Although, we picked this black block heels up from the glass shelf. The suede material and shine makes for a comfy yet chic style. Now this costs INR 450 and he even gave us a discount of 10%.
Shoe Paradise
Attached to the Golden Shoe Mart is the Shoe Paradise. While one side boasted of men's' shoes, the other of ladies. The striking ones though were their ethnic pairs. Our favourite ones were these Persian blue ones. The pink and green floral patterns have the perfect contrast. They would look dayum with them sarees! At just INR 250, you could even check out more colours with similar patterns.
Arasi Shoe Park
Take a turn as you walk towards the main road, ahead of Gani Stores, you will find Arasi Shoe Park. Along with shoes, they sell bags as well. We picked up these pastel blue wedges. On the heel, they have black splashed on the offwhite sole which completely strikes with us. They cost INR 400, you could even bring them down to lesser. They have these bendable transparent bellies at INR 99 that are waterproof that you should check out!
Comments