Eat, Drink, Shop, Stroll And Find These Places In Royapettah For A Fun Day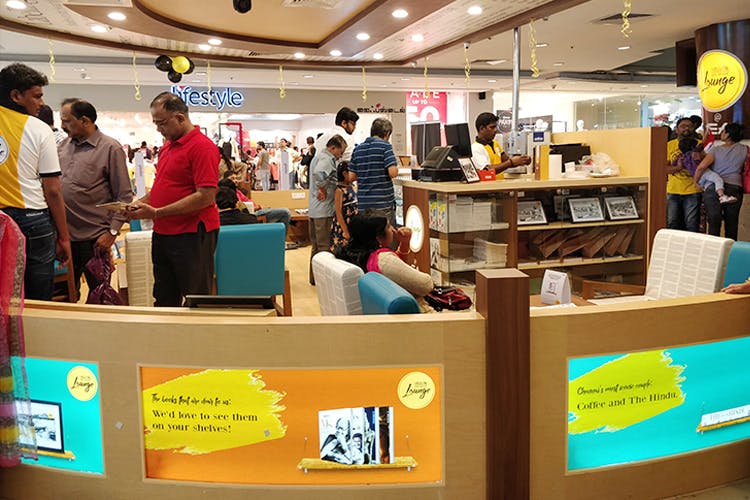 Hear ye Hear ye! Let us tell you how to spend a day at your very own Royapettah!
The Hindu Lounge
Start your day with a classic filter coffee and newspaper at this lounge in the Express Avenue mall.
The Hindu Lounge
is an extension by the Newspaper 'The Hindu' itself. They offer access to their collection of newspapers dating back to at least 2009. Sit back and have a relaxing morning here.
Amir Mahal (Chepauk Palace)
This palace is still home to the current Nawab of Arcot and his family. A section of the palace is open to visitors. Check out the fine Indo-Saracenic architecture of the four-hundred-year-old palace. Be sure to visit the palace in the morning for those uber-cool early morning pictures that are totes instaworthy.
Kozhi Idli
A non-vegetarians paradise, head on over to Kozhi Idli for the best idli and chicken curry combos. They do cater to vegetarians as well with their podi idlis that are served with chutney. They also serve poondu kuzhambu. Don't forget to have their special filter coffee and butter biscuit too!
High Road
Take a walk down
High Road
and check out some awesome home decor and furniture to spice up your home. The street is lined with furniture shops that sell wooden, cane and metal furniture at pocket-friendly rates. They also sell plastic dining table sets for INR 1800 which is actually a steal.
Hotel Safari
To satisfy that grumbling food sack, check-out Hotel Safari for some appetizing South Indian cuisine. This little hole in the wall serves up non-veg, veg and seafood options and their customers love their egg dosais. Do try out the Paya and Appam as well as their chicken pakora.
Sathyam Cinemas
Head to
Sathyam Cinemas
for the best cinematic experience in Chennai. We love their popcorn toppings and generally spend a good five minutes sprinkling our popcorn with it. Their popcorn flavours range from BBQ to Mexican so be sure to take enough popcorn to coat. You can also visit iD in Sathyam Cinemas for some steaming idlis and crispy dosas.
Blur Gaming
When at Sathyam, you must visit
Blur Gaming
for the ultimate arcade gaming experience. They have recently installed AR and VR machines which give you four-dimensional gaming experience. Relive the good old days with arcade games like hit the monkey and pick the toy.
Thousand Lights Mosque
The Thousand Lights Mosque is a short walk away from Sathyam Cinemas. Built-in early 1800s, this mosque occupies a good 10,000 sqft area which is constantly blessed with silence. The five domes and two minarets reflect the 19th-century Shia Architecture. The inside of the mosque is decorated with antique glass bauble chandeliers and engraved woodwork.
Ponnusamy Hotel
This restaurant is a must visit for all those who haven't yet. They are famous for their 32-inch Baahubali Thali which comes with over 50 varieties of food options! Woof! If your stomach is still not grumbling you can try out their regular veg and non-veg thalis. They offer a heavenly range of seafood dishes that will have you going back as frequently as possible.
If you think we've missed something, let us know in the comments below!
Comments