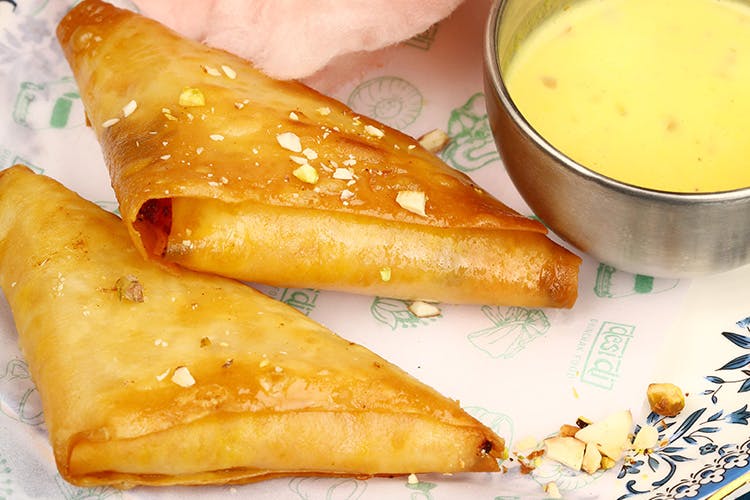 Tuck Into Desi Food With A Twist At These Restaurants In Chennai
Hey there adventurous Chennai foodie! Looking for restaurants that serve Indian khaana with a twist? Don't mind your classic faves being turned into something a little more exciting? We found restaurants in the city that serve everything from thayir saadam fritters and chicken tikka khakra to pav bhaji fondue and gajar ka halwa samosa with cotton candy.  If this has got you drooling, read on to know more!
VB Signature By Namma Veedu Vasanta Bhavan
Strictly vegetarian, this fusion restaurant in Nungambakkam offers a modern take on the popular Vasanta Bhavan's otherwise traditional menu. They even take the concept of chips and dips and replace it with our very own pappads with a plethora of chutneys. Their desserts are a fine line between fascinating and absolutely mental. Would you try their Mysore Pak Crumble, filter coffee rasagulla with toasted nuts or the Oreo and Peanut Butter Cheesecake Mousse (made with our favourite kadala mittai – peanut candy)? We're intrigued.
Broken Bridge Café
These guys have made quite a stir with their Thayir Saadam fritters. While some Chennaites find the idea absolutely blasphemous, some who have tried the dish are absolutely in love with the combo. There's other dishes to try like the Coconut Chicken Curry Burger and Blue Cheese Onion Naan. But hey, did you know they have some crazy drinks you can wash it all down with? You can convert their signature drinks like Paan Lassi and French Pressed Buttermilk Rasam into cocktails! Hmm, which one would you try?
Soul Garden Bistro
Another popular veggie bistro, these guys offer some really interesting combos. We told you about their Goth burger here, but know what else they like whipping up? Macaroni Chat (a combo of Italian pasta made like a desi chaat), that is ideal even for vegans. They also have a variety of paapads and idlies (BBQ or Peri Peri, guys?). You can bite into their vada pavs with a spicy chilli mayo and slurp down Maggi in puliyogre (tamarind) and Andhra podi and ghee flavours. Get a slice of their Madras Pizza – an onion chutney-based pizza with masala vada and garlic mayo. Say what?
Desi Klub
We've told you about their insane choco coma-inducing chocolate thali with a milk chocolate khakhra and chocolate gulab jamun (read more here). So now you know how wacky the food can get. Nibble on their Paneer Masala Satay with peanut sauce and desi nachos (masala poori and nacho cheese). For dessert there's Meethi Yaadein – Cadbury Mousse Cake with tutty fruity ice cream for a hit of nostalgia and Mukhwaas – paan cheesecake with thandai shots and paan jelly.
So there you have it – places in Chennai where you can get funky desi fusion food. Are you ready to take your taste buds on a rollercoaster ride?
Did we miss anything? Let us know in the comments below!
Comments