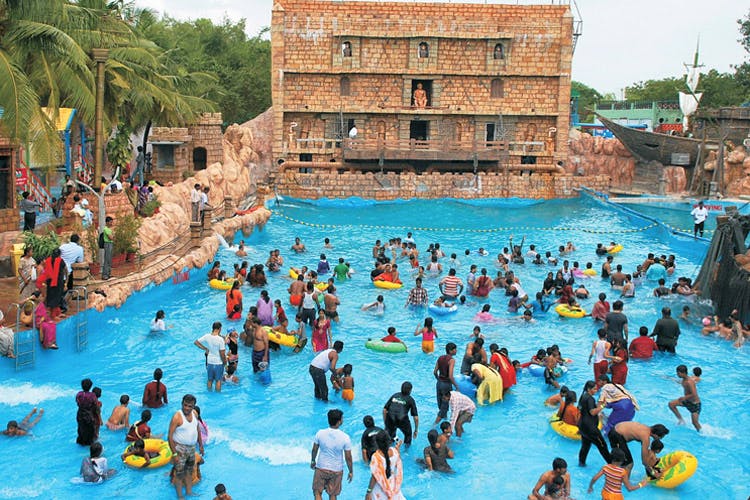 Water Volcano To Zyclone: Head To This Amusement Park In Tambaram For Your Fix of Crazy Water Rides
What Makes It Awesome
Nearly 120 acres of amusement is what awaits at this amusement park. Kishkinta was one of the first amusement parks in Chennai, and it's novelty back then was in its water rides and that's what it has stuck to since. The rides have been upgraded and there are new shows as well. Fan favourites include the Anaconda, which will have you hurtling down a tube at great speed as you ultimately get thrown into a massive pool and the new Water Volcano, which is basically a simulated Tsunami — are the most used rides. There's also a water playground called Water Wars, a roller coaster through water, a white water rafting ride, a slip n slide, a waterfall and boating for those of you who'd like to stay dry.
Water tunnels will always remain a classic favourite for us! Speaking of wanting to stay dry, Kishkinta offers dry rides too! A roller coaster called the Zyclone, a Tora Tora, Space Shuttle, bumper cars, and a train. Having tried both the train and water rides, we feel that the main attractions are the water rides. However, don't forget to carry your lifejackets and tubes with you if you don't know how to swim even though there will be lifeguards watching out for you.
There's performing artists that do shows as well in Kishkinta. There's a water show called the Rocket Man which is a must-see! There's also a water ski show, a 5D show, and a musical fountain. There's a kids section with tamer rides, tiny roller coasters, trains, and carousels. All in a place to enjoy for both adults and kids. After all, you are never too old for some splashes.
They have Food Village where you can head to for healing your hunger pangs after a tiresome ride day. Along with that, you can also enjoy the peace of greens and lakes that are unique to this park.
The tickets are available at INR 690 for adults and INR 490 for kids.
Pro-Tip
Even though you are allowed to click pictures, be careful with the water rides that can damage your devices. it is advisable to put them in a safe locker.
You can easily each there with a subway train. The closest station is Tambaram.
Comments