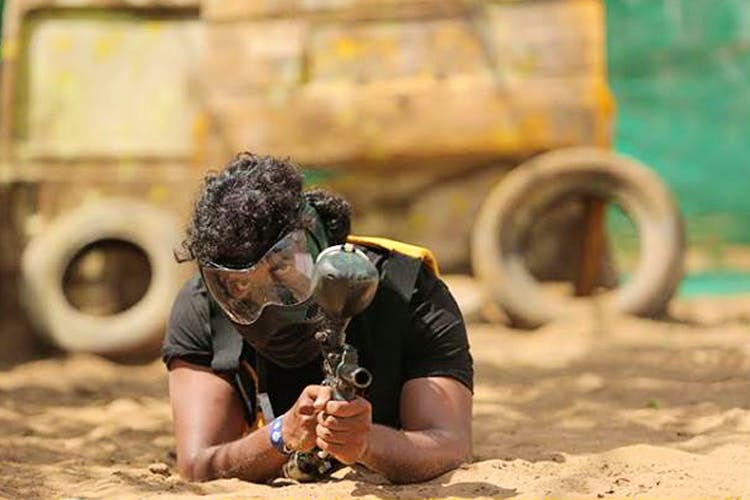 Team Building Or Outing With Squad? You Need To Check Out These Paintball Arenas In Chennai
Some splash of colours while taking down your target! Paintball is the game for the win. If you had asked us to name even one paintball spot a couple of years ago in Chennai, we'd have twiddled our thumbs, but the recent years have seen a few cropping up. Without further ado, here are some paintball arenas in Chennai we recommend you head to with your squad.
(*psst* You totally cannot shoot your boss for real but you can totally get that frustration with some shooting paints. Cheggit.)
Wild Tribe Ranch
This adventure junkie's destination down East Coast Road has paintball and a lot more. The paintball arena in Wild Tribe Ranch has obstacles made from tires and is suitable for around 12-14 players. Each player gets 40 pellets with their standard paintball gun, so be efficient with your ammo, you don't want to run out of pellets mid-way. You pay just INR 449 per person. In addition to paintball, it has a host of other activities for you and the squad (hint, there's bungee jumping and zip-lining!).
Take Diversion
An indoor paintball facility, Take Diversion paintball arena (named Re-Load) is war zone themed, and features props and debris like chipped brick walls and used oil barrels for cover, so make sure you use them for maximum shielding. Unlike the other arenas, Re-Load tries to go a step above and includes accessories like individual colour coded markers for players and dedicated role assignments. The prices start at INR 400. That added layer of strategy makes this one of our favourite spots to play paintball. It has other activities too, like remote-controlled car racing and self-defence classes.
Off Road Sports
Another outdoor entertainment hub, Off Road Sports on ECR has the cheapest paintball rates on the list at INR 350 per person. The place uses inflated plastic barricades as cover in their outdoor paintball arena. Safety gear is provided along with a paintball gun and in this case 40 pellets worth of ammunition. You can check out other adventure sports such as archery and rock climbing along the beach as well.
Planet Adventure Paintball
The only pure paintball arena is also the closest to the centre of the city. Located along the Thiruvanmaiyur beach next to Bella Ciao, Planet Adventure has one of the best value for money with a round of 50 pellets costing you INR 400. While the arena is small, there's lots of cover in the form of tires, to make use of.
Entizer Sportz
Entizer Sportz in Kovilambakkam provides you with an outdoor play arena of paintball. With tires, drums and gunny bags, you just have to pick up your war machines and head straight into the battle of colours. With no more than INR 500, you and your friends get 50 pellets to hit each. They host corporate events and customised birthday parties as well.
Comments