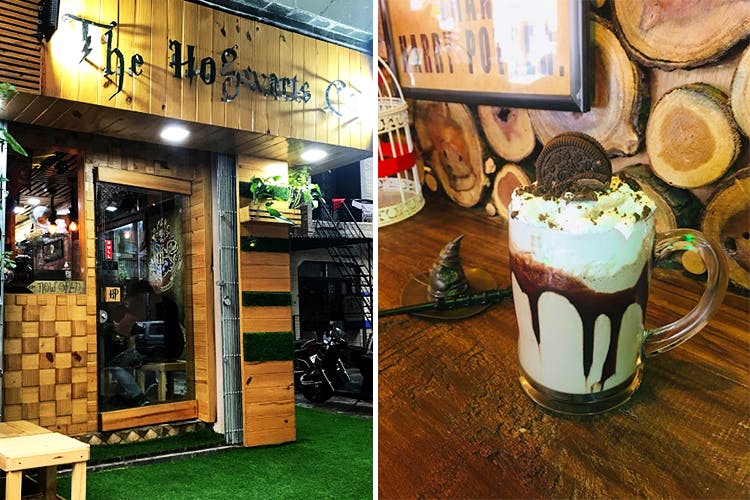 There's A New Potter-Themed Cafe In Town! Dragon Eggs & Butterbeer, Anyone?
Shortcut
Hogwarts Cafe in Rohini is the city's newest Harry Potter-themed cafe. This cubby little outlet has Potter-themed posters, wands served with dishes (as decor) and the names of their dishes are also inspired by Harry Potter (read Dragon Eggs, Nagini Fries, Godric's Hollowed Bread and more).
What Makes It Awesome
The Hogwarts Cafe is less than a month old and it's already been creating quite a buzz. For starters, it's all about Harry Potter. From Bellatrix and Harry's WANTED posters, to the owl motifs everywhere and also, the names of dishes, the cafe is everything that could make a Potterhead happy.
While it's not a space that can accommodate a bunch of people, the food here makes up for the lack of space.
We got here tired and hungry after a long day, and were in the mood to eat all the sugar in the world. Hence, we ordered the Dragon Balls (fried Oreo pakoras with whipped cream and ice cream) along with a Frozen Butterbeer. The former definitely lived up to our expectations as it was crunchy on the outside, had gooey biscuits on the inside and the ice cream just bound it all together so well. The Butterbeer though, was a bit disappointing. We checked with our Potterhead friends, who confirmed that the Butterbeer is supposed to taste like butterscotch, but the one we tried at Hogwarts Cafe tasted like a Cinnabon in a cup.
However, we're yet to try more of this cafe's savoury dishes and that's what we'll be back for soon (for the Godric's Hollowed Bread, particularly).
What Could Be Better
We wish the cafe was more spacious, and had tables and chairs placed outside too. At the moment, both the kitchen and their seating area are one room, so you might even start coughing due to the spices being used in the kitchen.
Since there isn't a lot of seating area available, be prepared to wait if you land up at the Hogwarts Cafe during peak hours (i.e. evening).
Pro-Tip
We recommend that you get food delivered from The Hogwarts Cafe, but if you actually want to see how it looks, take your car. You can check out the cafe, place your order and eat the food inside your car taking all the time in the world (you won't be rushing to finish your food and make way for others that way).
More Information
The Hogwarts Cafe
Nearest Metro Station: ROHINI WEST
Comments