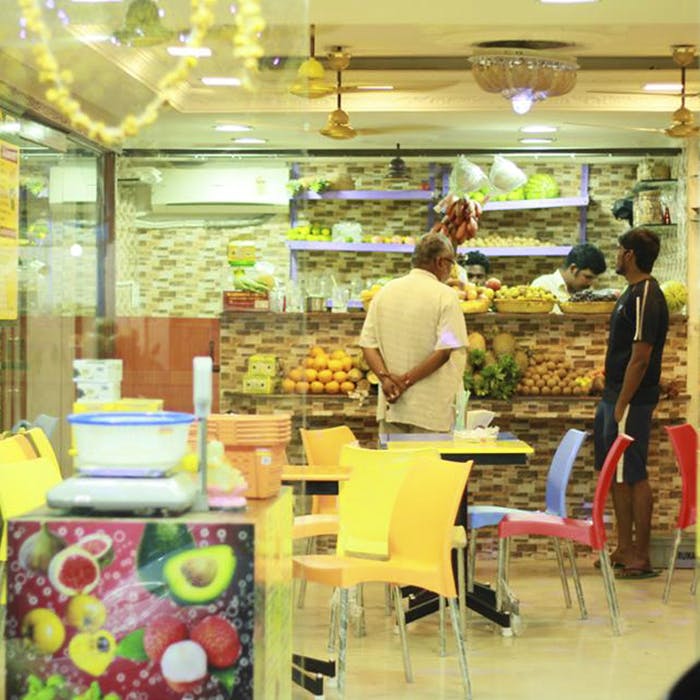 Fruit Juice Infused With Tender Coconut Instead Of Water, This Juice Shop Has Whacky Combinations!
Shortcut
Amudham Juice & Fruit Shop in Kodambakkam is iconic, because they use tender coconut water instead of actual water in their juices and they've got some pretty unique fruit combinations!
What Makes It Awesome
Amudham has taken care of the water problem here, they don't use water in their juices. Instead, they mix the primary fruit with tender coconut water, i.e. if you're getting watermelon juice, there's gonna be a bit of tender coconut water in it.
Their menu is super unique with cocktails, honey specials, family pack juice, and - wait for it - panarkalkandu (healthy substitute for sugar) section. The Skin Glowers, a combination of carrot, pappaya, broccoli, banana, and almond (and tender coconut juice…) is priced at INR 70. Other juices include ingredients like celery and have fun names - Organ Organisers (yikes!), Calories Counter, and Ageing Breakers.
In the panarkalkandu section, enjoy a combination of panarkalkandu and sweet lime, carrot, pineapple, banana, dry fruits, and chiku. You can also pack up some fresh, healthy juice for your fam for INR 449 (5 litres). There are 10-litre family packs available, too! This iconic juice shop sees people lining up day and night to slurp on their yum and tender (coconut) juices at budget prices, and now that we've piqued your interest, you may go!

Pro-Tip
They've got milkshakes and fruit salads, too.

Comments