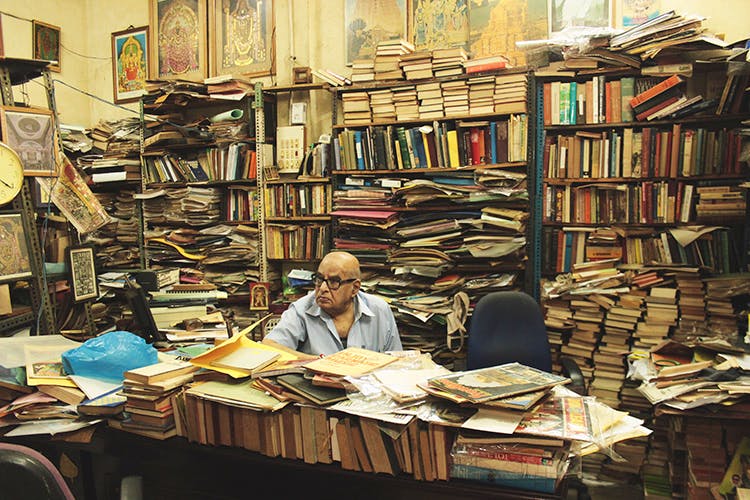 Books Piled High In A Garage To An Iconic Heritage One, Here Are The Best Bookstores In Chennai
While we love our Kindles, this gadget can never replace the business of browsing through books, feeling them, stocking up on loads of them and then reading them, of course. Feeding into this addiction is our handy list of best bookstores that you need to check out in Chennai.
Higginbotham's
India's oldest bookstore, Higginbotham's, is located in the hub of the city in its colonial building on Anna Salai. Opened since 1844, it started off as a religious bookstore and eventually grew to house books across genres and fields. Apart from having the tag of the oldest living bookstore in India, Higginbotham's has one of the best collections of books in the city. Although headquartered in Chennai, Higginbotham's has operations in Bangalore and few other southern cities since 1891.
Odyssey
Odyssey, which started in the 2000s won the heart of Chennaiites very soon. Selling a host of different items from stationery and perfumes to gift items, it specialises in books and has three floors dedicated to different kinds of books in its Adyar and Thiruvanmyiur branches. From genres ranging from fiction and satire to romance, Odyssey has something for everybody. With plush interiors and courteous staff, your book shopping is definitely going to be fun!
Asia Book Point
Located on CP Ramasamy Road, Asia Book Point is like an underground bookstore and the smell of fresh paper and books will have you reeling. This store has books in fiction, non-fiction, academic, travel, tourism, science-fiction, finance and accounting, and graphic novels too. Also, there's a treasure trove of Marvel and DC comics like Planet Hulk, Extremis, and Superman: New Krypton (2009).
Tara Books
Tara Books, situated in Thiruvanmyiur is not your average bookstore. They not only publish and make their own cards and fluke books, but also try to infuse interesting concepts, quirky designs, and pictures to their work. Children's books are what their inventory is dominated by, but they also do lovely art and design books. With English, Tamil and German books in the store, this bookstore is among a few that tries to infuse Indian culture and the work of Indian artisans in the production of these books.
Crossword
Crossword has operations in many parts of India. In Chennai, they have outlets in popular places like Alwarpet and Forum Mall, and they stock the widest genres of books from the fields of philosophy, fiction, fantasies and fun. They even sell toys, accessories and stationery, making it a popular choice among all age groups. They even have a coffee shop inside their bookstore in Alwarpet for the bookworms to sip some coffee as they read their new favourite book. Don't forget to check out the 'Crossword Recommended' labels!
Eeshwar Books
Eeshwar book store was set up in T Nagar in 1985 with just over 1,000 books. It has now expanded to a space of 7,000 square feet with over 1 lakh books. Although it runs a parallel e-book site which is one of Asia's largest, the bookstore sells books across different fields of education, research, comics and novels.
Starmark
Now who doesn't know Starmark? With five outlets in Kolkata and two in Chennai, Starmark has all kinds of books and stationery that you could think of. Although they do not cater to all sorts of genres and labels, Starmark is the place to go to for newer comics, novels and informative books. Tucked into the two most popular malls of Chennai – Express Avenue and Phoenix Marketcity, Starmark has given the traditional bookstore a tough competition.
Rare Books
Rare Books is a bibliophile's treasure trove, based out of the owner's garage space in an apartment in Raja Annamalaipuram. A complete antithesis to a 21st-century shopping experience, this little shop stores rare books all the way from the 1860s. Started over a decade ago, Rare Books has close to 5,000 books spanning various genres such as literature, history, philosophy, culture, heritage, and the arts. If you're a geography geek, swing by to browse through more than a thousand editions of the National Geographic magazine at the store.
Words & Worths
For books and cutesy stationery, hit up Words & Worths in Besant Nagar. You'll find both fiction and non-fiction books by current bestsellers, and they also have the older books that are still popular such as Harry Potter, Artemis Fowl, and Da Vinci Code (you get the drift).
Kumaran Old Book Stall
Ever wondered how many books can fit inside a hole in the wall? We found out. Kumaran Old Book Stall in Kodambakkam is your one-stop-shop for any title under the sun. Although looking for a book inside is like looking for a needle in a haystack, be sure that you will find what you are looking for here.

Triplicane Book House
With a huge collection of books in regional languages, Triplicane Book House is a haven for readers from all walks of life. From titles like Shantaram by Gregory David Roberts to 'Amar Shonar Bangla' by Rabindranath Tagore, there is an entire section dedicated to regional titles. Their Tamil authors' collection is on point with plenty of books authored by Kalki Krishnamurthy and M.V Venkatram.

National Book House
The National Book House on Pycrofts road offers a range of literary works on engineering, medicine, computer programming and General Knowledge. Their collection of encyclopedias and atlas' is quite big. Do not forget to check out their collection of maps while you are there too. They have books on maps from the mid-century that caught our eye.

The Used Books Factory
The Used Books Factory in Mugalivakkam, as the name suggests houses some of the oldest books- may it be fiction, reference, encyclopedias, dictionaries or academic books. They don't discriminate. You can find various photo books and fashion magazines here as well. Along with that, you will find years of donated engineering and medical books. They have a special psychology, philosophy, kids section along with self-help books. You can order particular books from them as well and they will have it couriered to your place.
Pure Cinema Book Shop
If you are a cinema enthusiast, Pure Cinema Book Shop in Vadapalani is there to satiate your filmy needs. From how to use a camera and screen filming to the methods of acting and colour theory, you can get the A to Z of cinematography and everything related to it right here. You will even find some books that talk about your favourtie actors and musicians. You can find some of the books that talk about the making of some classics like Wuthering Heights, The Lion King and even Sholay. Now, this is one of a kind place.
Murugan Old Book Stall
The hidden treasure is what we call it, Murugan Old Book Stall in Luz Corner may be a tiny one but has been serving decades of old books to people. It is most popular among students for its wide volume of academic books available. Generations of people donate their books here and you can as well. Along with that, they have some enviable collection of fictional books and journals that you might not find anywhere else. We found some dilapidated journals that were handwritten and dated back to the British Raj.
Famous Book House
New books or old, books are books and Famous Book House in Moore Market doesn't discriminate between the two. Get your reference books, encyclopedias, comics, fictional books and school books all at one place. While you can find old versions of Tinkles and Archies, you will also find the newest edition of Dan Brown books as well. If you are a collector, then the classics range with old to new covers will have you charmed.
Indian Book House
Your education house is right here in the middle of T.Nagar! Indian Book House stores all type of educational and reference books. Starting from nursery rhymes and picture books of fairy tales to CBSE and state board books, they have it all. You can find particular college reference books here as well. Preparing for entrance exams? Well, you can find some previous years' papers here. They have some useful range of stationaries in-store as well.
American Book Centrino
Specialising in literature and poetry, American Book Centrino on Anna Salai features some classic book collections. However, their speciality are religious and spiritual books. They also house books for medical studies and engineering along with childrens' section books. From NCERTs to IB level books along with The Bible and various adapted versions of its stories, you can find it all in here.
Comments