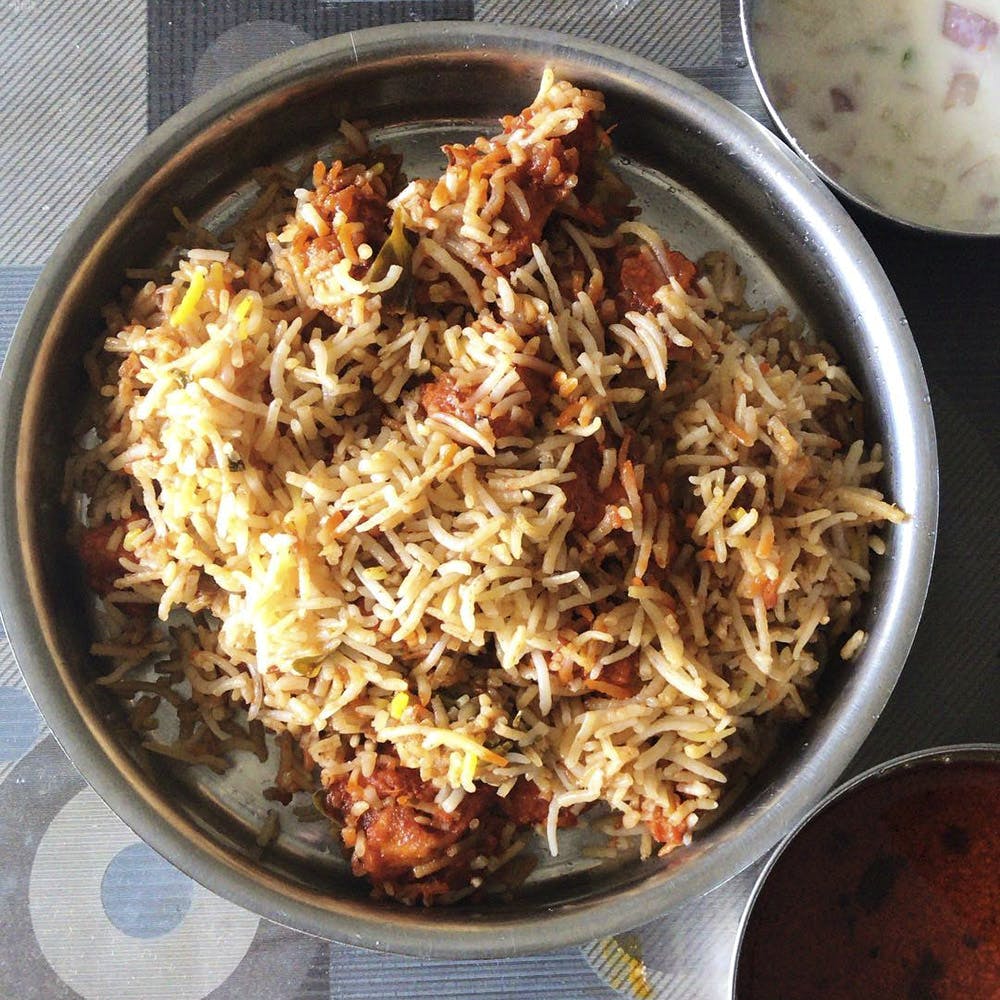 Make Every Day Biryani Day With This List Of Best Budget Biryani Restaurants In Chennai
Biryani is definitely one of the best things to have happened to any of us! Perfectly cooked rice with succulent meaty chunks and aromatic spices! Aah, even talking about it has us drooling. To make this beautiful experience even more enjoyable, we've put together a list of the best budget biryani restaurants in Chennai. Go, make your bellies happy!

Buhari
An iconic restaurant, Buhari offers a delicious range of biriyani options starting from just INR 200. Egg Biriyani. Mutton Biriyani. Chicken Biriyani. Prawn & Fish Biriyani - there's plenty to choose from here. Their signature Buhari Biryani, which is topped with an egg to make it catchy, is a must try.
Shahi Moghul House
Served with a hard-boiled egg and prepared in authentic Mughlai style, Shahi Moghul House's biryani will keep your tummy and pockets happy. Starting from just about INR 100, the Mutton Biryani here gets sold out by 1 pm and is a must try at this place.

Ambur Star Briyani
This place needs no introduction. Serving the tastiest biryanis since 1890, Ambur Star Briyani is a must-visit place for any biryani lover. Famous for its bucket briyani that is prepared with the special samba rice, you must try their Seraga Samba Mutton Briyani. Prices start from about INR 200.

Sukkubhai Biryani
This place is popular among Chennaites for its delectable beef biryani. Perfectly marinated and cooked, this place in Alandur is also famous for its mutton biryani, starting from about INR 100 for a ½ plate.

Mylai Biriyani
Having been in business for about 16 years, Mylai Biriyani has quite a following for its Chicken and Mutton Biriyani. Starting from about INR 80, these get sold out really fast.
Malabar Biriyani Center
A popular lunch place, this restaurant offers an interesting and delicious mix of Kerala style biriyanis. Spl Puttu Biriyani, Kappa Biriyani, Malabar Chicken Biriyani are among the popular biriyani dishes. Pair them up with their pulpy grape juice and you're sorted. Prices start from about INR 150.
Rawther Biryani Restaurant
Spread across multiple branches across the city, Rawther Biryani Restaurant has made quite a name for itself with its heavenly tasting and pocket-friendly biriyanis (starting just INR 120). Their Chicken and Mutton Biriyani are particularly popular and we love how filling they are.
Ramaa's Hyderabadi Food Court
No biryani write-up can ever be complete without talking about Hyderabadi Biryani and Ramaa's Hyderabadi Food Court definitely deserves a mention. Serving up authentic flavours of Hyderabadi Biryani and other Hyderabadi dishes, this place is a must-visit for every biryani lover. Their Hyderabadi Fish and Chicken Biryani are a must try and start from just INR 170.
Hotel Kalyan Bhavan
Located in Egmore, this small biryani house offers authentic Mughal Style chicken and mutton biryani. Starting from just about INR 120, the flavours are on point and the quantity quite filling. They also serve the traditional onion raita and eggplant gravy with their biryani.

Comments