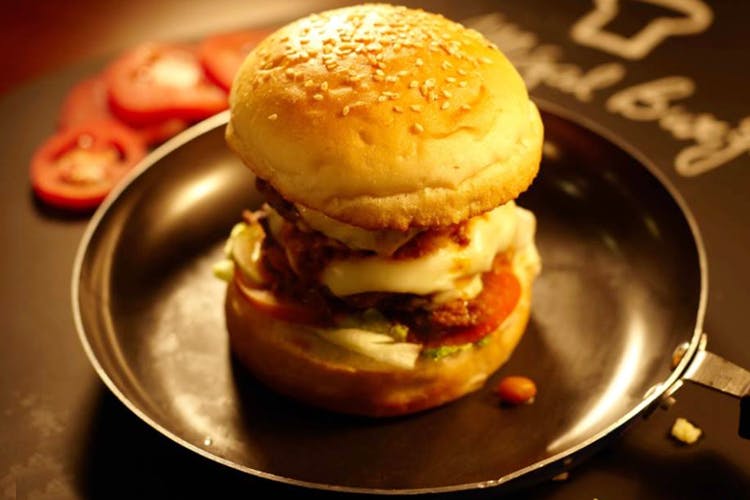 DIY Burgers & Cheese Boom: Here's Where You Can Get The Best Burgers In Chennai
The search is over, we've found all the great places to get burgers. And for those thinking that burgers are always going to be beef or chicken, we have news for you: these burger joints have delicious vegetarian options too and you're going to absolutely love everything they have to offer. For those who've been here already, you know just how amazing they are. And for those who haven't, this is your chance to truly experience burgers at their best in namma Chennai.
The 90's Café
The theme of the café is everything from the 90's, which is what their walls are adorned with and the kind of music they play. Their burgers might not be 90's themed, but they're definitely interestingly named and depending on whether you're a vegetarian or a non-vegetarian, there's definitely something for everyone. Check out the Potter's Cottage which has grilled paneer topped with bell peppers, tomatoes, onions, lettuce, mayo, mustard, and cheese! Talk about deliciousness in a plate.
Café Arabica
This Anna Nagar restaurant has a very expensive menu, featuring different kinds of food and a variety that you probably couldn't find anywhere else. And we're talking about breakfast options, hot dogs, and of course burgers. Their burgers are mostly non-vegetarian (they even have seafood burgers!), but they've got a vegetarian burger and an Egg Burger for just INR 100, so what are you waiting for?
BurgerMan
Chennai folks know the history of BurgerMan and after shutting shop a few years ago, the burger joint is back, with a quirky themed restaurant in Besant Nagar. Their burgers are still fantastic and well thought out and they have great accompaniments and the option to double your burger if you're in the mood. As you can imagine, they've got a pretty solid non-vegetarian selection of burgers, but their vegetarian section is just as robust. Try the Cheese Boom, it's an explosion of cheese with every single bite and if you're feeling adventurous, give the Bourbon Cottage Cheeseburger a try.
Chili's American Grill & Bar
Any good American restaurant would have burgers, it's kind of a staple. So it shouldn't come as a surprise that this American chain has some really interesting burgers. The cuisine is Tex-Mex and they have different kinds of burgers, both vegetarian and non-vegetarian. Chili's even has craft burgers that are served with housemade garlic dill pickles, home fries, and bottomless Coke! While most of the burgers might be non-vegetarian, you can choose to have a South Western vegetarian patty instead of a meat patty. The burger would still be absolutely amazing and we can guarantee that much.
Double Roti
As one of the most popular burger joints in the city, Double Roti has three well-placed locations, serving burgers and pizzas and other delicious combinations of everyone's favourite food. But their burgers are what you go there for and they've got different kinds with totally awesome names to go along with it. Try the Tiki Tiki Bun Bun which is a Delhi street style aloo tikki sandwich or the Illegal Burger, which is made with beef and comes in two sizes depending on how hungry you are. If you haven't been to Double Roti yet, change that right away and make your way there now.
Tovo
The mission of Tovo is to deliver delicious food combinations with different infusions, but still retaining the flavours of the food you're enjoying. You can make your own burger, starting with the kind of patty you want to use to the kind of "infusion" you want to be part of your burger and obviously what ingredients you want to top your burger off with. The whole process makes you feel like you're being able to make the burger you want! And they've got vegetarian and non-vegetarian options.
MASH
If you're in Besant Nagar, one of the most popular places along the stretch near the beach is this rooftop restaurant. They are best known for their sandwiches and of course their burgers. They have a Classic Veg Burger which is loaded with vegetables as well as a veg patty to make it the perfect meal for anybody. And if you're a fan of seafood, then give the Crumb Fried Fish Burger a go, because it's definitely something different from the usual.
Ciclo Café
The first of it's kind, this cycle themed restaurant has a more European menu, but what they definitely have and is amazing are their burgers. After all, that's why you're here, isn't it? Look for the "Tiger Burger" section and pick and choose from what you're in the mood for. Their Cottage Cheeseburger is definitely mouthwatering and you can top it up with sautéed mushrooms and onions to make it just a little more exciting, but you can be sure that even without, it's a worthy treat.
Comments