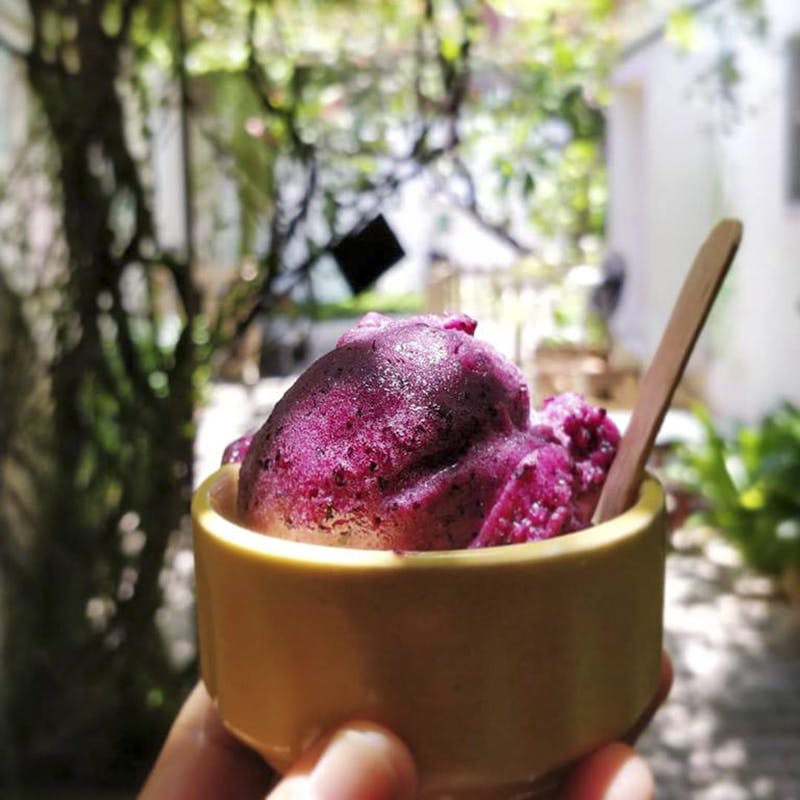 From Gandharaj Lemon To White Chocolate Maltova: Here's A List Of The Best Ice Cream Places In Chennai
You scream. I scream. We all scream for ice-cream. Don't we? With temperatures soaring, nothing can be more soothing than indulging into some rich, creamy ice cream. And to make this experience of yours even more blissful, we've put together a list of places that we think serve the best ice creams in Chennai. Check it out.

Amadora
Offering some decadent chocolate and nougat flavours (yes, yes, the TWIX cake is what we're hinting at) along with sinful sundaes and mud pies, Amadora has made quite a reputation for itself. With all the ice creams made with locally sourced ingredients and no preservatives, the flavours and combinations here are truly one of a kind and super dense. Prices start from INR 200.
Read more about it here.
Häagen Dazs
Serving ice creams made with imported ingredients in combinations with crepes, waffles, cones, muffins and pancakes, Haagen Dazs' menu is nothing short of exquisite. They also have an array of flavours ranging from dulche de leche and Pralines and Cream to refreshing raspberry, however, the chocolate ones are surely a must try. Prices start from INR 195. For more information, click here.
Cream Stone
From seasonal fruity flavours such as guava and kalajamun to fragrant coffee and chocolate flavours and sugar-free ice creams, Cream Stone has flavours to suit any kind of taste palate. You can also mix and match and create your own flavor, thanks to their cold stone mixing skills. Prices start from INR 70.
Read more about it here.
Amelie's
This creamery offers some of the most dense ice cream flavours such as Madagascar Vanilla and Creamy Tiramisu and Belgian Chocolate Fudge Brownie. They also have fruity flavours like strawberry, raspberry that look super pretty and are made with no preservatives. Prices start from about INR 150.
Read more about it here.
Pabrai's Fresh & Naturelle Ice Creams
Known for its long list of naturally flavoured ice cream, Pabrai's makes for a great ice cream place. You can choose from a variety of flavours such as Sitaphal, Tender Coconut, Gandharaj Lemon and more. They also have great options in chocolate. However, their signature flavour, Nalen gur, which is made with date palm jaggery, has been winning hearts over and is definitely worth a try. Prices start from INR 40.
Shmoozies
Offering drool-worthy flavours like banoffee pie, butterscotch almond brittle, Callebaut Belgian Chocolate Ice cream and more, Shmoozies has been making quite an impact with its all natural, perfectly sweet ice creams. They also have flavours like backyard mint and avocado & lime for those looking for more refreshing flavours. Prices start from INR 120. For more information, click here.
IBACO
Offering flavours like bean vanilla, almond praline, black forest and balsamic fig and mascarpone, IBACO has quite an interesting line-up of options. They also offer ice cream pizzas and bars, but their signature ice cream cakes which are available in multiple flavours are truly a delight. Prices start from about INR 100.
Batter
With a unique concept that involves mixing ice creams with under-baked cake or fudge brownie batter, the ice cream desserts from Batter are certainly not for the faint-hearted. Offering whacky combinations such as White Chocolate Maltova Crumble, Smashed Mint and Peanut Butter Cookie Dough, you can totally count on Batter to make your ice-cream eating experience a truly indulgent one. Prices start from about INR 120. For more information, click here.

Think we missed something? Let us know in the comments below.
Comments