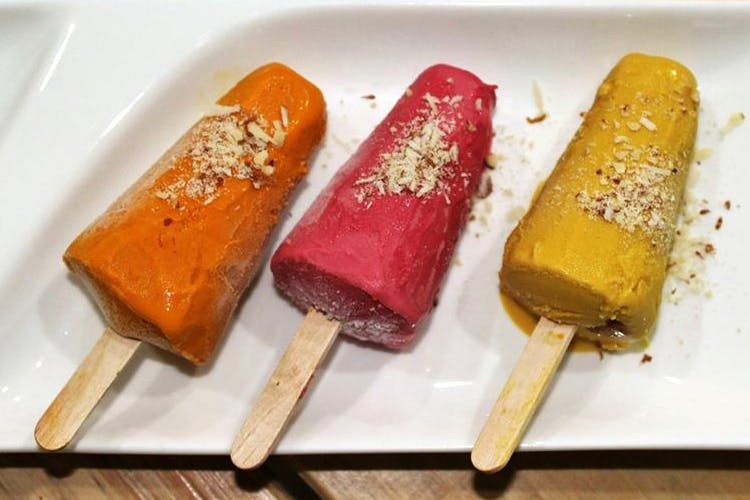 Keep Cool & Slurp On The Best Kulfis At These Places In Chennai
It's always a good time to have kulfi! Tell us, what's your favourite version of the Indian ice cream?
Bombay Kulfi
Little do people know that Bombay Kulfi is a Coimbatore brand, they do however sell Bombay style kulfis. Right from finding the right milk to coming up with interesting flavours (chocolate chip!), Bombay Kulfi is a must try for Kulfi fans. We highly recommend trying the Tender Coconut Kulfi when you check them out, it was our favourite.
For more about Bombay Kulfi, click here.
Kulfiwala
Another Mumbai style kulfi shop, Kulfiwala is the only store on this list that's open from 12pm to 12am (at Moores Road, Nungambakkam). That's right, sate those late post-dinner sugar cravings at Kulfiwala. They've got the usual lineup of kulfis once can expect, like the badam and pista, but also funky new flavours of their own, like the Mewa Chiki which has actual pieces of chikki in it! There's also a Meetha paan flavour that's super popular.
Chennai Kulfi
With 30 separate branches across Tamil Nadu, you're never too far from a Chennai Kulfi outlet. They're the second largest kulfi brand on this list and focus on making a wide variety of kulfis for super cheap prices. You can try their jackfruit kulfi and cranberry kulfi, each for just INR 50!
Kulfi House
The biggest name on this list, Kulfi House doesn't just serve kulfis, they offer kulfi milkshakes, kulfi faloodas, and regular ice cream too. Variety wise they've got 60 different kinds of kulfis and a separate list for matka kulfis! Speaking of matka kulfis, our favourites were the classic malai kulfi and their super-rich kesar badam pista kulfi.
Mhaian Kulfi
Literally translated to magical, Mhaian Kulfi is a kulfi brand started in 2012. They have a few outlets in Chennai, but their main sales happen through supermarkets like More and others. However, we recommend checking out their own kulfi parlour, as they make some really unique kulfis, including a coconut kulfi served in a coconut shell!
Dreams Kulfi
Dreams Kulfi is probably the most widely available kulfi brand on this list because it has no physical permanent shop. You can buy kulfi from their pushcarts or stalls set-up in popular and crowded areas like Bessy and Marina Beach. Their regular badam and pista flavours are super tasty, and of all the entries on this list, they're the best equipped to handle large orders.
Nithya Tambool Paan And Kulfi Shop
Started in 1979, this tiny paan shop outside the Eden restaurant in Besant Nagar, is known for its paan and kulfis. The shop opens only in the evenings and is run by an elderly gentleman named Mr. Mohan. His paan draws crowds from all over the city and his kulfis first became famous among his paan patrons. Made fresh every day, his kulfis are some of the sweetest and creamiest we've had. Needless to say, if you're in Bessy post 7pm and looking for something sweet, stop by this amazing shop.
Comments