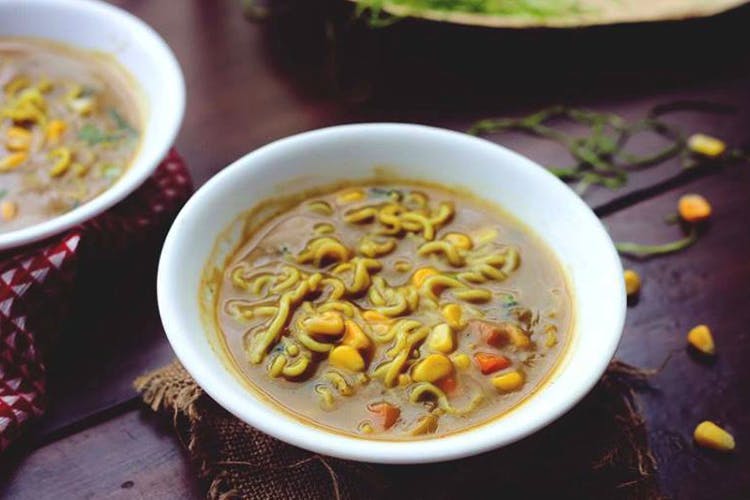 Podi Ghee To Cheesy: Here's Where To Slurp On, On All Kinds Of Maggi Noodles In Town
We all love our hot bowl of steaming Maggi and hey, Chennai's sultry weather can't stop us! But are you adventurous enough to try its many avatars? How about cheesy? Andhra podi with ghee? Gooey and meaty? And even (gasp) chocolate? Here's where you can go to sort out your Maggi cravings all through the year for all kinds of moods!
Maggevala
No surprises here. One of the most popular places in Chennai to try over 30 versions of Maggi, this joint has it all! With two small, cute outlets in Kilpauk and Kodambakkam, you can try everything from Lemon Butter to Butter Masala and  Schezwan to Paneer & Peas, if a regular bowl just won't do!
Read more here.
Double Roti
If you don't mind spending some extra cash on Maggi, try this version for INR 225 — The Hoggers Maggi. It comes with sausages, bacon, caramelised onions and cheese. Oh yeah! There's also Punjabi Maggi with tandoori chicken tikka and cheese and good old Himalayan Maggi with lettuce, coriander, green chilli and onion. Oh and they even have 8 kinds of fries you can pair it up with!
Read more here.
Chai Kings
Is there anything more perfect than a combo of hot chai and a steaming bowl of Maggi? Get both from Chai Kings — they have plenty of outlets in the city and you can choose from Chilli Cheese Maggi to Peri Peri Maggi and pair it with you favourite tea. We recommend getting a flask of milky ginger chai. Bliss!
Read more here.
Chai Galli
This restaurant in Bessy is winning for its quirky Bollywood vibes. Apart from that, they do serve bowls of our favourite comfort food. There's the fancy Angrezi Maggi with sun-dried tomatoes, broccoli, mushroom and bell peppers and Tadke Waali Maggi with fried onion, tomato and garlic.
Read more here.
Royal Sandwich Shop
Yes! Our favourite little sandwich shop also serves bowls of Maggi. And just for INR 70. Get Paneer Maggi and Mushroom Mayo Maggi and you can try and convince the servers to add some extra cheese. The more gooey it is, the better no?
Read more here.
Soul Garden Bistro
A popular restaurant for veggie lovers, did you know they have some crazy Maggi combinations? Care to try Maggi with Andhra podi and ghee? How about Maggi with ghonkura paste? Biryani masala and veggies? There's even one with a south Indian spicy and tangy twist — using kathirikai vathal kuzhambu (brinjal curry). This is place is where you go to get a bowl of Maggi with unusual flavourful kicks!
Read more here.
Café Central
Café Central's revamped menu is serving us some yummy Maggi combinations. Try the Tandoori Maggi Delight with paneer, chicken tikka topped with creamy cheese or if you want it meatier, go for the Sausage Party (don't laugh now!). Tomato, basil and chicken sausages — sounds delish!
Read more here.
Coffeetales
This Anna Nagar eatery does some crazy things with Maggi. Blasphemous or adventurous, it's definitely different. They have versions like the more tame Sweet Corn Maggi Soup & Indian Bhel to the wacky Dry Fruit Chocolate Maggi and Ferrero Maggi. You can also get pizzas with Maggi toppings. So which one will you try?
Did we miss something? Let us know in the comments below!
Comments