The information in this post might be outdated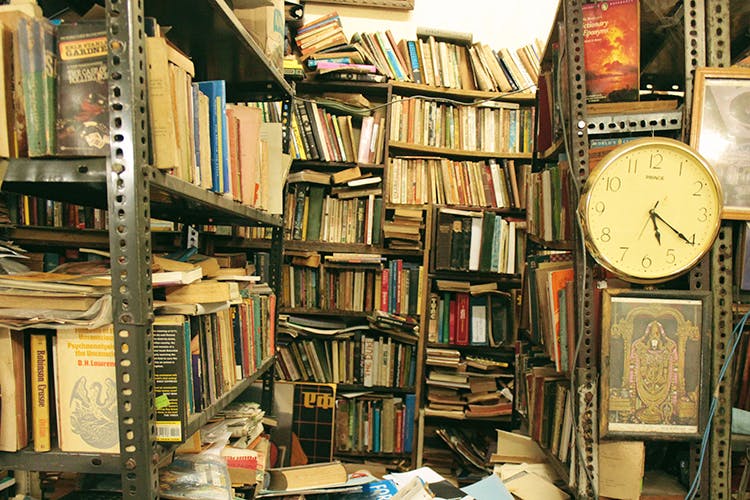 Books To Bondas: The Only Guide You Need To Find New Year Gifts For Everyone In Your Gang
It's that time of the year when you reflect on all you've done in life. Just kidding, it's time to start looking for the perfect presents for those in your life (who have made the year memorable!). We all have that one friend who it's impossible to shop for but don't worry, this ultimate gifting guide has something for everyone.
For The Book Lover
It doesn't matter if you have one bookish friend or a hundred because there are several options. In addition to iconic stores like Crossword and Starmark, we've also got some quaint libraries in Chennai - Rare Books, an adorable one operates from a garage! Don't forget to drop by our fave Anna's stores - Ravi Anna's book store in Pondy Bazar has books starting INR 50. Get second-hand books starting just INR 20 (with cutesy notes, too) from Nandagopal anna. You can even drop off a huge customised box of books and a subscription for your bestie with Feathery Neon Crate.

For The Home Decor Fan
If your friend loves lights, The Purple Turtles and Just Light are great options - they have everything from tiny bulbs and fairy lights to ceramic lampshades. You can even customise these at Woodooz. If you're thinking cute mason jars and glass bottles, check out Shivani (it's super pocket-friendly.) For all-things-hanging like dream catchers, hit up Warpworks. And if you've exhausted all these options already, head to Deco Aro for some seashell jars and quirky potpourri. Taking the whacky route? Get an everyday item painted by The Colour Company - we're talking tawas, tissue boxes, and even furniture. These painted kettles by Subadra also make for unique home decor items.

For The One With Perfect #OOTD Goals
Got someone in your gang who loves to dress up? We know that you know we know (just gonna leave that F.R.I.E.N.D.S. ref there) you can find clothes in malls like Express Avenue, Phoenix MarketCity, and VR Mall (which is all the rage now). But, if you're looking for budget options, go on a street shopping spree in areas like T Nagar and Mylapore. You will find everything from formal shirts, pants, and dresses to kurtas, palazzos, and kurtis in Pondy Bazar. For that friend who's super into sustainable fashion - these brands have got 'em all; dhoti jumpsuits, handkerchief skirts, and quirky, organic clothing.

For The Saapadu Raman (Foodie)
If your gift is food - we feel you. Take your bestie to new, quirky restaurants like Locofeast (food is served on a train) and Robot (food is served by Robots). If they are vegan, take them to Pumpkin Tales or order from Catalyst Food. If you're eating dinner with bae, getaway to romantic cafes like Bella Ciao, Amethyst, and Chamiers. There are so many, it's easy to lose count, so here's a list of dreamy cafes to be on New Years' Day. For the dessert lover, get them customised hampers filled with macarons, cupcakes, cookies, and all kinds of freshly baked desserts from these home bakers.

For The Stationery Hoarder
For The Movie Buff
Tickets (couple seats, too) to a movie at Sathyam or Escape never gets old, and theatres across the city are known to fill up during New Years because namma Chennai loves to start the year with a bang. For the one who's cray for films, drop by stores like Fully Filmy to buy them quirky and funny merch.

For The BJS Lover (Bags + Jewellery + Shoes)
Leather bag lovers, get sassy bags from Tohl, they have a wide range of comfortable bags. Hotch Potch is a great option if you're looking for quirky bags with colourful prints. This brand has an amazing all-men collection, too. If you're shopping shoes for men (and we know it can be a bit hard to find shoes for men), check out Splits By Anderson and Kethini for spunky moccasins, brogues, and loafers. If you want to design your shoes, you can get Shakunthala to paint your fave designs on sneakers. Whether you're looking for boho or fabric jewellery, you will find it all in brands like Thulika, Aabharanam, Maal Gaadi, etc. Hit up Mint Street and Mylapore Tank for budget jewellery starting INR 50. We love you, so here's the ultimate guide to shopping in Chennai (abracadabra).

For The Adventurous One
Nothing says Happy New Year better than taking your friend on an adventure, so book them the adventure they crave for. If they are sporty, book them a futsal or futzorb, paintball, laser tag, or trampoline, surfing, slacklining, or catamaran session. For beach bums, a scuba diving session with Temple Adventures or Salty Bone Divers is perfect. If they love getting their Sherlock on, get them into a mystery room and we're sure they won't want to leave. If they have already done all these, book yourselves a trip to explore a hidden place (where you can hike, kayak, surf, etc) with Wandermile - you'll thank us later.

For The Nature Lover
We all have that one friend who loves nature and all-things-natural. You can get them adorable little terrariums and plants from nurseries like Maple Gardens, The Plantsman, Sorreal Gardens, and Little House Of Terrariums. If they also love all-natural lifestyle products, get them homemade, chemical-free scrubs, body washes, and balms from Sugar Myy Love, Bottled Bliss, and Vilvah. And for your buddy who's trying to cut out plastic, make their transition simpler with zero-waste products from Everwards India. They have plantable paper and pencils, bamboo toothbrushes, and steel straws.

For The Traveller
If you're travelling someplace (it's almost a four-day weekend) for New Years', you can stay at the dreamiest home stays around Chennai. If you're going to Munnar, Mistletoe Homestay will give you misty mountain views. For Pondy, check into Lotus Studio if you want your own little cabin the woods. For super pocket-friendly options, check out these homestays in Pondy. You could even cosy up in this treehouse in Kumily and watch hornbills all day. Yercaud has some Pinteresty cottages just for you, and in Kodaikanal, live like the queen in Victorian homestays.

Comments