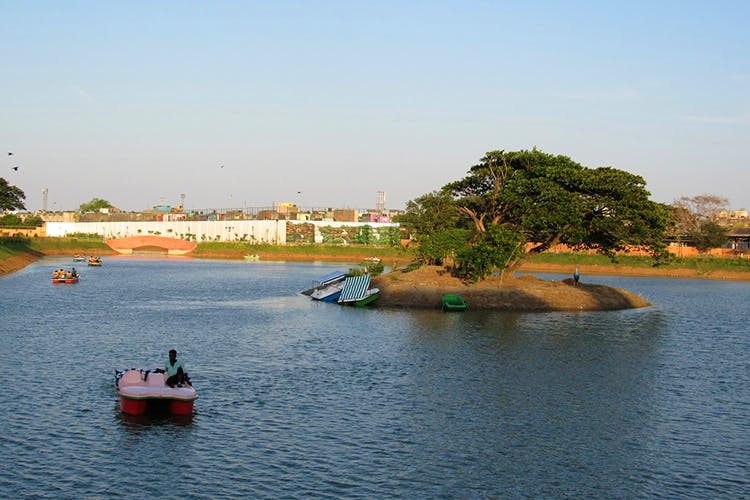 Pack Some Sandwiches & Have A Picnic At These Picnic Spots In The City
Ever wondered where you can chill and have a picnic in Chennai? Yes, we've got some chaotic roads and the traffic is bad (not Bangalore bad, tho), but we've also got a bunch of serene spots to lay down your blanket and have. Picnic Oswald style. Scroll down to know the best picnic spots in Chennai!
DakshinaChitra
Just a 40-minute drive from the city, DakshinaChitra is a great picnic spot for friends and family. With 18 houses reflecting old architecture and dripping with rustic vibes, having a picnic here will transport you to the past. Pick your house and picnic away!
Read more about DakshinaChitra here.
Covelong
What's better than a picnic? A picnic by the beach! Covelong, a small fishing village in Chennai is known for having the best scenic views of the ocean and perfect for a picnic as it's not crowded. Build sand castles, collect shells, and sit by the palm trees and have a beach-side picnic.
Here
are the best things to do at Covelong.
Pulicat Lake
Combine your love for nature with food and picnic by Pulicat Lake, home to various migratory bird species. This 600-year-old lake is winning for its views and is mostly isolated, making it a great picnic spot. Include fun activities such as bird-watching and boat rides and make a picnic day of it.
Read more about Pulicat Lake here.
Chetpet Eco Park
For a picture-perfect picnic experience, head to Chetpet Eco Park. They've got a lake with a picket fence and the ducks quacking in the evening and this is what the best picnics are made of. You can also go on a boat ride after a hearty meal.
Read more about Chetpet Eco Park here.
Semmozhi Poonga
Here, the grass is always green on the other side, and this park is one of the best picnic spots in the city. Come sunshine or rain, the beauty always remains and the spacious park is perfect for picnics with large groups of friends and family. And after eating yum thayir sadham (curd rice), it feels great to lay on the grass and sip on some filter coffee.
Read more about Semmozhi Poonga here.
MGM Dizee World
This ones for the families and kids who love adventure. If a simple picnic by the park is a bit too basic for you, head to MGM Dizee World which is filled with picnic spots and super fun rides. Picnic by the giant wheel or by the pool?
Here's a list of the best theme/amusement parks in Chennai.
Tada Falls
If you're an adrenaline junkie, a picnic at Tada Falls (also known as Ubbalamadugu Falls) is well within your league. Pack some sandwiches and drinks and head up to the falls where you can get a breath-taking view of the city and after that NOM NOM away.
Read more here.
Muttukadu Lake
Away from the hustle of the city, Muttukadu Lake offers Pinteresty and calm picnic spots. Pick a spot by the rocks or the backwaters and have a fun picnic with your loved ones - no honking and traffic sounds here!
Bored of boating? Do these five exciting things in Muttukadu instead!
Ask Aasha a question