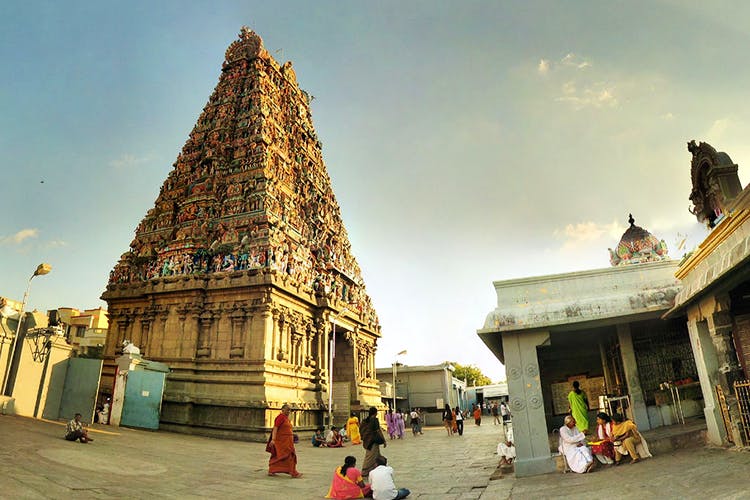 Here's Your Ultimate Guide To Being A Mylapore Mama/Mami
One of the oldest neighbourhoods in South India, Mylapore is winning the iconic game and is an experience every Chennaiite holds close to their heart. From the historic buildings and temples to food stalls, here's how to be the perfect Mylapore mami/mama.

Filter Kaapi & Ghee Pongal At Rayar Mess
First things first: get your breakfast sorted. Mylapore is home to several messes and Rayar's Mess is your first step to experiencing the best of Mylapore. Head there at 8am and grab the fresh filter kaapi and chow down on the ghee pongal. Check out our Mylapore food guide to experience the best South-Indian food under INR 50.
Shopping At Mylapore Tank
For the best street shopping experience, hit up Mylapore Tank. With 50+ stores selling everything from accessories and home decor to food and temple jewellery, your shopping is sorted.
Explore Old Mylapore
Take a stroll through Mada Street and the whole stretch is filled with oldest houses in Mylapore. Some of them are even 90+ years old and the different architecture and rustic swings and gardens are filled with Mylapore's charm.
Lunch At Karpagambal Mess
From being a tiny 10-seater mess to adding an extra air-conditioned section, Karpagambal Mess has come a super long way, and generations of Chennaiites have gone home with happy bellies. With more than 20 dosa varieties and the best lunch meals, Karpagambal Mess is where all the Mylapore mamas and mamis are.
Light Lamps At Kapaleeshwarar Temple
Kapali temple is centuries old and one of the main tourist attractions in Chennai. At any given point, the temple is filled with people in awe of the architecture, history, and beauty. Light a lamp (INR 5) at Kapali temple, take a stroll, and explore the gorgeous carvings.
Crunchy Bajjis At Jannal Kadai
This small bajji shop operates out of a window and your Mylapore experience is incomplete without trying these little treats. Deep fried onion, raw banana, and chilli bajjis with spicy dips, these bajjis will get you hooked to Mylapore if nothing else!
Get A Blouse Stitched From This 90-Year-Old Shop
Family Tailor has been around for 90+ years, and they're without a doubt the best tailoring shop in Mylapore. Well-versed in stitching both ethnic clothes and Western wear, this tailoring shop will stitch you the best sari or blouse.
Pakoda Evenings
When in Mylapore, don't forget to drop by Sri Karpagambal Kabali Sweet Stall to munch on the best pakodas. For INR 30, you get 200 grams of onion pakoda and they've also got bondas, thattai, banana chips, omapudi, mixture, karasev, and sweets like jangri and ladoo.
What's your favourite thing to do in Mylapore? Tell us in the comments!
Comments