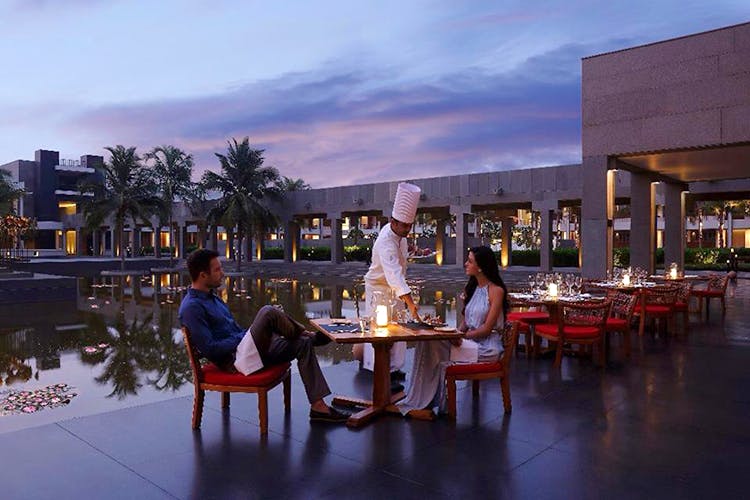 Dial Up The Romance With These Restaurants Offering Candle Light Dinner Scenes
With the drudgery of summer long gone, it's time for some love in the air. While the beach is a ready getaway for lovebirds, some restaurants in the city can really help you take your romantic rendezvous to the next level with elaborate candle light dinners. So, if you're trying to go on a date, impress your partner or celebrating a relationship milestone, head to any of the places below to make it an evening worth remembering.
Kipling Cafe
A drive to the suburbs doesn't deter people from heading to this pretty little getaway by the ECR. Make sure to reserve a little cabana for yourself and your better half as this place gets crowded even during weekdays. Choose from their Balinese or Malaysian satays. If you're in the mood for some continental fare, try their spinach ravioli or the classic aglio olio. Feel free to go dip your feet in the sea and come back for some sticky toffee pudding at the end. All against the heady of glow of candles of course. 
Bella Ciao
One of the earliest establishments of its kind in the city, Bella Ciao is known for its simple yet tasty Italian fare. If the weather's nice, choose a table al fresco. Otherwise, head indoors to the air-conditioned lounge. For close to two decades people have sworn by the woodfired pizzas served here. Their tiramisu infused with a bit of cognac is a perfect finale to the evening. Or maybe a short walk to the beach just outside is.
Kefi, Taj Club House
This rooftop restaurant is Chennai's own slice of the Mediterranean. Designed along the lines of a warm, rustic Greek neighbourhood, Kefi is an ideal spot to go on a first date or to celebrate an anniversary! Try the Mezze Sampler (vegetarian /non-vegetarian) and you have four different mezzes you can choose from. If you want to sip on a deep red and bite into some delicious brizola (Greek-style pork chops) under a starry sky, Kefi is pretty much the place to be!
Shiraz Art Cafe
Far removed from the bustle of the city, this little Iranian spot is really popular over the weekends. So, if you want to steal a quiet night with your special one, swing by on any weekday and we guarantee you an evening to remember. You could dine al fresco or in the restaurant. The esheneh and the Chicken Berry Pulao are to die for. Between courses you can take a stroll by the beach and come back for more. If you're a sucker for sweet endings, remember to order some lovely Shiraz Tea after your meal.
Winter Palace
With our kind of weather, that name is tempting enough. The restaurant at the Russian Consulate here offers something no other place in the city does. Not sure where to start off your Russian culinary adventure? We'd recommend trying some blini — a traditional pancake with fillings such as caviar, chicken, salmon or mushroom.  If you're feeling a bit more adventurous, try the Stroganina, a Russian style beef carpaccio.
Bay View
What's better than just a candle-light dinner? Surely a candle-light dinner as you gaze at the sea. That's what Bay View at Vivanta by Taj Fisherman's Cove offers. That's only as far as views go. Rated one of the best seafood restaurants in this coastal city, this place offers some mouth watering South indian fare. Choose from a Kovalam Fish curry or a slow-cooked Nandu Kozhambu (crab curry). If you don't feel like going local, give the Apple and Thyme Grilled Pork Chops a go.
Intercontinental Mahabalipuram
If you want to go the whole nine yards, hit up the folks at the InterContinental to set up a special candlelight dinner by the beach just for you and your loved one. This signature experience comes includes a private tent set up just for you by the water. You get to pick a bottle of fine wine and are given a curated menu of appetisers to go with it. What more could you possibly need to make it an evening to remember.
Comments