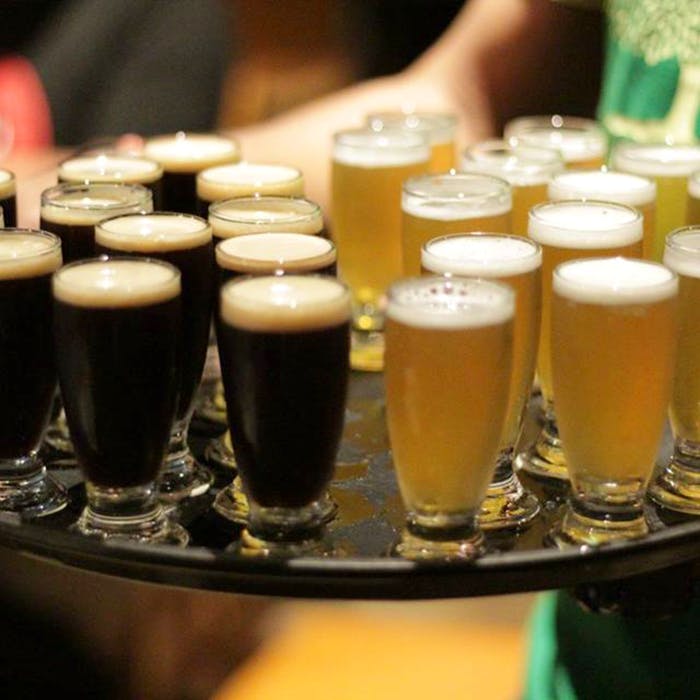 Budget Shopping & Microbrewery Crawls: A Chennaite's Guide To Living It Up In Bangalore
As much as we're faithful to namma Chennai we can't help but fall in love, little by little, every time we visit Bangalore. First of all, it's just a six-hour drive away — perfect for a quick weekend road trip. And if you're planning to go there during the long weekends, there's still so much to cover! Also, Bangalore weather, how much we love you!
Here's how you can make the most of this young, vibrant city especially on upcoming long weekends. From guzzling beer to budget shopping, planning your next Bangalore trip with the squad just got easier. You're welcome.
Have Brekkie At Hole In The Wall
This small, cute cafe in Koramangala is an iconic spot in Bangalore, and gets ridiculously packed on Sunday mornings so get there as early as you can. Or if you're worried you'll get caught in the queue you can even order in through Swiggy or Zomato. We personally love The Blue Cheese Burger And Porky Hole 9 Yards Hash (with hash browns, pork sausages, pepperoni, bacon). Yeah, forget about that diet, vacay time guys! Wash it down with their refreshing Lime & Ginger Cooler and you're good to go.
Read more here.
Try 32 Kinds Of Fries At Tall Blonde French
Get a load of this if you love them fries. Still hanging around in Koramangala? Drop by Tall Blonde French and choose everything from Butter Chicken fries, Bae Fries with chilly cheese and jalapeno and fries with seafood. Prices start at INR 100 and they sound oh-so-delish. Which one are you trying?
Read more here.
Go For A Jazz Performance At Windmills Craftworks
Probably a 45-minute drive from the city centre (we'll be honest, we're not a fan of Bangalore traffic), this lovely microbrewery in Whitefield is where you go to for great food, home brews and engaging jazz performances. Dine at their alfresco terrace and soak in the gorgeous weather Bangalore is just famous for.
Read more here.
Go On A Microbrewery Crawl
What's Bangalore without beer, eh? Forget bottled beers and try signature crafted beers at these microbreweries instead. If you're in Indiranagar, you obviously have to head to Toit. Try their Basmati Blonde, a pale ale, Tintin Toit, a Belgian brew, and the Dark Knight, a stout. And if you're sticking to Indiranagar check out Murphy's Brewhouse for Blackbeard. a dark beer with hints of chocolate and roasted caramel.
If you don't mind heading out a bit also check out Bangalore Brew Works on Residency Road — we love the ambience (lovely open air-setting) and the vibe here too. And there's always the wonderful Arbor Brewing Company close by on Magrath Road. Happy chugging!
Read more here.
Budget Shopping At Commercial Street
Well, duh. Yes, we know we have plenty of shopping gems in our very own city, but what's a trip without buying a few quick, affordable goodies? Find everything from home décor, to clothes and footwear and even art supplies. Shopaholics, don't miss this one!
Read more here.
Egg Puffs & Haleem Samosa At The Permit Room
We love, love, love the food here. The twists to some of our favourite south Indian dishes have been handled with so much love and respect, we don't mind most of the experiments. You must try the flaky Iyengar Bakery Egg Puff and Haleem Samosas (our personal faves), there's also cocktails like Paati's Magic Rassam, a spicy whiskey cocktail and Ammachi's Kashayam that you might be intrigued enough to try. Plus, amazing pork dishes like Highway Pandi Curry on a bed of ham and peas upma!
Read more here.
Party It Up At Skyye
If you want to spend the night, dancing and drinking in your best outfit and high heels, Skyye is a class apart. A little steep when it comes to the price, but the place is absolutely gorgeous with an open-air bar and dance floor that lights up! Saturdays are the most happening, with the DJ mostly playing commercial tracks and mind you, it can get pretty crowded. But the view of the city skyline makes everything worth it!
Have A Romantic Dinner At Grasshopper
If you've planned this trip with bae, book a table (in advance) at Grasshopper on Bannerghatta Road. It doesn't get more romantic than this. Set in a lovely farmhouse, at the restaurant, you will be welcomed by bamboo thickets and gentle pools. Enjoy a candlelit dinner with fresh flowers on the table and choose a delightful 7-course meal. And fall in love all over again! The experience is a wee bit pricey but oh so romantic. And you will need to book in advance.
Didn't include your favourite Bangalore thing to do? Tell us in comments.
Comments